Trump allies back former president amid indictment speculation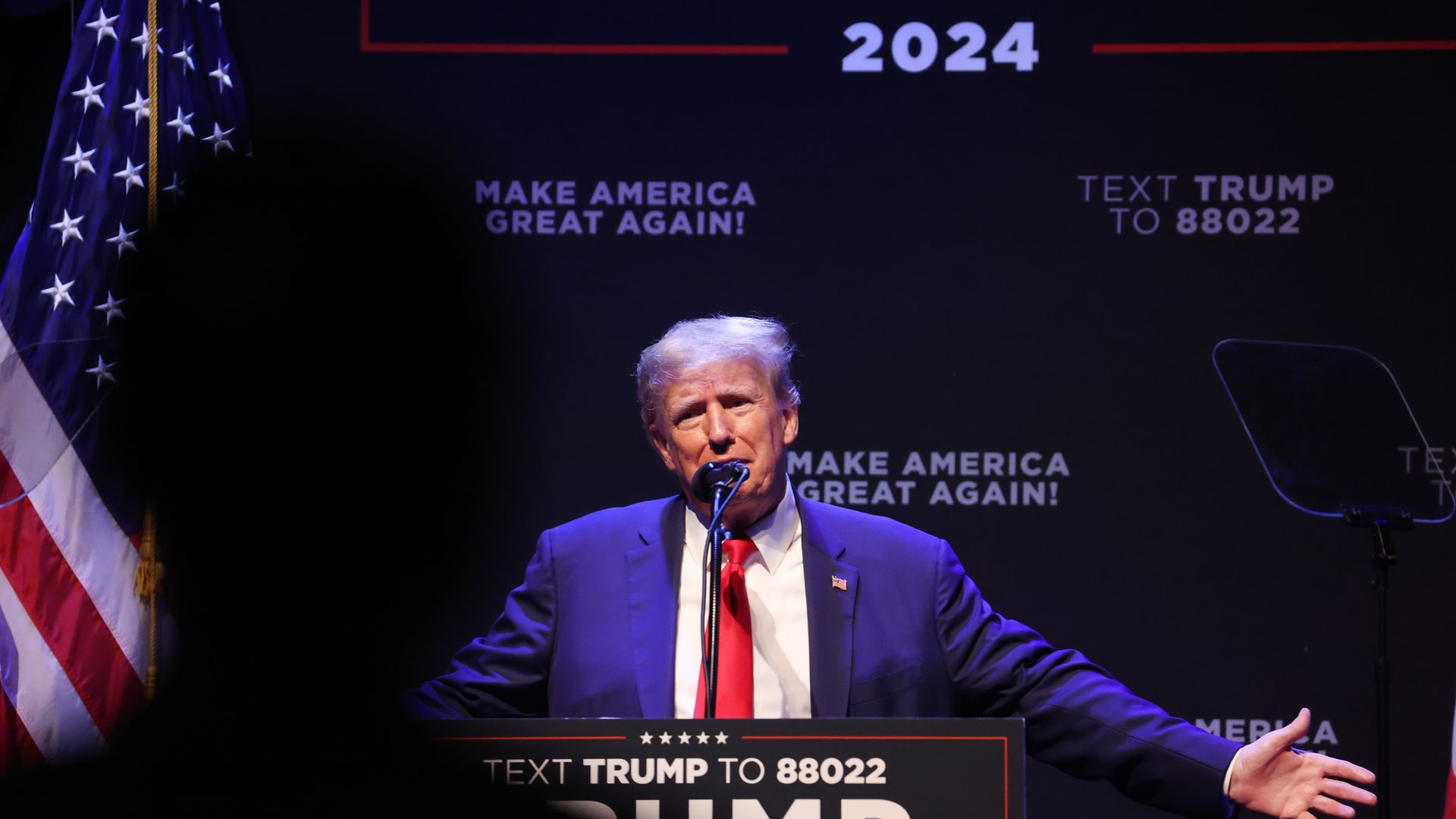 Former President Trump predicted Saturday morning that he will be arrested next week, prompting a bevy of reactions from both sides of the political aisle.
The big picture: Trump, who called for protests to "take our nation back," has been bolstered in the hours since his Truth Social post by Republican lawmakers amid the Manhattan District Attorney Office's investigation into a hush money payment sent to adult film star Stormy Daniels.
A Trump spokesperson told Axios in a statement that the former president does not have advance knowledge of an arrest, but that he is "rightfully highlighting his innocence and the weaponization of our injustice system."
If indicted, Trump would be the first president in U.S. history to face criminal charges.
What Republicans are saying
Former Vice President Mike Pence said on SiriusXM's "Breitbart News Saturday" that he was "taken aback."
"You have literally a Democratic Party that's literally dismantled the criminal justice system in that city, undercut the NYPD, and this is what the Manhattan DA says is their top priority?" Pence asked.
"It reeks of the kind of political prosecution that we endured back in the days of the Russia hoax and the whole impeachment over a phone call," he added.
House Speaker Kevin McCarthy (R-Calif.) called for a congressional investigation into the prosecutors allegedly preparing to indict Trump.
"I'm directing relevant committees to immediately investigate if federal funds are being used to subvert our democracy by interfering in elections with politically motivated prosecutions," McCarthy said.
Rep. Elise Stefanik (R-N.Y.) called the "illegal leaks" about Trump's potential arrest "un-American."
"This is just a continuation of the disgraceful and unconstitutional pattern going back to the illegal Russian collusion hoax to attempt to silence and suppress the will of the voters who support President Trump and the America First Movement," she said.
Stefanik added that "America First Patriots" are "energized to exercise their constitutional rights to peacefully organize and VOTE at the ballot box to save our great republic."
Rep. Chip Roy (R-Texas): "The impending indictment of President Trump in NY must be treated as it is: a politically motivated prosecution based on a strained, convoluted legal theory. It makes clear the danger of a politicized 'justice' system that will be (is being) weaponized against ALL Americans."
Sen. J.D. Vance (R-Ohio): "I've been asked by multiple reporters if an indictment would lead me to rescind my endorsement of Donald Trump. The answer is: hell no. A politically motivated prosecution makes the argument for Trump stronger. We simply don't have a real country if justice depends on politics."
Rep. Marjorie Taylor Greene (R-Ga.): "If the Manhattan DA indicts President Trump, he will ultimately win even bigger than he is already going to win."
"President Trump did nothing wrong and has always fought for the American people, and we all know it, which is why we love him."
"And any Republican who thinks the Democrats will stop this madness once Trump is out of the way is fooling themselves."
Rep. Jim Jordan (R-Ohio): "God Bless President Trump. Real America knows this is all a sham."
Rep. Matt Gaetz (R-Fla.): "The impending indictment is based on an untested, tortured legal theory. This is an absurd abuse of the criminal process in our politics. It must be seen for the partisan pathetic ploy it is."
What Democrats are saying
Former Speaker of the House Nancy Pelosi said "no one is above the law, not even a former President of the United States."
"The former president's announcement this morning is reckless: doing so to keep himself in the news and to foment unrest among his supporters.  He cannot hide from his violations of the law, disrespect for our elections and incitements to violence," she said. "Rightfully, our legal system will decide how to hold him accountable."
Rep. Adam Schiff (D-Calif.) criticized McCarthy for launching an investigation, saying it is "all part of Trump's playbook."
Rep. Jared Huffman (D-Calif.) said McCarthy was "obstructing justice for the cult leader who got him those final speaker votes."
Other reactions to Trump's prediction
Ex-Trump personal attorney Michael Cohen, who pleaded guilty in 2018 to charges of tax evasion and campaign finance violations, told MSNBC that he thinks Trump's comments suggest the former president has inside information about a potential arrest and wants "another violent clash on his behalf."
Vivek Ramaswamy, who launched his 2024 presidential campaign last month, tweeted Saturday that an indictment "would be a national disaster. It is un-American for the ruling party to use police power to arrest its political rivals."
"Let the American people decide who governs. This will mark a dark moment in American history and will undermine public trust in our electoral system itself."
He called on Bragg "to reconsider this action and to put aside partisan politics in service of preserving our Constitutional Republic."
Former Speaker of the House Newt Gingrich said a potential arrest "is another sign of the left's insanity."
"To arrest a former and future President is an act of hatred and poison and will further harden support for Trump while discrediting the left."
Go deeper: Looming Trump charges threaten to inject chaos into 2024 campaign
Timeline: The probe into Trump's alleged hush money payments to Stormy Daniels
Editor's note: This story has been updated to add comments from Mike Pence and Elise Stefanik.
Go deeper