What we know about the Biden classified documents investigation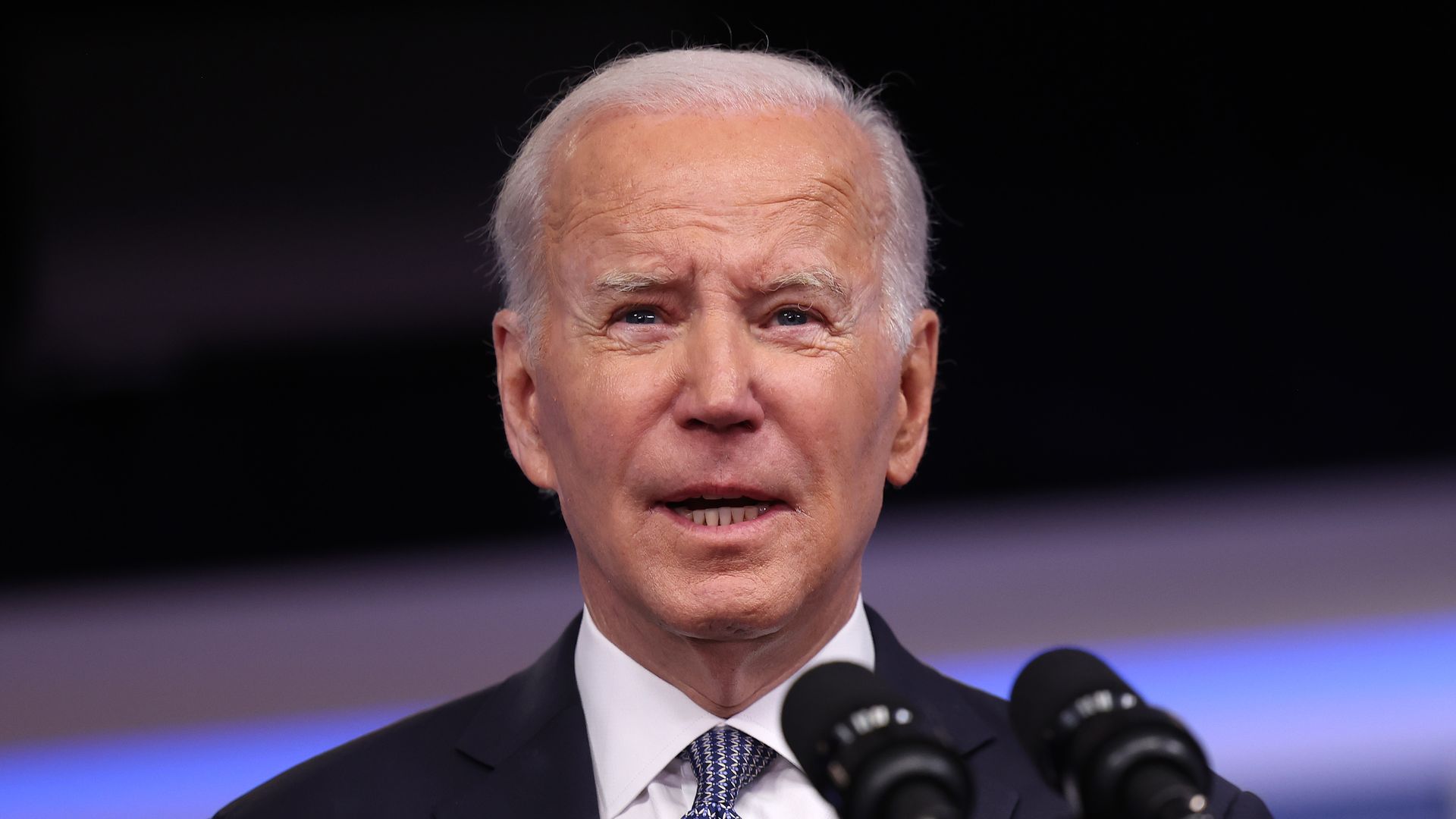 Details continue to emerge in the probe into classified documents discovered from before President Biden took office.
The big picture: At least three high-profile members of the White House have now been found in possession of classified material at their homes or offices in recent months. Both Biden and former President Trump are the subjects of DOJ investigations related to their handling of government records.
Attorney General Merrick Garland announced on Jan. 12 that he was appointing Robert Hur as special counsel to lead the investigation, and he provided new details on the documents, including when they were discovered.
Garland also appointed Jack Smith to oversee investigations into Trump's handling of the classified documents, as well as the criminal probe into his efforts to overturn the 2020 election, in November. Hundreds of classified documents were found at Trump's Mar-a-Lago home last August.
Former Vice President Mike Pence's attorney said in January that a "small number of documents" with classified markings were found in Pence's Carmel, Indiana, home and were turned over to the FBI. Pence has said previously that he didn't take any classified documents with him when he left the office.
Here's what we know so far about the investigation into classified documents found in Biden's former office and Wilmington, Delaware, home.
Nov. 2
The White House discovered classified documents from Biden's time as vice president at the Penn Biden Center in Washington, D.C.
The documents were found while Biden's personal attorneys were packing files that were stored in a locked closet at the think-tank, the White House said.
"On the day of this discovery, Nov. 2, 2022, the White House Counsel's Office notified the National Archives. The Archives took possession of the materials the following morning," the White House said in January.
Nov. 4
The National Archives Office of Inspector General notified the Department of Justice that documents with classified markings were discovered at the Penn Biden Center, Garland said in January.
Nov. 9
The FBI launched an assessment to determine whether classified information had been "mishandled in violation of federal law," per Garland.
Nov. 14
Garland assigned Trump-appointed U.S. attorney John Lausch to conduct a preliminary investigation and determine whether a special counsel was necessary.
"I selected [Lausch] to conduct the initial investigation because I was confident his experience would ensure that it would be done professionally and expeditiously," Garland said.
Dec. 20
Biden's personal lawyer informed Lausch that additional documents with classified markings were identified at two locations, including his garage, inside the president's personal residence in Wilmington, Del.
"Biden's counsel informed Mr. Lausch that those documents were among other records from the period of the president's service as vice president."
The FBI subsequently went to the location and "secured the documents."
Jan. 5
Lausch informed Garland that "further investigation by a special counsel was warranted," following his preliminary investigation.
"I concluded that under the special counsel regulations, it was in the public interest to appoint a special counsel," Garland said.
Jan. 9
Knowledge of the first batch of classified documents, discovered at the Penn Biden Center, is first reported by CBS News.
Jan. 10
During a news conference in Mexico City, Biden said he was "surprised" government records were taken to his old think-tank office, and added he's been cooperating fully with the National Archives and the Department of Justice.
Biden said he didn't know "what's in the documents" and that his lawyers had not suggested he should inquire about "what documents they were."
Jan. 12
The DOJ appointed Hur, former U.S. attorney for the District of Maryland, as special counsel in the case.
Biden's personal lawyer on Jan. 12 also informed Lausch that an additional document with classified markings was discovered at the president's personal residence in Wilmington, Del.
It was not immediately known how the additional document was discovered and why it was not part of the earlier batch found in Biden's garage.
Jan. 14
The White House announced that Biden's personal attorneys discovered an additional five pages of classified material at his home in Delaware while the DOJ was on site to take possession of the original classified document.
Jan. 19
While touring storm-damaged California, Biden said to reporters who questioned him about the documents, "I think you're going to find there's nothing there."
"We found a handful of documents were filed in the wrong place ... We immediately turned them over to the Archives and the Justice Department," the president said.
At one point visibly frustrated, Biden reiterated that he was "fully cooperating and looking forward to getting this resolved quickly."
Jan. 21
Richard Sauber, a member of the White House Counsel's Office, said additional classified documents were discovered during a Jan. 20 search at Biden's Wilmington, Delaware, home.
Bob Bauer, Biden's personal attorney, said in a separate statement that the search by the Department of Justice took almost 13 hours to complete, but neither Biden or first lady Jill Biden were present.
Six items containing classified document markings were discovered during the search, Bauer's statement said. Some of the documents were from Biden's time in the Senate, as well as his vice presidency. Handwritten notes from Biden's vice presidential years were also taken for further review.
"DOJ had full access to the President's home, including personally handwritten notes, files, papers, binders, memorabilia, to-do lists, schedules, and reminders going back decades. DOJ took possession of materials it deemed within the scope of its inquiry," the statement said.
Jan. 31
Feb. 1
The DOJ conducted a "planned search" of Biden's home in Rehoboth Beach, Delaware as part of the ongoing probe and did not find any documents with classified markings.
"The DOJ took for further review some materials and handwritten notes that appear to relate to his time as vice president," Bauer said in a statement after the search, which lasted from 8:30 a.m. until noon.
Bauer said that the process was consistent with the search at Biden's Wilmington residence.
"Under DOJ's standard procedures, in the interests of operational security and integrity, it sought to do this work without advance public notice, and we agreed to cooperate," Bauer said in a statement on the day of the search.
What to watch: As special counsel, Hur is tasked with investigating "whether any person or entity violated the law in connection with this manner," Garland said.
White House press secretary Karine Jean-Pierre on Jan. 12 reiterated that Biden does not know what the documents contain, an answer that will likely come as Hur begins his work.
Go deeper... 3 ways Biden and Trump's classified doc discovery differed at outset
Editor's note: This story has been updated with additional background.
Go deeper