Special counsel decision looms over Biden documents probe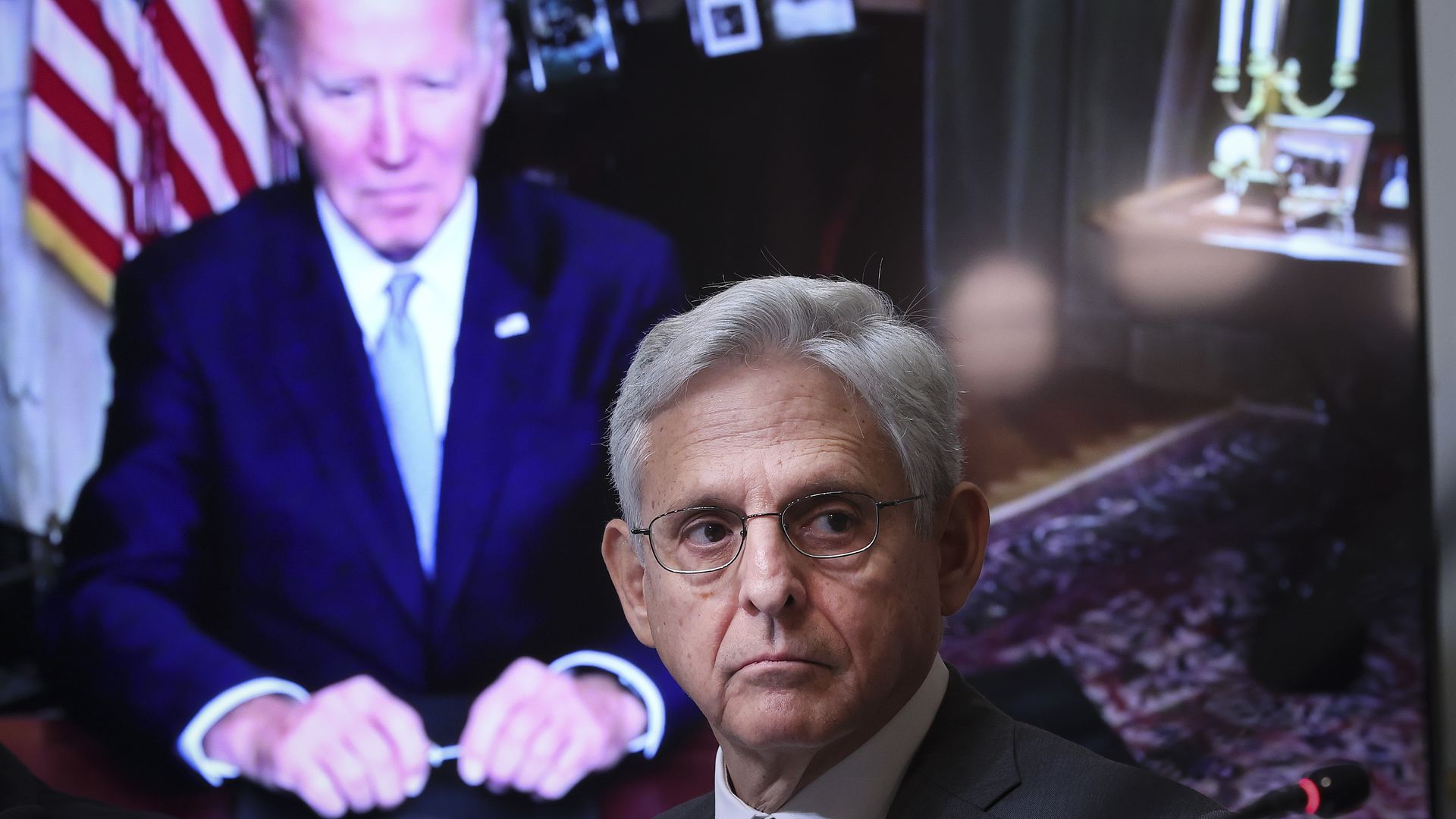 Attorney General Merrick Garland will eventually have to decide whether to appoint a special counsel on the Biden classified documents probe — while leaning on guidance from a Trump-appointed U.S. attorney.
Why it matters: Garland's reported decision to assign the case to U.S. Attorney John Lausch could help insulate the investigation from accusations of political bias, especially if the outcome involves no findings of criminal wrongdoing.
Lausch's assignment is to conduct an initial facts-based investigation to better inform Garland's decision about a potential special counsel, the New York Times reports.
A small number of documents from Biden's time as vice president were found in a locked closet at the Penn Biden Center, which Biden periodically used from mid-2017 until the start of his 2020 campaign.
Driving the news: Biden told reporters Tuesday evening that he was "surprised" to learn about the discovery of government records at his office and does not know what the documents contain.
"People know I take classified documents, classified information seriously," Biden said, adding that he's "cooperating fully" and that his lawyers "did what they should have done" by immediately contacting the National Archives.
The big picture: Key facts distinguish the probe from special counsel Jack Smith's investigation of former President Trump's mishandling of classified documents, which resulted in a court-authorized search of Mar-a-Lago by FBI agents in August.
But any perceived double standard will bring intense scrutiny on the Justice Department, especially from House Republicans who on Tuesday established a new subcommittee to investigate the "weaponization of government."
House Oversight Committee chair James Comer (R-Ky.) launched an investigation Tuesday as one of his first acts in the GOP majority, specifically calling attention to the National Archives' treatment of Trump.
"If it weren't for the Trump investigations, DOJ likely wouldn't have been even doing a preliminary inquiry. And if the facts are as they have been presented to date, then the preliminary inquiry would probably end without ever morphing into a criminal investigation," Matt Miller, a former DOJ spokesperson, told Axios.
Between the lines: The White House wouldn't specifically comment on why it waited until now to reveal the classified documents that were turned over in November, two days before the midterms.
"This is an ongoing process under review by DOJ, so we are going to be limited in what we can say at this time. But we are committed to doing this the right way, and we will provide further details when and as appropriate," Ian Sams, spokesman for the White House counsel's office, told Axios.
What to watch: The outcome, several former federal prosecutors say, could involve disciplinary action handled at the administrative level, like, for instance, loss of security clearance for an individual or an annotation in an employee's records that makes it harder to receive clearance.
It will depend largely on an investigation by Lausch and the FBI, who may interview current administration officials like Secretary of State Antony Blinken and even President Biden.
Zoom in: When conducting a probe into classified documents, FBI agents and investigators work with the U.S. attorney to identify the agency where the documents originated, said David Laufman, a partner at Wiggin and Dana who previously oversaw classified documents investigations at the Justice Department.
They'll interview witnesses to determine where the documents were found, why they were taken there, who knew they were there and who had access to them.
They may rely on the documents as well as security footage and interviews with administration officials and employees at the Penn Biden Center.
The outcome of the investigation depends largely on the number of documents, the classification level and any aggravating factors — like false statements, concealment of documents and efforts to obstruct the investigation, which are assessed at the end of the process.
Go deeper