Garland appoints special counsel for Biden classified documents probe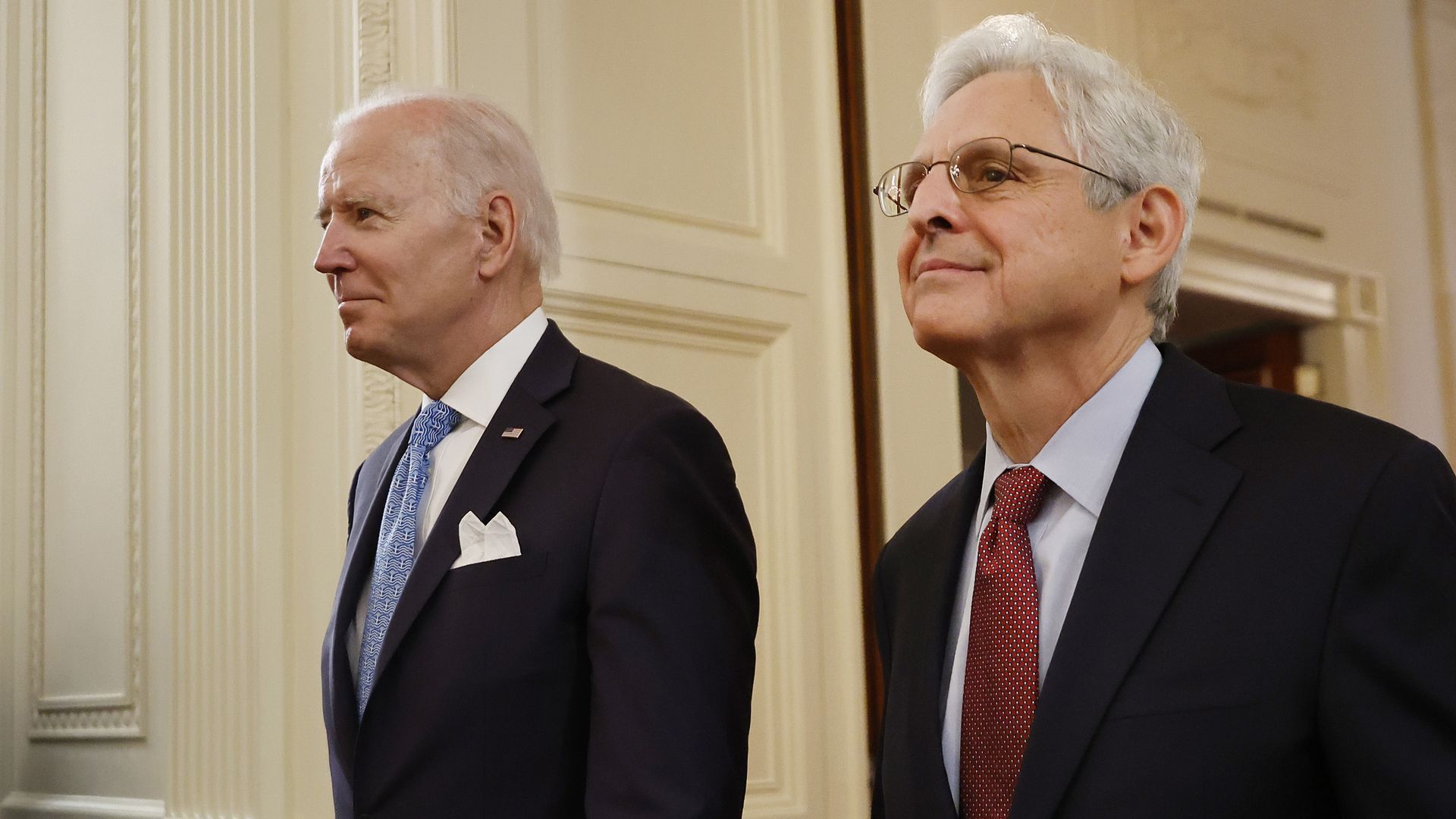 Attorney General Merrick Garland announced Thursday that he has appointed a special counsel to investigate President Biden's handling of classified documents after the end of the Obama administration.
Why it matters: The appointment of Robert Hur, former U.S. attorney for the District of Maryland, is designed to avoid the appearance of a conflict of interest. The move comes as former President Trump faces a separate special counsel inquiry over his hoarding of hundreds of classified documents at his Mar-a-Lago home.
Key details regarding the volume of documents, methods of discovery, and reaction by Biden and Trump distinguish the two cases.
But the revelations about Biden's documents — especially the latest discovery of "a small number" of classified records at his Delaware home — present a new political headache for the president.
What they're saying: "I strongly believe that the normal processes of this department can handle all investigations with integrity. But under the regulations, the extraordinary circumstances here require the appointment of a special counsel for this matter," Garland said at a press conference Thursday.
"This appointment underscores for the public the department's commitment to both independence and accountability in particularly sensitive matters. And to making decisions indisputably guided only by the facts and the law," he added.
White House lawyer Richard Sauber said in a statement: "We are confident that a thorough review will show that these documents were inadvertently misplaced, and the President and his lawyers acted promptly upon discovery of this mistake."
Background: Hur, currently a partner at Gibson, Dunn & Crutcher, was nominated by Trump to serve as U.S. attorney in Maryland in 2017.
His former office has experience handling classified information cases due to its proximity to the National Security Agency.
How we got here: Garland revealed at the press conference that on Nov. 4, the National Archives notified the Justice Department that documents with classified markings had been identified at a private office at Biden's think tank in Washington. The National Archives was made aware of the issue by the White House.
On Nov. 14, Garland ordered Trump-appointed U.S. attorney John Lausch to conduct an initial fact-finding review to determine whether a special counsel was warranted.
On Dec. 20, Biden's personal counsel informed Lausch that additional classified documents from his Biden's time as vice president had been found in the garage of his home in Wilmington, Delaware.
On Jan. 5, Lausch briefed Garland on the investigation and advised him that a special counsel was warranted.
On the morning of Jan. 12, Biden's personal counsel called Lausch and informed him that an additional document with classified markings had been found at the Delaware home. Garland's announcement came hours after news of the second set of documents leaked.
How it's playing: Republicans in Congress have seized on the unfolding controversy to accuse Biden, the Justice Department and the National Archives of a double standard, vowing to use their new House majority to investigate.
The top Democrat and Republican on the Senate and House Intelligence committees, respectively, have called for the director of national intelligence to provide a "damage assessment" on both the Biden and Trump documents.
Between the lines: Biden says he did not know about the presence of classified documents and pledged full cooperation.
Trump, meanwhile, is under investigation for obstruction of justice after refusing to return the documents for over a year, resulting in a court-authorized search of Mar-a-Lago by FBI agents.
Special counsel Jack Smith has been tasked with investigating both Trump's handling of classified documents and efforts to overturn the 2020 election leading up to the Jan. 6 Capitol insurrection.
Editor's note: This story was updated with a statement from a White House lawyer.
Go deeper