Classified documents discovered at Pence's Indiana home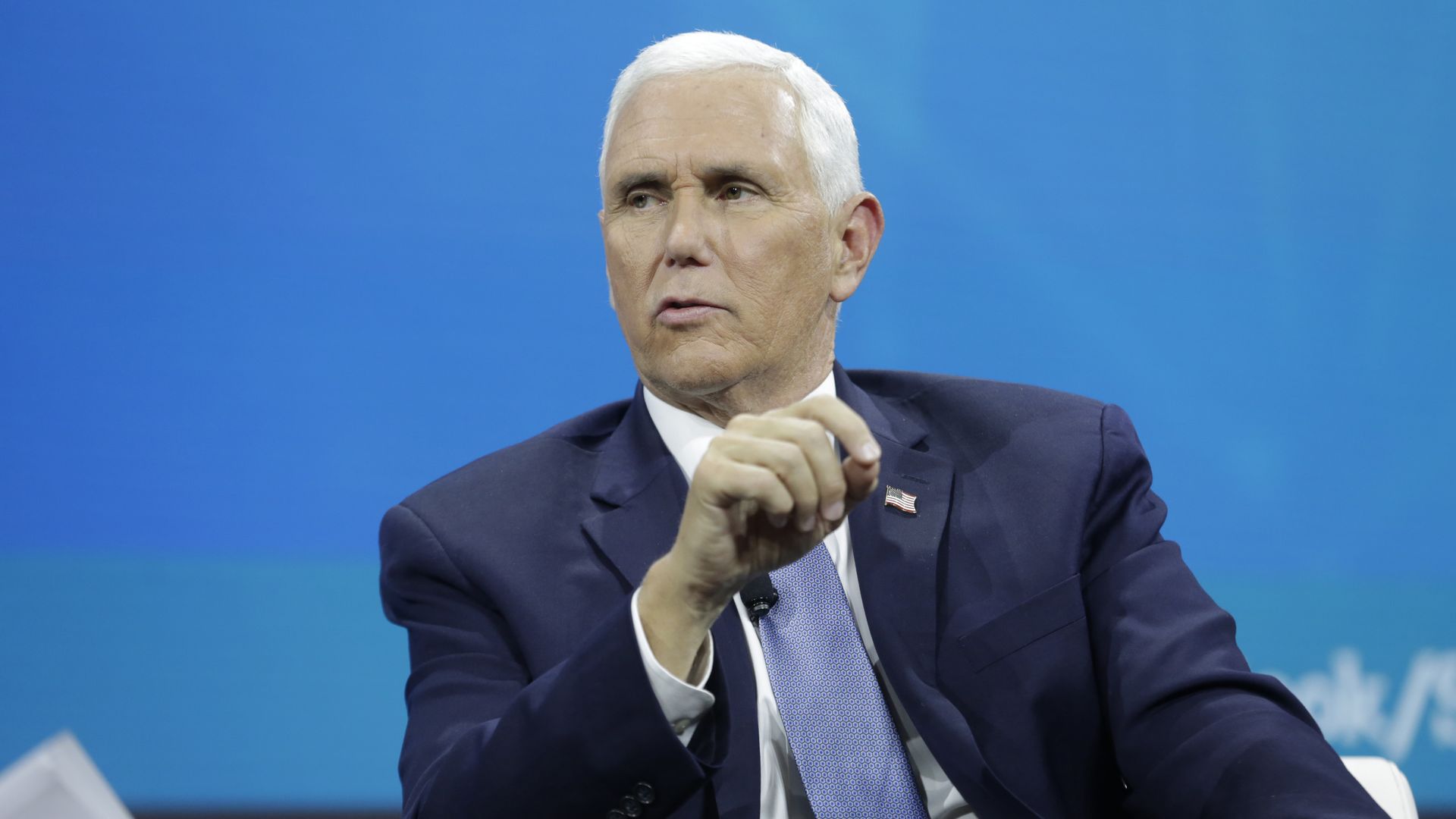 The FBI retrieved a "small number of documents" with classified document markings from former Vice President Mike Pence's Carmel, Indiana, home earlier this month, according to Pence's attorney.
Why it matters: The document discovery comes as both President Biden and former President Trump are under investigation for their handling of classified documents.
Pence has said previously that he didn't take any classified documents with him when he left the office.
CNN first reported that about a dozen documents marked as classified were found at Pence's home.
Driving the news: Following revelations about the discovery of classified documents at Biden's personal residence, Pence engaged lawyers on Jan. 16 to review documents at his personal home "out of an abundance of caution," Greg Jacob, Pence's counsel, wrote in a Jan. 18 letter to the National Archives.
A "small number of documents that could potentially contain sensitive or classified information" were subsequently discovered.
Pence had been unaware of the presence of classified documents in his home, but immediately secured the documents and directed his representatives to work with the archives to ensure their return, he added.
Between the lines: Per that first letter, "Pence understands the high importance of protecting sensitive and classified information and stands ready and willing to cooperate fully with the National Archives and any appropriate inquiry."
In a second letter to the National Archives on Jan. 22, Jacob wrote that on the evening of Jan. 19 — the FBI agents came to Pence's Indiana home to retrieve the documents.
What they're saying: Rep. James Comer (R-Ky.), who chairs the House Oversight and Accountability Committee, said in a statement Tuesday that Pence had reached out concerning the documents' discovery.
"He has agreed to fully cooperate with congressional oversight and any questions we have about the matter," Comer said. "Former Vice President Pence's transparency stands in stark contrast to Biden White House staff who continue to withhold information from Congress and the American people."
Earlier this month, Comer said that the committee would not investigate Trump over his handling of classified documents, though the committee has announced that it would investigate Biden's handling of documents.
While Biden and Pence appear to be cooperating with law enforcement, Trump has been resistant and publicly denounced special counsel Jack Smith.
Meanwhile, Rep. Adam Schiff (D-Calif.) said during an appearance on MSNBC: "There's a systemic problem with former occupants of the presidency and vice presidency having classified information at their homes when it shouldn't be there."
"There needs to be a review of what happens when people leave that office, the presidency and vice presidency."
Of note: Asked about the discovery of the documents during a press briefing on Tuesday, Attorney General Merrick Garland said he was "unable to comment."
The National Archives had no comment.
The big picture: The revelations come after several tranches of classified documents were discovered in Biden's Delaware home and former office this month.
Criticism of Biden has come from both sides of the aisle over the disclosure, though there are key differences from Trump's handling of classified documents.
The revelations of classified documents from two former presidents and the former vice president have raised fresh questions over government records and how they should be handled.
Some of the documents found in Biden's home and former office date back to his time as vice president and a senator, though it's not immediately clear what type of classified documents were found or how they got to the various identified locations.
Jacob and the House Intelligence Committee could not immediately be reached for comment.
Read the letters:
Editor's note: This story has been updated with additional reporting. This story has also been corrected to reflect that Mike Pence's attorney said a "small number of documents," not a dozen, were discovered at his Indiana home.
Go deeper