Subscribe to Axios Raleigh
Get smarter, faster with a daily look at the biggest stories in Raleigh
It's finally starting to feel a little — not a lot — like Christmas, and we're feeling extra thankful for all the holiday lights around the Triangle to help us get in the spirit.
North Carolina Gov. Roy Cooper announced Wednesday that his office, along with Moore County and Duke Energy, will give a $75,000 reward to anyone who provides a tip that leads to a conviction or arrest related to a widespread power outage in Moore County over the weekend.
That outage, caused by shots fired at two substations, left some 45,000 without power in recent days.
What's happening: Cooper's announcement came after Duke Energy said Wednesday it was able to successfully replace equipment destroyed in what investigators are calling a criminal attack.
Why it matters: While light has returned, the mystery over who was behind the attack remains, as local officials have not revealed any suspects or motives.
The FBI has been assisting with the investigation since Sunday. Additionally, the colonel from Fort Bragg has offered assistance to work on the investigation, Moore County Sheriff Ronnie Fields said Monday.
Between the lines: The outages have shown how vulnerable critical infrastructure can be. The loss of the two substations to gunfire damage crippled the county for four days.
As of Wednesday afternoon, about 2,000 Duke Energy customers remained without power.
A North Carolina power company said Wednesday it repaired the equipment that was damaged in an alleged attack that left a majority of Moore County without electricity over the last several days.
Why it matters: Around 45,000 homes and businesses in the county lost power on Saturday night as a result of what Moore County Sheriff Ronnie Fields described as a "targeted" attack involving gunfire on two electrical substations.
All eyes are once again on North Carolina Wednesday, as the U.S. Supreme Court hears oral arguments in one of the highest profile cases of its term: Moore v. Harper.
Driving the news: That's Moore as in North Carolina Republican House Speaker Tim Moore, who, along with other leaders of the state's Republican-controlled General Assembly, argues that state legislatures — and only state legislatures — are in charge of federal elections.
Give yourself the gift of this year's Clouds Brewing and Raleigh Professional Firefighters Association calendar, featuring some objectively good-looking first responders.
The proceeds will benefit Cause for Paws of North Carolina, so a calendar purchase from Clouds Brewing is a win for you or whoever you buy it for and animals.
Ira David Wood III was 27 when he started playing Scrooge in Theatre in the Park's "A Christmas Carol," a musical and comedic take on the classic Dickens' novella that has become a fixture in the Triangle.
We sat down with Wood, now 75, for our Local Limelight series to chat about the show's 49th season.
Almost 48 hours after Moore County went dark from a "targeted" attack on the county's power grid, downtown Southern Pines was dead silent Monday, save for a few generators powering a handful of local businesses struggling to keep their doors open.
Shops here should be jingling with holiday shoppers and houses should be glowing with Christmas lights. Instead, the outage has left nearly 40,000 homes and businesses without power.
Driving the news: Many questions remain unanswered, including who fired guns at two substations and why, while residents try to stay warm as temperatures dropped into the 40s overnight.
Why it matters: North Carolina knows disaster recovery. But this isn't a hurricane or a flood or an ice storm. The physical landscape of Moore County is the same as it was on Saturday morning: green with horse farms and golf courses and longleaf pines for miles.
But it felt downright apocalyptic in towns like Southern Pines, where a local wine shop was the only thing open until it closed at dark.
What they're saying: Gov. Roy Cooper said North Carolina, and the rest of the country, must learn how to safeguard from attacks that can bring communities to a standstill.
"We certainly need to learn from this incident as to what we may need to do because these kinds of things cannot happen," he told reporters at the sheriff's department in Carthage, the county seat. "We cannot tolerate this type of wide power outage to so many people."
Cooper, who said it was a criminal attack but stopped short of calling it an act of domestic terrorism, added: "We are deeply concerned about the small businesses that are losing out on valuable retail time right before the holidays."
What's happening: The effects of this widespread outage are also felt among the staff of The Pilot, the largest newspaper in the county. Half of the 11-person editorial staff is working out of a police station, while the other half is working from the home of a top editor, the paper's publisher, David Woronoff, told Axios.
Only a handful of homes seen on the drive from the sheriff's office in Carthage to downtown Southern Pines had lights on Monday.
People still are golfing; this is Moore County, after all. But Pinehurst Resort's famous clubhouse was closed, and the historic Carolina Inn — a traditional holiday destination for many North Carolinians — consolidated guests in rooms powered by generators.
Customers at The Wine Cellar wondered aloud when the power would come back on, and whether rumors of looting at a nearby Walmart were true. (The sheriff's department said yesterday one person was apprehended trying to steal from the store when they were trying to bring their power back on.)
Schools remain closed today and are unable to serve food to needy students, a Moore County Schools spokesperson told Axios.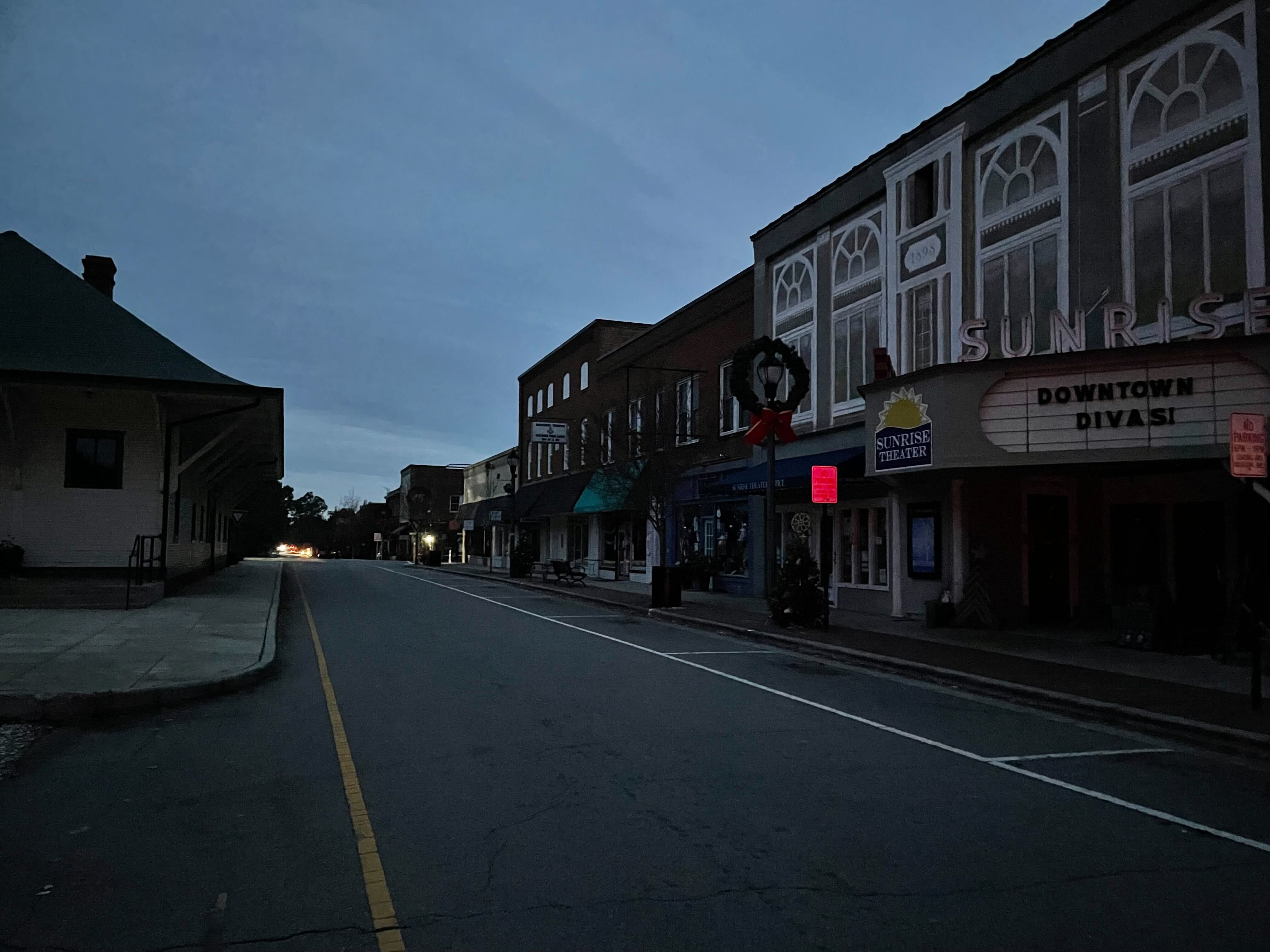 What we're watching: Leaders offered little new information regarding a possible suspect or motive. Both state and federal law enforcement have joined the investigation.
Duke Energy officials say crews are working around the clock, but power may not be fully restored until Thursday.
Until then, one of North Carolina's most charming places remains hushed.
An alleged attack on two electrical substations left 60 percent of North Carolina's Moore County without power over the weekend in what local and state authorities are investigating as a criminal attack.
The latest: Duke Energy said Monday it had restored power to approximately 7,000 customers across the county, but around 38,000 still remained without power as work and repairs continued.