House adjourns after tense vote as McCarthy plays for more time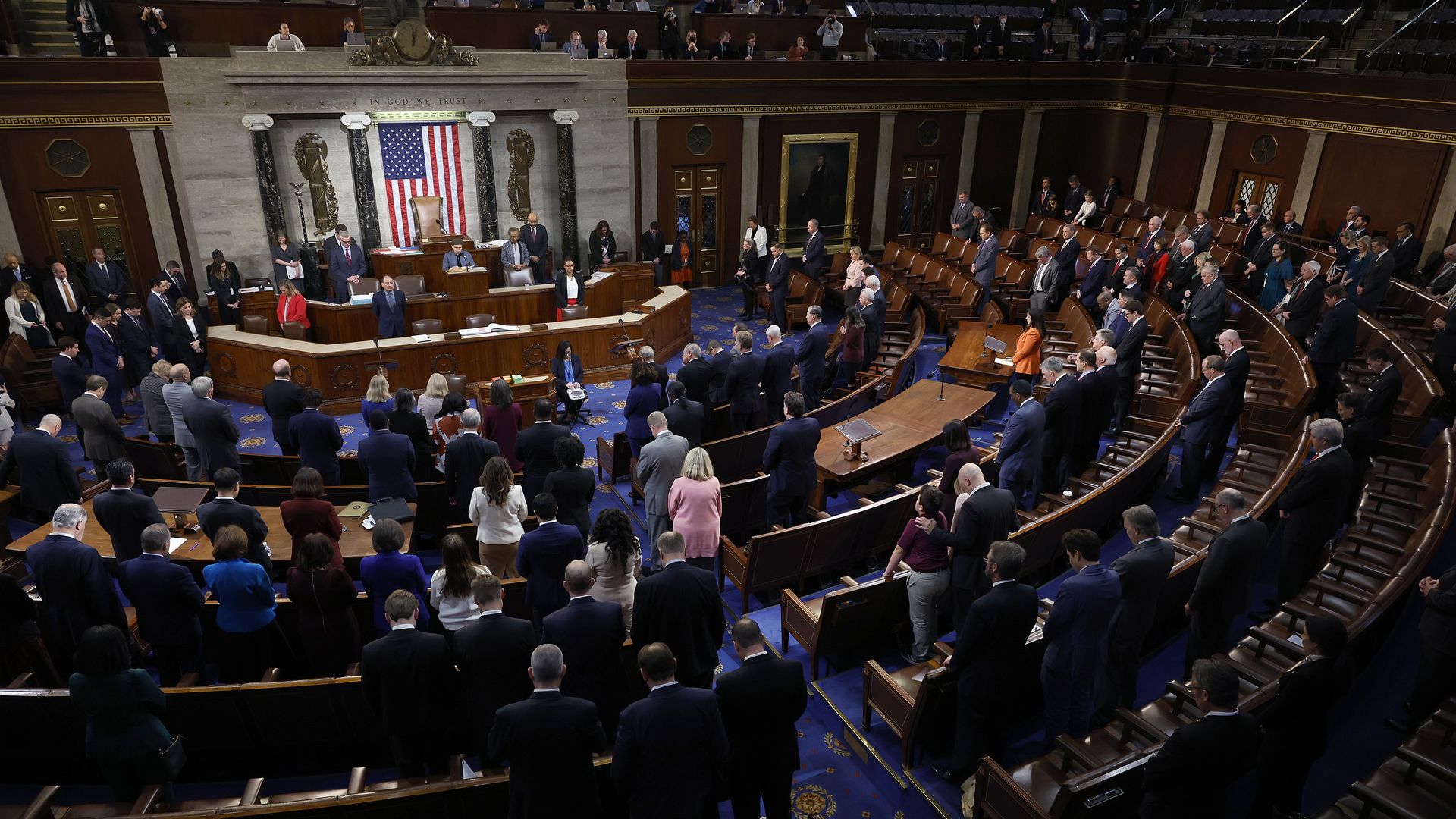 The House voted Wednesday to adjourn for the second time of the day — as Republican leader Kevin McCarthy said he wanted more time to negotiate after six rounds of voting on the speakership resulted in deadlock. It will resume at 12 p.m. ET on Thursday.
Driving the news: "I think it's probably best to let people work through some more. I don't think a vote tonight does any difference but votes in the future will," McCarthy said before the second vote to adjourn.
He lost three speaker election bids on Tuesday and three more on Wednesday.
Why it matters: It's the first time since 1923 that the speaker vote has required multiple ballots and it's unclear when — or how — lawmakers will eventually break the deadlock.
The latest: McCarthy offered fresh concessions on Wednesday evening in an attempt to keep his speakership bid alive, multiple GOP sources told Axios.
State of play: The California Republican's latest defeats came hours after former President Donald Trump urged Republicans to back him — and with his colleagues voting instead for Rep. Byron Donalds (R-Fla.) multiple times.
20 Republicans voted for Donalds during each round Wednesday.
Rep. Victoria Spartz (R-Ind.), who voted for McCarthy three times on Tuesday, voted present Wednesday. 
Republicans started looking for other options Wednesday afternoon.
Rep. Ken Buck (R-Colo.) — who backed McCarthy over six ballots — told CNN: "He either needs to make a deal to bring the 19 or 20 over, or he needs to step aside and give somebody a chance to do that."
Other Republicans are waiting in the wings as they struggle with this same calculus, GOP lawmakers and aides tell Axios.
What we're watching: A "negotiating group" was expected to meet later Wednesday to hash out differences behind closed doors and attempt to reach a compromise.
But McCarthy is running out of realistic concessions to make to detractors.
Buck recommended the GOP conference turn to Rep. Steve Scalise (R-La.) — the GOP's second in line and viewed as the leading alternative to McCarthy.
Details: During the sixth vote, which took place Wednesday, Rep. Kat Cammack (R-Fla.) nominated McCarthy, Democratic Rep. Pete Aguilar again nominated Minority Leader Hakeem Jeffries (D-N.Y.) and Rep. Scott Perry (R-Pa.) nominated Donalds.
During the fifth vote, Rep. Warren Davidson (R-Ohio) nominated McCarthy, Democratic Rep. Pete Aguilar nominated Minority Leader Hakeem Jeffries (D-N.Y.) and Rep. Lauren Boebert (R-Colo.) nominated Donalds.
In the fourth round of voting for House speaker, Aguilar nominated Jeffries for a fourth time, while Rep. Mike Gallagher (R-Wisc.) nominated McCarthy. Rep. Chip Roy (R-Texas) nominated Donalds for speaker. Both Roy and Donalds voted against McCarthy's bid on Tuesday in at least one of the rounds of voting.
Between the lines: Donalds during the third ballot on Tuesday switched his vote from McCarthy to Rep. Jim Jordan (R-Ohio), and he urged his GOP colleagues to "come to a consensus."
By the numbers: A speaker can win with fewer than the conventionally necessary 218 votes if not every member shows up, or if some vote present.
McCarthy has remained firm in his intent to stay in the fight, no matter how long it takes. He told reporters on Tuesday that he sees a "path" toward victory by flipping 11 votes if some members vote present.
What they're saying: Trump on Wednesday urged Republican lawmakers to vote for the McCarthy — one of his staunchest allies in the House during and after his presidency, despite McCarthy's initial public criticism of Trump after the Jan. 6 insurrection.
Trump, who has launched a 2024 White House bid, did not make a public endorsement on Tuesday as the House delved into chaos.
"Some really good conversations took place last night, and it's now time for all of our great Republican House members to vote for Kevin, close the deal, take the victory," Trump wrote in a post on Truth Social on Wednesday.
"Very good things are happening behind the scenes for the Republican Party," he said in another post late Wednesday.
"Intense but Smart negotiations between GREAT and PATRIOTIC people are ongoing. They all love our Country, and want something to go forward, ASAP. This 'event' will end up making the Republican Party STRONGER and more UNITED than ever before," Trump added.
Worth noting: President Biden also commented Wednesday on the stalemate, saying: "I just think it's a little embarrassing it's taken so long and the way they're dealing with one another."
Zoom out: The disarray over the speakership is emblematic of a wider, ongoing civil war within the Republican party, following an underperformance in November's midterm elections that left them with a razor-thin House majority.
That small majority has meant McCarthy could only afford to lose a handful of votes within his party to secure the gavel.
McCarthy spent weeks courting those in his conference who oppose him, making a series of major concessions — but those efforts have yet to pay off.
The bottom line: The House can't swear in its new members until a speaker is elected.
Go deeper: MTG doubles down on McCarthy support
Editor's note: This story has been updated with additional details throughout. Axios' Sareen Habeshian and Alayna Treene contributed to this report.
Go deeper