How the House speaker vote will work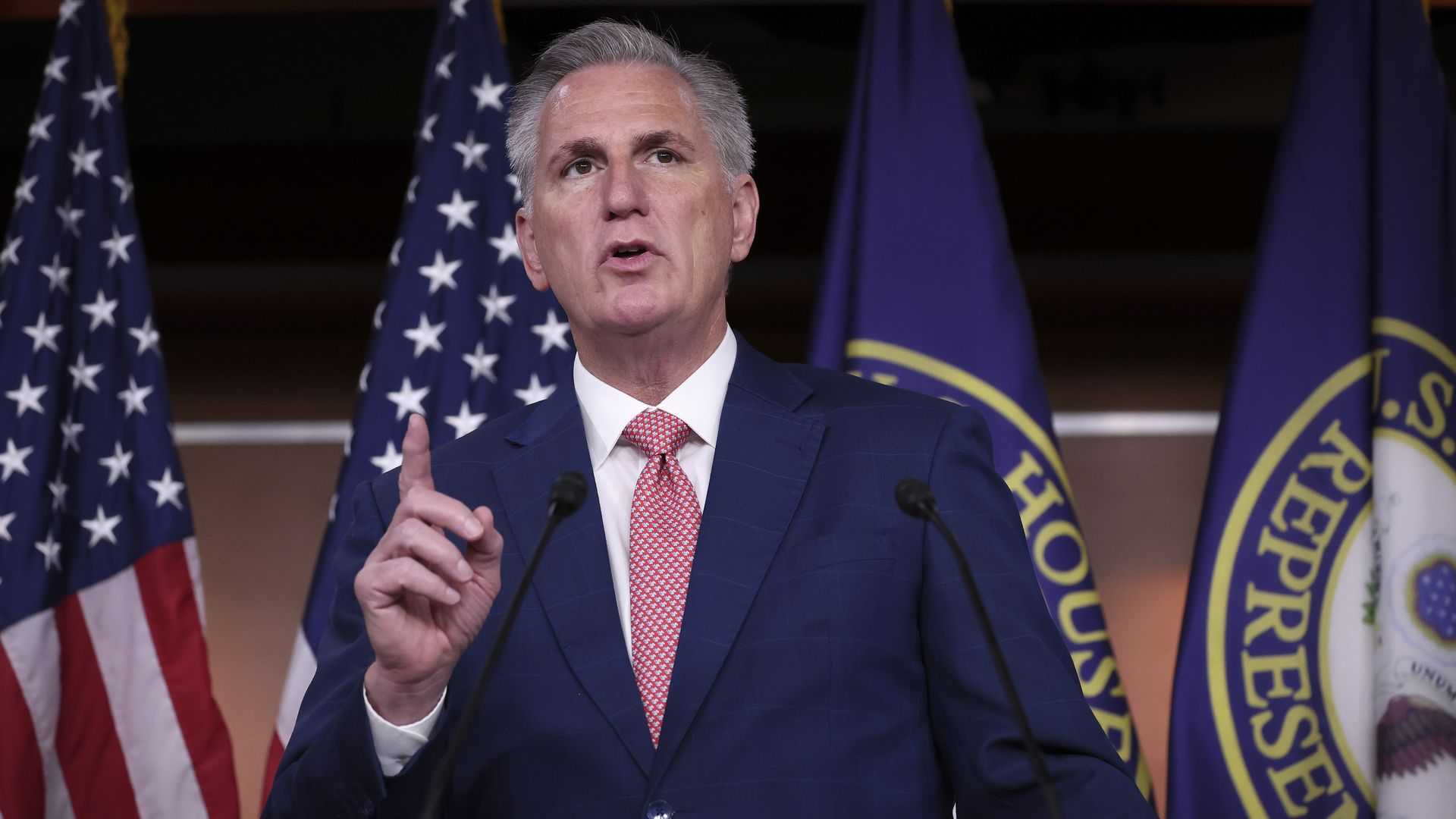 As lawmakers poured into the House chamber Tuesday for the first time this year to kick off a new Congress, members held a dramatic vote to elect their next speaker, culminating in an intense battle for the gavel between California Rep. Kevin McCarthy and some of his Republican colleagues.
The big picture: In a historic moment, McCarthy failed to secure enough votes on the initial ballot — marking the first time since 1923 that the House has had to hold multiple ballots to elect its next speaker.
If no candidate secures the majority on the first ballot, the process repeats until a speaker is elected.
Here's an overview of how the vote works.
Catch up quick: The 118th Congress convened at noon Tuesday, after which the House clerk led a call to order. A chaplain then led a prayer and the clerk led the Pledge of Allegiance, followed by a quorum call.
Then, candidates for speaker were nominated from the floor. New York Rep. Elise Stefanik, a member of House GOP leadership, nominated McCarthy, while Rep. Paul Gosar nominated fellow Arizona Republican Rep. Andy Biggs. Ohio Rep. Jim Jordan was also nominated.
Nominations were followed immediately by a "viva voce" roll-call vote, or a vote where members-elect respond orally to the calling of their names.
McCarthy needed 218 votes — or a majority of the House — to secure the speaker's gavel, but failed to do so, with 19 Republicans voting for other candidates.
The House on Tuesday afternoon held a second ballot, which McCarthy also lost, with 19 Republicans all voting for Jordan instead.
What's happening: A speaker can win with fewer than 218 votes if not every member shows up, or if some vote present.
"Under the modern practice, the Speaker is elected by a majority of members-elect voting by surname," per House rules.
Context: House Republicans greatly underperformed in November's midterm elections, leaving them with a razor-thin majority.
That small majority meant McCarthy could only afford to lose a handful of votes within his party to secure the gavel.
McCarthy has spent weeks courting those in his conference who oppose him, making a series of major concessions — but those efforts have yet to pay off.
Zoom out: The last time a House speaker election took multiple ballots was in 1923, when Frederick Gillett (R-Mass.) was re-elected on the ninth ballot.
Of the 14 multiple ballot-elections for House speaker, 13 occurred before the Civil War.
And the longest speaker election in House history was in 1856 — when it took 133 votes and two months, per the Washington Post.
Go deeper: McCarthy's math problem
Editor's note: This story has been updated with additional developments.
Go deeper