McCarthy still short on votes in bid to become speaker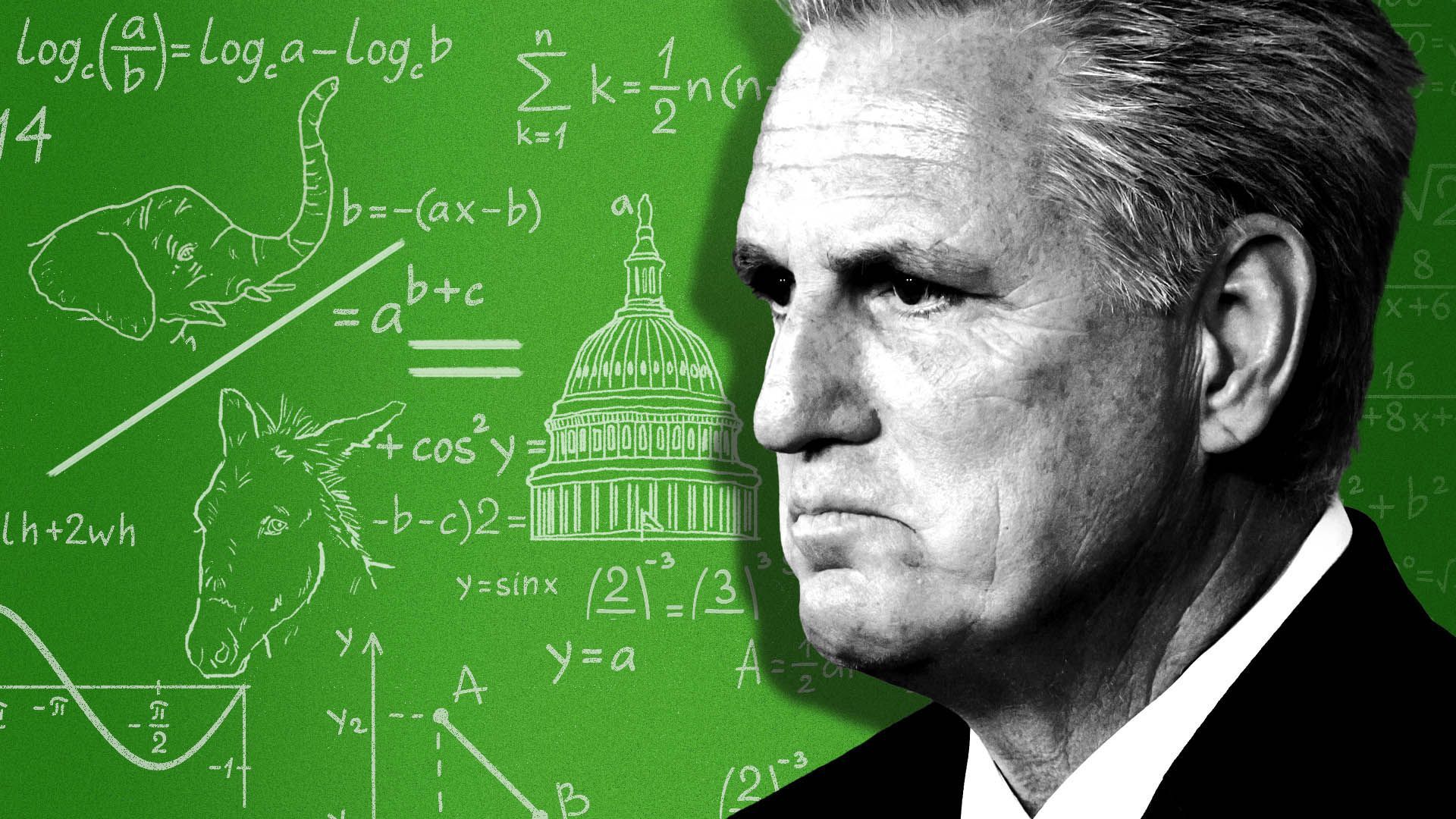 House Republican Leader Kevin McCarthy has begged countless lawmakers — and offered extraordinary concessions, including allowing members to easily fire him at any time — to secure the votes for speaker.
Why it matters: Republicans will take control of the House as the 118th Congress opens Tuesday. But McCarthy still doesn't have the votes he needs for speaker, as a handful of GOP lawmakers remain publicly opposed.
Top members of his team tell Axios they're optimistic about pulling it out. But they can't point to an exact route — always a bad sign.
McCarthy unveiled a package of rules changes on Sunday for the incoming Congress in an attempt to win over Republican holdouts to his bid for speaker of the House, Punchbowl News reported.
The rule changes amount to concessions to conservatives, who previously demanded similar changes.
The changes include what was considered a "red line" for McCarthy — making it easier to force a vote on removing the speaker.
McCarthy's proposed rules hand a knife to skeptics, allowing any five GOP to call for a vote to boot him at any time. In a letter of response, several hardliners still refused to commit to backing him.
"He's empowering every part of the conference," a top GOP aide told Axios.
The rules package also proposes ending the use of proxy voting and remote committee proceedings implemented because of the pandemic — as well as fines for not complying with mask mandates or security screenings before entering the House floor.
It also proposes a vote to form a select subcommittee on "Weaponization of the Federal Government" under the House Judiciary Committee, as well as a select committee on "Strategic Competition Between the United States and the Chinese Communist Party."
Between the lines: McCarthy has yielded to the right on ask after ask for weeks — ever since it was clear he was in trouble because the midterms gave him such a narrow majority.
Yet even close allies privately say it's "hard to see a path" to the 218 votes McCarthy needs when the new Congress opens tomorrow, Punchbowl News reports.
By the numbers: If the full House is voting, he can only lose four.
Five conservatives have declared themselves "no" votes, and there's another five to 10 McCarthy has to worry about.
The conservatives — Reps. Andy Biggs (R-Ariz.), Matt Gaetz (R-Fla.), Ralph Norman (R-S.C.), Matt Rosendale (R-Mt.) and Bob Good (R-Va.) — have all vowed to vote for speaker as a bloc.
But it's not clear that's a blood pact. Some of their individual concerns could be satisfied in the frantic private horse-trading that went on over the Christmas break and continues today.
The bottom line: The top GOP aide said 200+ members are firmly behind McCarthy. Dozens and dozens of them have declared themselves "only Kevin."
Jacob Knutson contributed to this story.
Read the proposed rules:
Go deeper