House adjourns after anti-McCarthy mutiny paralyzes House speaker vote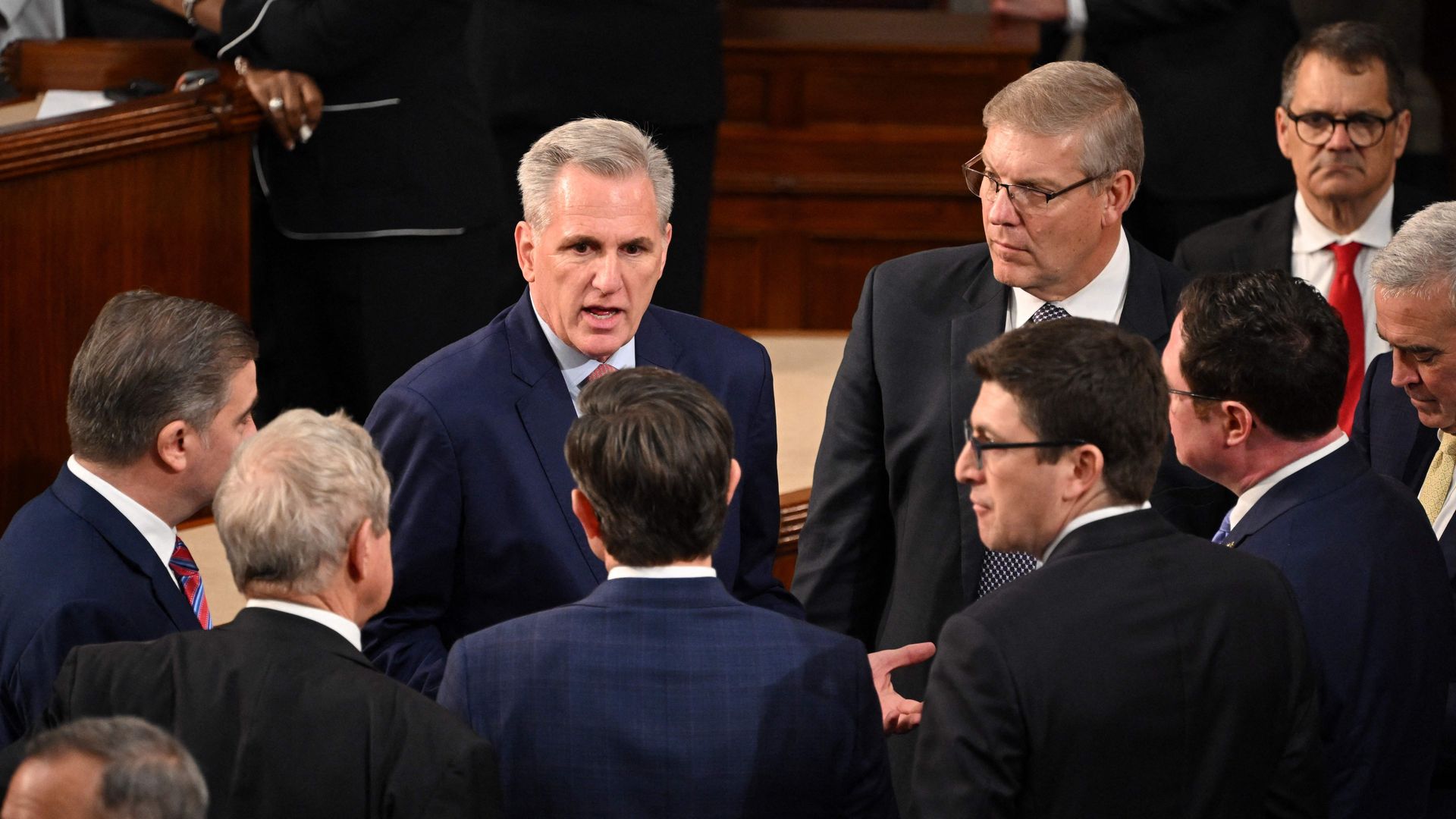 House Republican Leader Kevin McCarthy lost his bid for the speakership on the first round of voting Tuesday — and shortly thereafter, he lost a second ballot and a third.
Why it matters: Ballots will continue until someone gets a majority of votes — but it's unclear how long that will take. The House can't start regular business until a speaker is elected.
State of play: Lawmakers decided to adjourn until noon Wednesday after hitting a stalemate.
Members of the 118th Congress can't be sworn in, the House can't set rules to govern itself, and it can't consider legislation or create committee assignments.
McCarthy told reporters on Tuesday night he plans to stay in the speakership race and has the backing of former President Donald Trump.
The Californian Republican believes he can win the role if he doesn't 218 votes, a majority of the House, if some Congress members are absent or vote "present."
"Democrats have 212 votes; you get 213 votes, and the others don't say another name," he said. "That's how you can win."
Flashback: It took two months — and 133 ballots — for the House to elect its speaker in 1856.
The big picture: On the first two ballots, the same 19 Republicans blocked McCarthy by voting for other candidates. On the second ballot, they all voted for Rep. Jim Jordan (R-Ohio). On the third, the tally grew to 20 Republicans voting for Jordan.
All Democrats voted for Minority Leader Hakeem Jeffries (D-N.Y.) — the first Black person nominated to lead either chamber of Congress — on every ballot.
The 20 House Republicans who voted at some point against McCarthy:
Andy Biggs (R-Az.)
Dan Bishop (R-N.C.)
Lauren Boebert (R-Colo.)
Josh Brecheen (R-Okla.)
Andrew Clyde (R-Ga.)
Eli Crane (R-Ariz.)
Michael Cloud (R-Texas)
Matt Gaetz (R-Fla.)
Bob Good (R-Va.)
Paul Gosar (R-Ariz.)
Andy Harris (R-Md.)
Mary Miller (R-Ill.)
Ralph Norman (R-S.C.)
Andy Ogles (R-Tenn.)
Anna Paulina Luna (R-Fla.)
Scott Perry (R-Pa.)
Matt Rosendale (R-Mt.)
Chip Roy (R-Texas)
Keith Self (R-Texas)
Byron Donalds (R-Fl.)
Editor's note: This story has been updated with additional developments.
Go deeper