Updated Oct 29, 2019 -

World
Everything you need to know about Brexit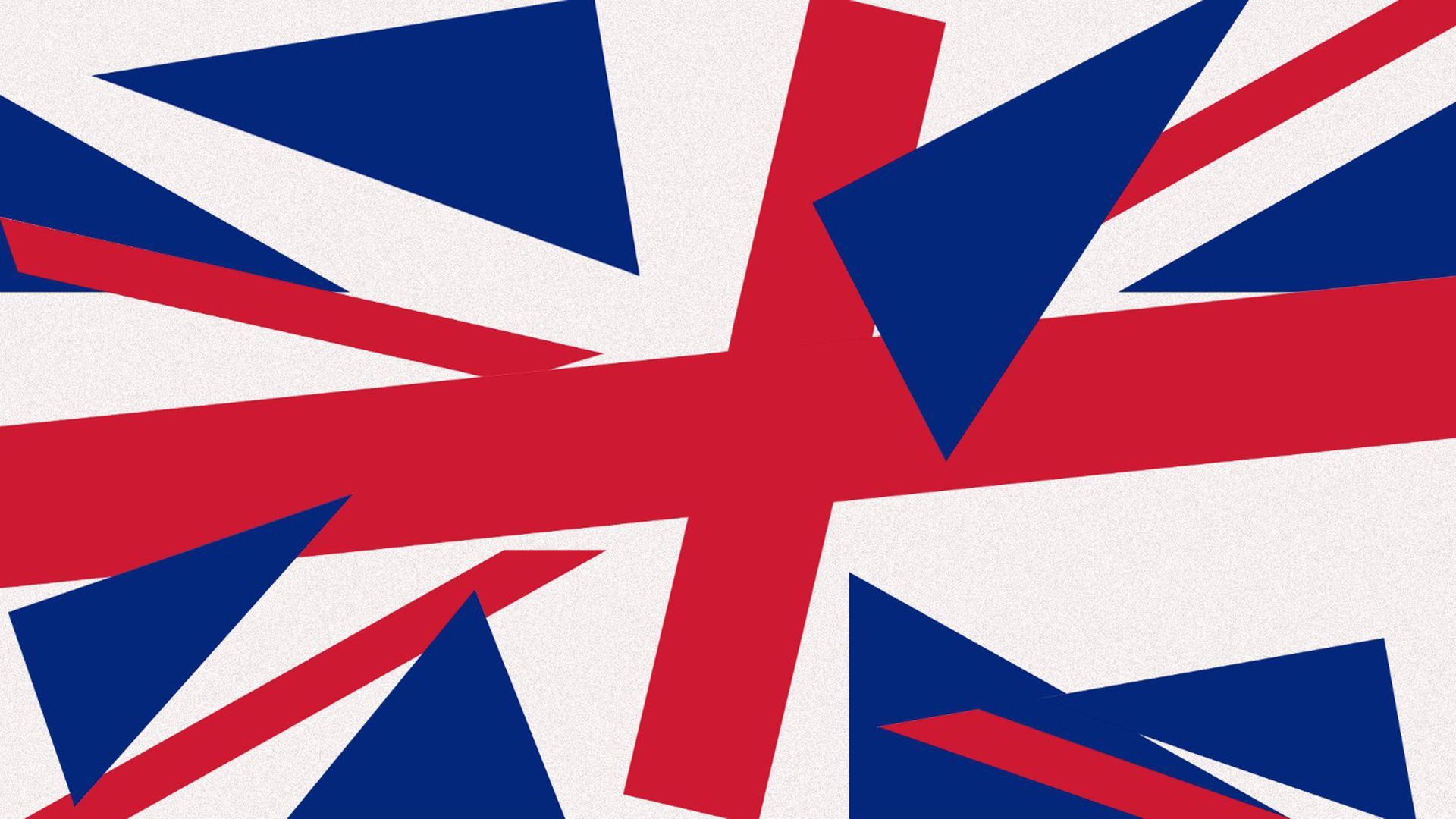 On June 23, 2016, the United Kingdom shocked the world and voted to "Brexit," or leave the European Union. After more than three years of uncertainty and fractured politics, the U.K. officially exited the EU on Jan. 31, 2020.
The players
"Leave": The pro-Brexit campaign focused on cutting immigration, gaining sovereignty and slashing payments to Brussels.
"Remain": The opposing campaign emphasized economic harm if Brexit went ahead.
Conservative Party: At the time of Brexit, the Conservative Party held a majority in Parliament. The party lost its majority in a snap election called by then-Conservative Prime Minister Theresa May in 2017 and was forced to rely on the support of Northern Ireland's Democratic Unionist Party.

David Cameron: Prime Minister from 2010-2016. He called the referendum, campaigned for "Remain," and resigned after losing the vote.
Theresa May: Prime Minister from 2016-2019. May supported remaining in the EU before winning the leadership election to replace Cameron. She resigned from the position after failing to win support for her approach to Brexit.
Boris Johnson: The U.K.'s prime minister as of July 24. He was one of the most vocal proponents of leaving the EU from within the Conservative Party.

Labour Party: The opposition party in Parliament, whose members overwhelmingly supports remaining in the EU.

Jeremy Corbyn: The hard-left leader of the Labour Party. He opposed Brexit (at least officially) but after the vote said the results must be respected. He's been accused of failing to take a firm stance in favor of remaining, which has caused the party to hemorrhage support.
Terms to know
No deal Brexit: The case in which the U.K. leaves the E.U. with no formal exit agreement, which would be bad for Europe and disastrous for the U.K. There is an overwhelming consensus on both sides of the aisle that a no-deal Brexit cannot be allowed to happen, per Axios' Felix Salmon.
Backstop: An insurance policy to avoid a hard border between Northern Ireland and Ireland — which could trigger a flareup of sectarian violence on the island — until the EU's future relationship with the U.K. is resolved. The backstop is considered a dealbreaker for hardline Brexiteers and a necessity for the EU.
Prorogation: Suspension of Parliament. The prime minister typically asks the queen to prorogue Parliament once a year in order to bring an end to legislative business. When Parliament returns for its new session, the queen makes a speech setting out the government's agenda.
Key events
June 23, 2016: The United Kingdom votes to leave the European Union with 51.89% of the votes to leave and 48.11% to remain.
June 24, 2016: Prime Minister David Cameron announces he'll step down.
July 13, 2016: Home Secretary Theresa May becomes prime minister after a leadership contest.
March 28, 2017: May signs a letter invoking Article 50, formally beginning the U.K.'s exit from the EU.
June 9, 2017: In a snap general election called early by May, who thought she could strengthen her majority, the Conservative Party loses its majority in a shocking vote that leaves the U.K. with a hung Parliament. May forms a government with the support of the right-wing Northern Irish Democratic Unionist Party.
Dec. 8, 2017: The U.K. and EU reach a last-minute "breakthrough" deal on the first phase of Brexit negotiations. The deal ensures there'll be no hard border between Northern Ireland and Ireland, guarantees the rights of EU citizens in the U.K. (and vice versa) and sets the financial terms for the U.K.'s exit.
March 2, 2018: Theresa May outlines her economic vision for the U.K.'s departure from the EU. She presents the softest version of a hard Brexit plan that removes the U.K. from the EU's market and customs union, but still maintains important economic and regulatory links to the EU via a landmark trade deal.
March 19, 2018: Negotiators reach a deal on key terms for the Brexit transition period, with the U.K. making notable concessions. This deal introduces the backstop.
July 7, 2018: May and her Cabinet agree on a plan that would see the U.K. maintain close economic ties with the EU in what would amount to a "soft" Brexit.
Nov. 13, 2018: The U.K. and the EU agree on a draft Brexit agreement, which May's Cabinet agrees to back the next day.

May's Brexit secretary and Work and Pensions secretary resign over the agreement.

Dec. 4, 2018: May's government is found in contempt of Parliament for the first time in history after a refusal to publish its full legal analysis on Brexit.
Dec. 12, 2018: 48 Conservative MPs submit letters forcing May to face a vote of no confidence from her own party, which she survives.
Jan. 15, 2019: May's Brexit deal is defeated in the House of Commons by a historic 202 to 432 margin, the biggest defeat for a reigning government in more than a century.
Jan. 16, 2019: May survives a motion of no-confidence brought by Jeremy Corbyn.
Jan. 29, 2019: Parliament votes to support May's effort to find "alternative arrangements" with the EU on the Irish backstop. Parliament also votes to express its opposition to "no deal," but rejects a plan to push the official exit date back.
March 12, 2019: After spending weeks scrambling to make last-minute tweaks to her Brexit agreement, May sees her plan defeated once again in Parliament by a margin of 242 to 391.
March 13, 2019: Parliament votes to rule out a no-deal Brexit.
March 21, 2019: The EU gives the U.K. a short Brexit extension to April 12.
March 27, 2019: May tells Conservative MPs she'll step down after "a smooth and orderly" Brexit.
March 29, 2019: May's Brexit deal is defeated for a third time in a 344-286 vote.
April 1, 2019: The House of Commons rejects all four alternatives to May's Brexit deal for the second time.
April 2, 2019: After a marathon cabinet meeting, May says another "short" Brexit extension is necessary and that she's ready to compromise with the Labour Party.
April 10, 2019: The EU offers the U.K. a Brexit extension until Oct. 31.
May 23, 2019: The U.K. government pulls a planned last-ditch vote on May's Brexit deal.
May 24, 2019: Theresa May announced that she will resign as prime minister.
June 20, 2019: The 10 candidates running to replace May are whittled down to two through a series of votes among Conservative Members of Parliament: Johnson and Foreign Secretary Jeremy Hunt.
July 23, 2019: Johnson defeats Hunt — after easily winning a vote among Conservative Party members, who comprise less than 1% of the U.K. electorate — to claim leadership of the Conservative Party.
July 24, 2019: Johnson officially becomes prime minister.
August 28, 2019: Queen Elizabeth II approves Johnson's request to prorogue Parliament.
September 3, 2019: Parliament defeats Johnson to take control of the legislative agenda.

Johnson also expels 21 rebel lawmakers from the Conservative Party.

September 4, 2019: Parliament votes in favor of the bill to block a no-deal Brexit.

Parliament also blocks Johnson from calling an election.

September 9, 2019: Parliament blocks Johnson from calling a snap election for the second time.
September 10, 2019: Prorogation begins.
September 24, 2019: Britain's Supreme Court unanimously decides that Parliament's prorogation is unlawful.
October 17, 2019: Johnson announces he's reached a Brexit deal.

The deal is similar to May's deal that was repeatedly rejected in Parliament, except on the status of Northern Ireland.

October 19, 2019: Parliament approves the Letwin amendment, which is intended as a safety valve against a no deal Brexit but makes another Brexit delay likely.
October 22, 2019: Parliament approves Johnson's Brexit deal, but rejects the expedited timeline on which Johnson aimed to finalize it — making Johnson's pledge to take the U.K. out of the EU by Oct. 31 impossible.
October 28, 2019: The EU agrees to extend Brexit until Jan. 31, 2020.
October 29, 2019: Parliament approves a snap general election on December 12.
December 20, 2019: Parliament approves Johnson's Brexit deal.
December 13, 2019: Johnson exceeds all expectations in the general election and wins a landslide victory with 364 seats.
January 9, 2020: The House of Commons votes in favor of the EU withdrawal agreement negotiated by Johnson, essentially ensuring Brexit will happen.
January 31, 2020: The U.K. exits the EU.
Go deeper:
Go deeper