Axios Sneak Peek
May 31, 2023
Welcome back to Sneak. Smart Brevity™ count: 1,053 words ... 4 minutes.
👀 You're invited: Join Axios' Sophia Cai and Ryan Heath tomorrow at 8:30am ET in D.C. for a News Shapers event featuring Cybersecurity and Infrastructure Security Agency director Jen Easterly and GOP presidential candidate Sen. Tim Scott (R-S.C.). Register here to attend in person or virtually.
1 big thing: McCarthy's right-wing reckoning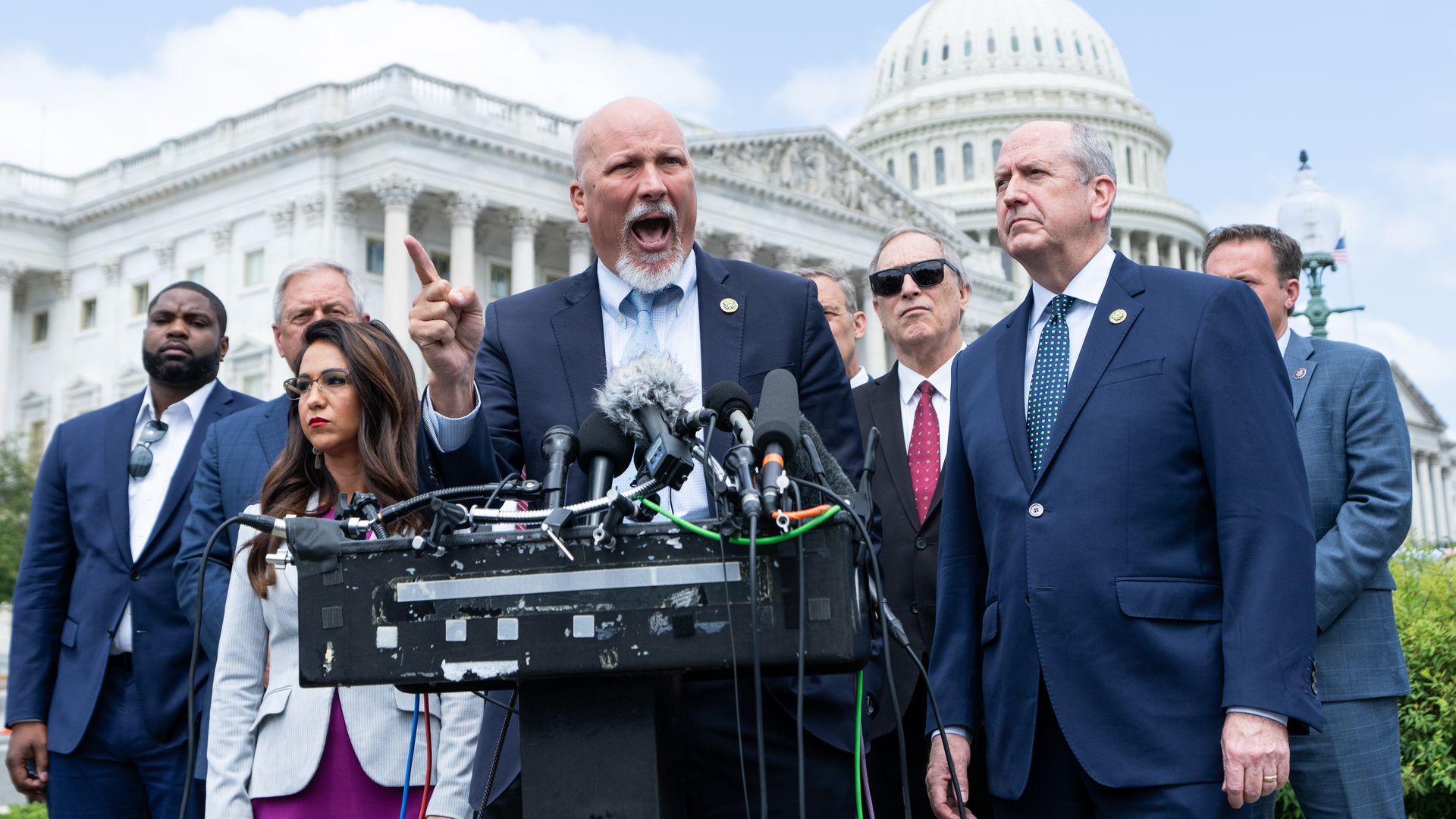 Right-wing furor over the debt ceiling deal reached a boiling point today, producing the first public threats to Kevin McCarthy's speakership since he secured the gavel in January's tortured, 15-ballot election.
Why it matters: The House GOP's remarkable unity has been the story of this Congress so far. McCarthy has successfully navigated one of the narrowest majorities in U.S. history, tamping down rebellions and defying his doubters at virtually every turn — until now.
"The Republican conference has been torn asunder," Rep. Chip Roy (R-Texas) declared at a House Freedom Caucus press conference Tuesday afternoon, calling for a "reckoning."
"This is a career-defining vote for every Republican," said Rep. Dan Bishop (R-N.C.), accusing McCarthy of "forfeiting" the unity the House GOP had forged through the backroom talks that anointed him speaker.
Driving the news: Bishop today became the first House Republican to publicly state he's considering a "motion to vacate the chair," which would trigger a vote of no confidence that could oust McCarthy with a simple majority.
"It is clear that, as steward of Republican unity, Kevin has made an unrecoverable failure," Bishop told Axios — adding that the motion to vacate "will be at a time and circumstance of our choosing."
Other Freedom Caucus members were more circumspect, saying their central focus is on defeating the bill — or ensuring that as many Republicans as possible vote against it.
Reality check: The Freedom Caucus is notorious for its bomb-throwing rhetoric, but there's no indication that more than a few of its members would support a motion to vacate.
Before the debt ceiling deal was reached, centrist Democrats had quietly raised the idea of providing McCarthy the votes he needs to survive a right-wing effort to oust him.
But some Democrats dismissed that speculation today as "premature."
State of play: Rep. Thomas Massie (R-Ky.), one of three conservatives McCarthy appointed to the Rules Committee as a concession to become speaker, voted to allow the bill to advance to the House floor for a full vote tomorrow despite objections from Roy and Rep. Ralph Norman (R-S.C.).
Rep. Patrick McHenry (R-N.C.), a top McCarthy deputy who negotiated the deal, predicted the bill would pass with the support of more than half of the GOP conference.
House Minority Leader Hakeem Jeffries (D-N.Y.) said Republicans had promised to produce at least 150 of the 218 votes necessary for the bill to pass with the full House present.
What to watch: "If a majority of Republicans are against a piece of legislation, and you use Democrats to pass it, that would immediately be a black-letter violation of the deal we had with McCarthy," Rep. Matt Gaetz (R-Fla.) told Newsmax.
"And it would likely trigger an immediate motion to vacate," Gaetz added. "I think Speaker McCarthy knows that — that's why he's working hard to make sure he gets 120, 150, 160 votes."
2. 👀 Progressives cool on debt deal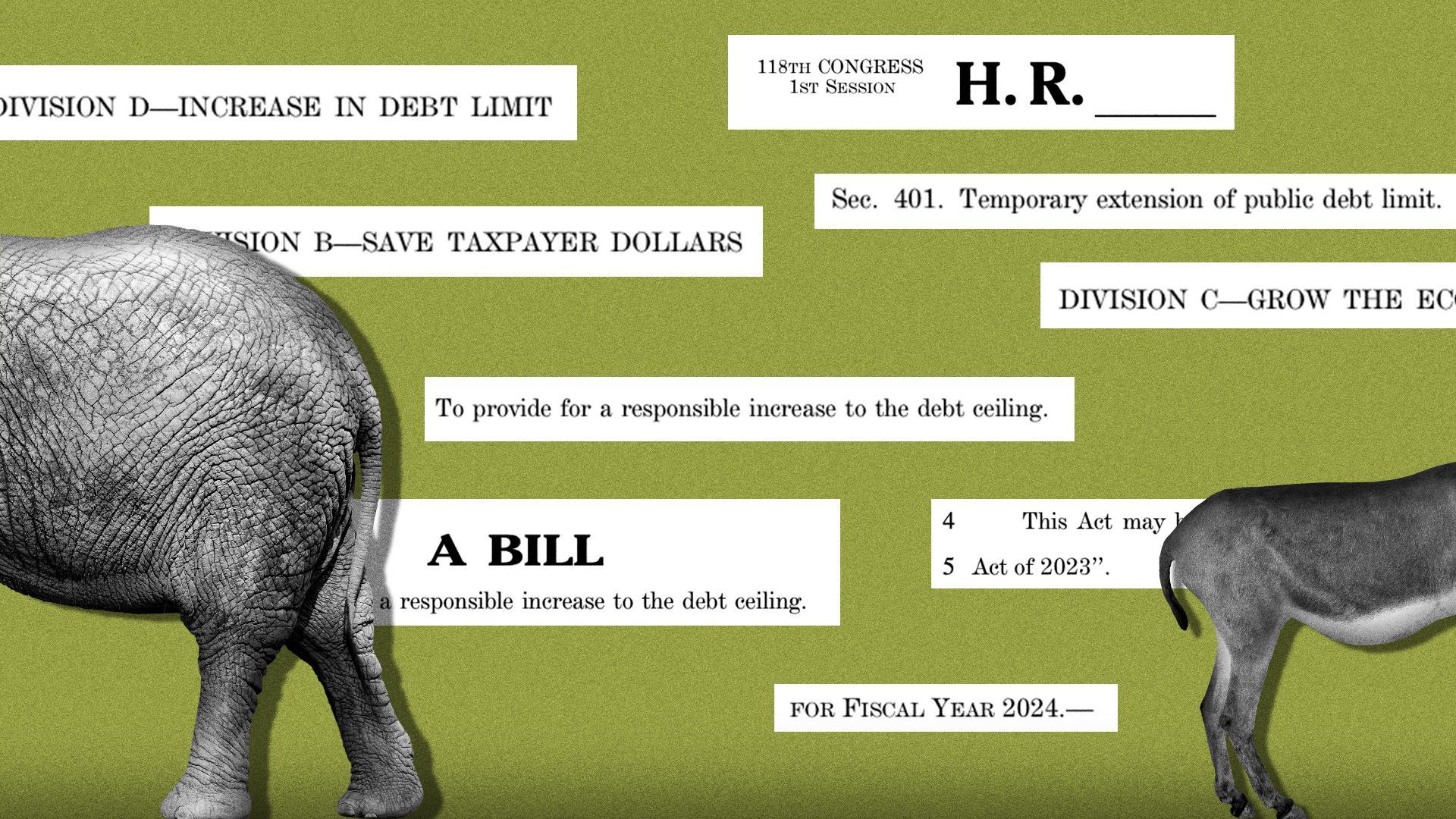 Members of the Congressional Progressive Caucus are split on how to vote on the debt ceiling deal, which will likely need substantial support from Democrats to make up for the dozens of lost votes on the GOP side, Axios' Andrew Solender reports.
Why it matters: The 100-member group makes up a significant portion of the 213-member Democratic caucus, but sources say Democrats will still likely be able to deliver enough votes to put the bill over the finish line.
Driving the news: As the Progressive Caucus performs an internal whip count to determine whether to take an official position on the bill, four progressive aides and a lawmaker told Axios that members are split but generally leaning against it.
Rep. Alexandria Ocasio-Cortez (D-N.Y.), a high-profile member of the progressive "Squad," said she is voting against the bill.
"There will be real harmful impacts for poor people and working people," Progressive Caucus Chair Pramila Jayapal (D-Wash.) told reporters, adding that members have "serious concerns about the environmental justice implications of this bill."
3. 🇺🇸 Trump vows to end birthright citizenship — again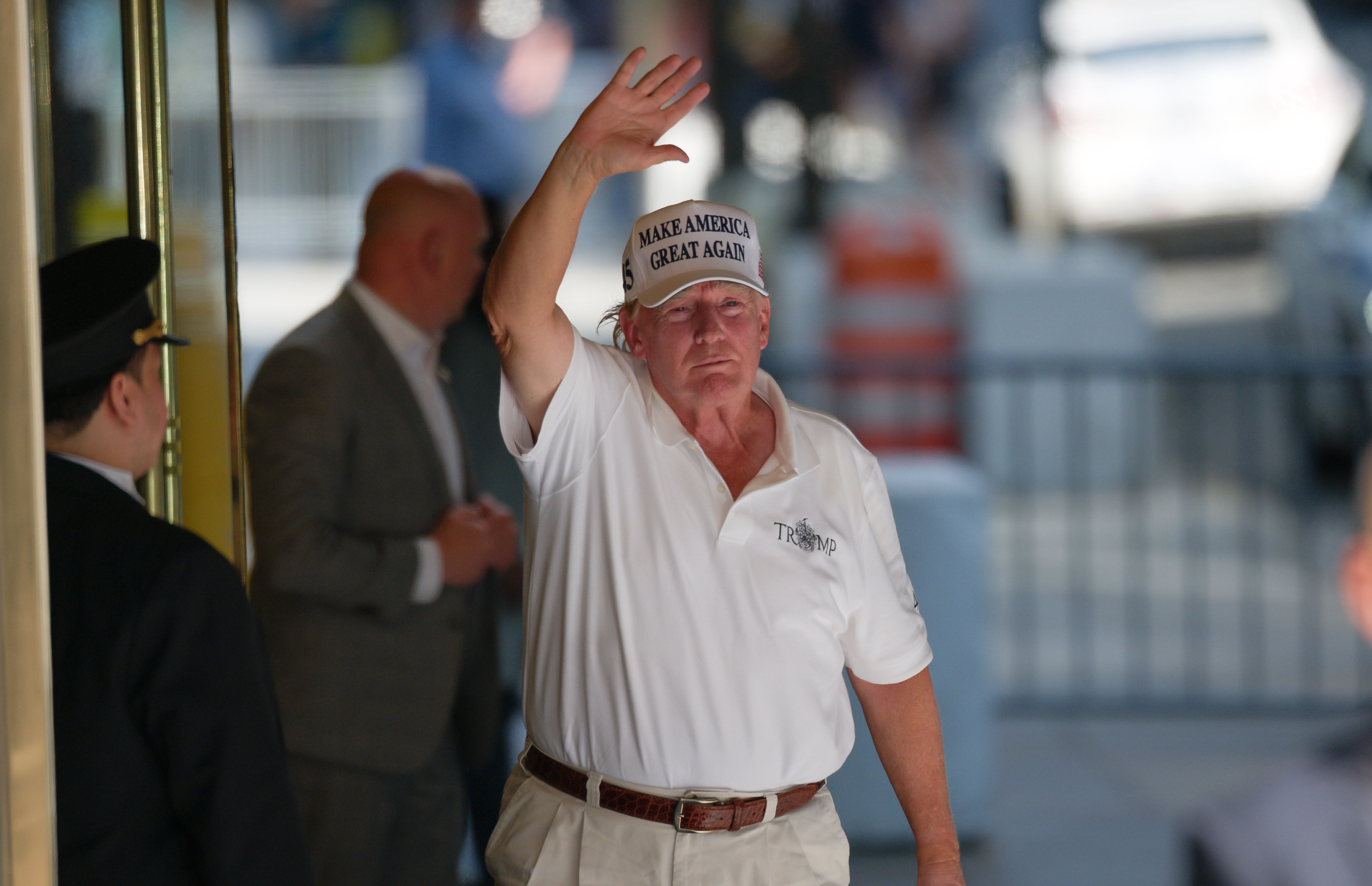 Trump pledged today to sign an executive order on "day one" ending birthright citizenship for the children of undocumented immigrants, calling it "a reward for breaking the laws of the United States."
Why it matters: Few immigration and constitutional scholars believe it is within the president's power to change birthright citizenship, a debate that emerged in 2018 when Trump first told Axios he was planning to do so.
Trump revived the idea multiple times during his administration but ultimately never acted — drawing accusations of "empty promises" from skeptical conservatives and supporters of Florida Gov. Ron DeSantis today.
"One issue with Trump running a second time that most candidates normally don't have to deal with: 'You had four years to do XYZ…'" Semafor's Benjy Sarlin pointed out.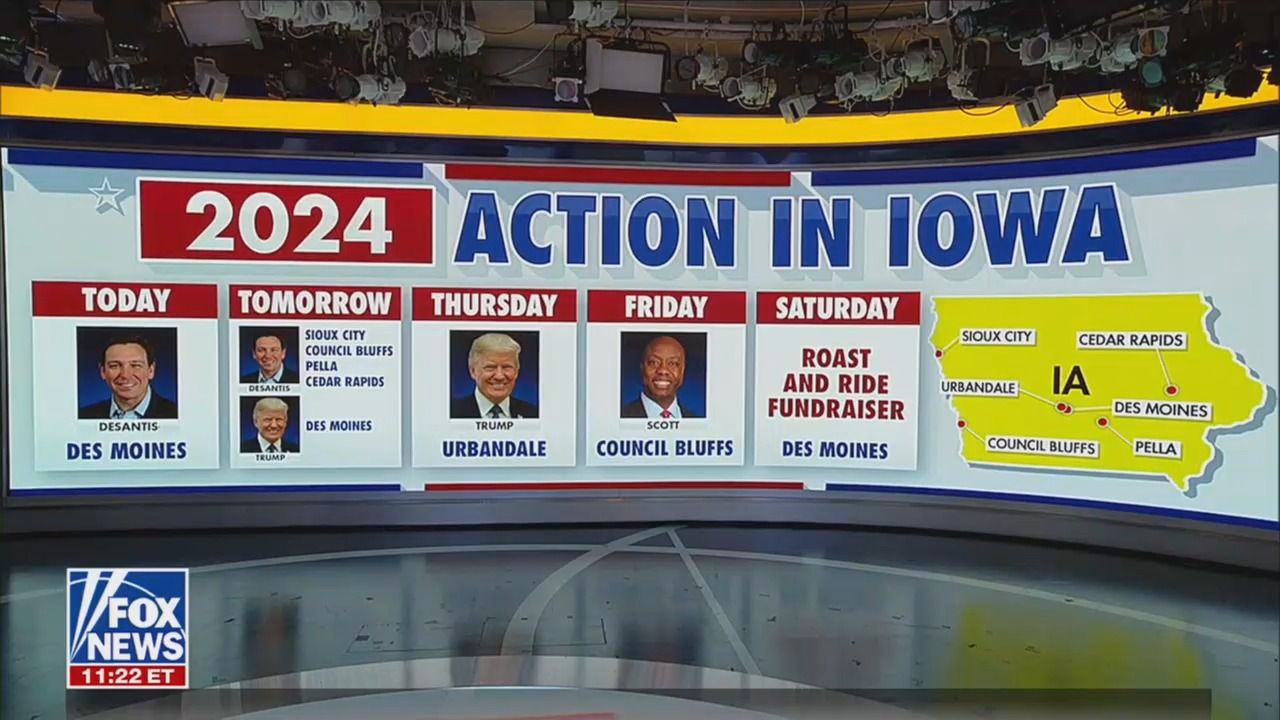 Meanwhile: DeSantis kicked off his first swing through Iowa today as an official GOP presidential candidate, with plans to campaign in all 99 counties in an ambitious bid to upset Trump in the first-in-the-nation caucuses.
After months of holding his tongue amid relentless attacks from Trump, DeSantis has unleashed a barrage of criticism at the former president over criminal justice reform, his handling of COVID-19, the national debt and immigration.
"I don't know what happened to Donald Trump," DeSantis said last week, accusing the former president of "going left on a lot of issues."
4. 🦋 Rosalynn Carter diagnosed with dementia
Former first lady Rosalynn Carter, who campaigned for improved access to mental health care for much of her life, has been diagnosed with dementia, the Carter Center announced.
Former President Jimmy Carter has been in hospice care for three months but continues to receive updates on the Carter Center's humanitarian work.
What they're saying: "We recognize, as she did more than half a century ago, that stigma is often a barrier that keeps individuals and their families from seeking and getting much-needed support," the Carter Center said.
"We hope sharing our family's news will increase important conversations at kitchen tables and in doctor's offices around the country."
📬 Thanks for reading tonight. This newsletter was copy edited by Kathie Bozanich.