Freedom Caucus promises "reckoning" over McCarthy debt deal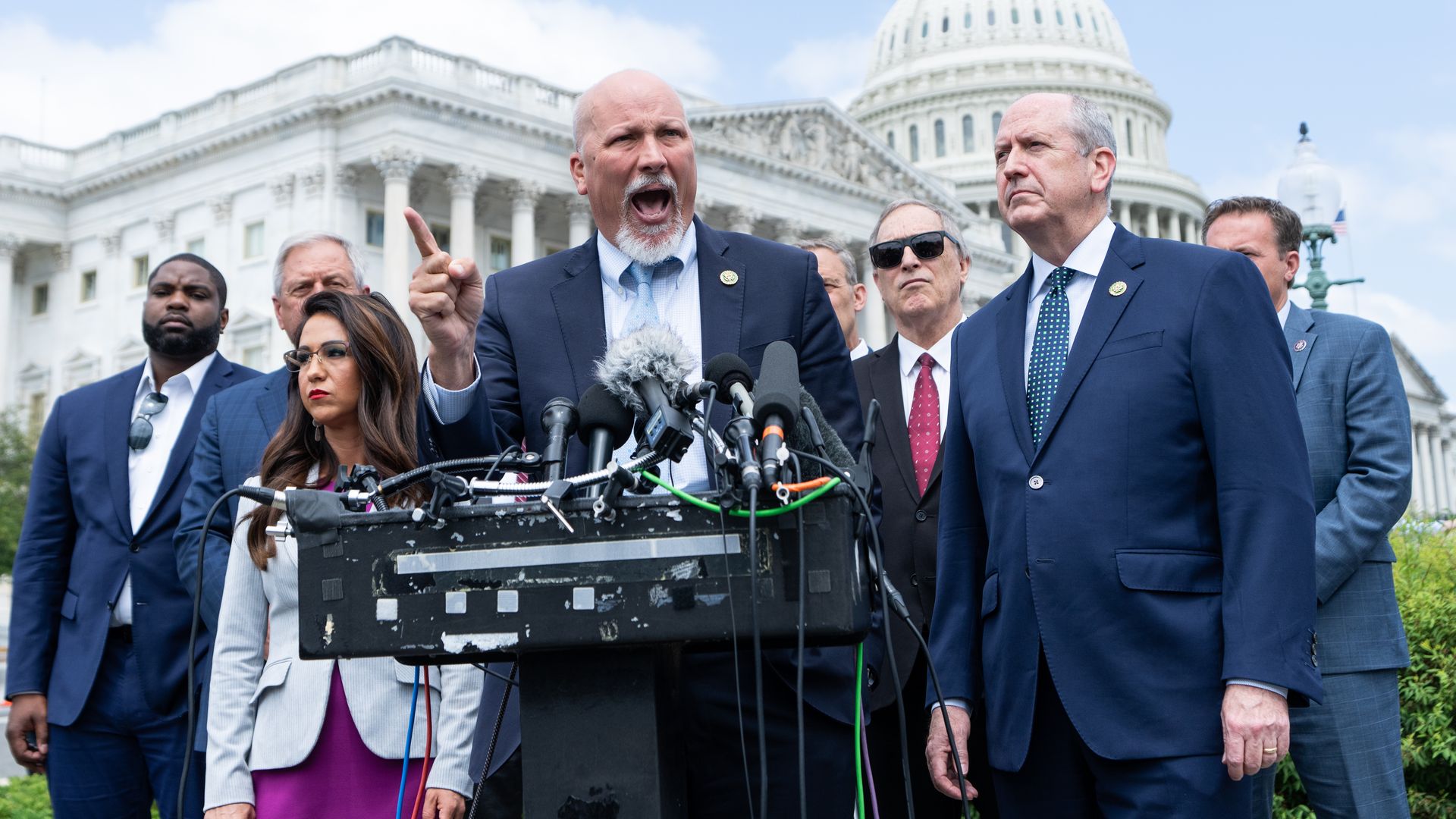 Right-wing furor over the debt ceiling deal reached a boiling point Tuesday, producing the first public threats to Kevin McCarthy's speakership since he secured the gavel in January's tortured, 15-ballot election.
Why it matters: The House GOP's remarkable unity has been the story of this Congress so far. McCarthy has successfully navigated one of the narrowest majorities in U.S. history, tamping down rebellions and defying his doubters at virtually every turn — until now.
"The Republican conference has been torn asunder," Rep. Chip Roy (R-Texas) declared at a House Freedom Caucus press conference Tuesday afternoon, calling for a "reckoning."
"This is a career-defining vote for every Republican," said Rep. Dan Bishop (R-N.C.), accusing McCarthy of "forfeiting" the unity the House GOP had forged through the backroom talks that anointed him speaker.
Driving the news: Bishop on Tuesday became the first House Republican to publicly state he's considering a "motion to vacate the chair," which would trigger a vote of no confidence that could oust McCarthy with a simple majority.
"It is clear that, as steward of Republican unity, Kevin has made an unrecoverable failure," Bishop told Axios — adding that the motion to vacate "will be at a time and circumstance of our choosing."
Other Freedom Caucus members were more circumspect, saying their central focus is on defeating the bill — or ensuring that as many Republicans as possible vote against it.
Reality check: The Freedom Caucus is notorious for its bomb-throwing rhetoric, but there's no indication that more than a handful of its members would support a motion to vacate.
Before the debt ceiling deal was reached, centrist Democrats had quietly raised the idea of providing McCarthy the votes he needs to survive a right-wing effort to oust him.
But some Democrats dismissed that speculation on Tuesday as "premature."
State of play: Rep. Thomas Massie (R-Ky.), one of three conservatives McCarthy appointed to the Rules Committee as a concession to become speaker, voted to allow the bill to advance to the House floor for a full vote Wednesday despite objections from Roy and Rep. Ralph Norman (R-S.C.).
Rep. Patrick McHenry (R-N.C.), a top McCarthy deputy who negotiated the deal, predicted the bill would pass with the support of more than half of the GOP conference.
House Minority Leader Hakeem Jeffries (D-N.Y.) said Republicans had promised to produce at least 150 of the 218 votes necessary for the bill to pass with the full House present.
What to watch: "If a majority of Republicans are against a piece of legislation, and you use Democrats to pass it, that would immediately be a black-letter violation of the deal we had with McCarthy," Rep. Matt Gaetz (R-Fla.) told Newsmax.
"And it would likely trigger an immediate motion to vacate," Gaetz added. "I think Speaker McCarthy knows that — that's why he's working hard to make sure he gets 120, 150, 160 votes."
Go deeper