GOP leaders bullish on debt ceiling vote despite rebellion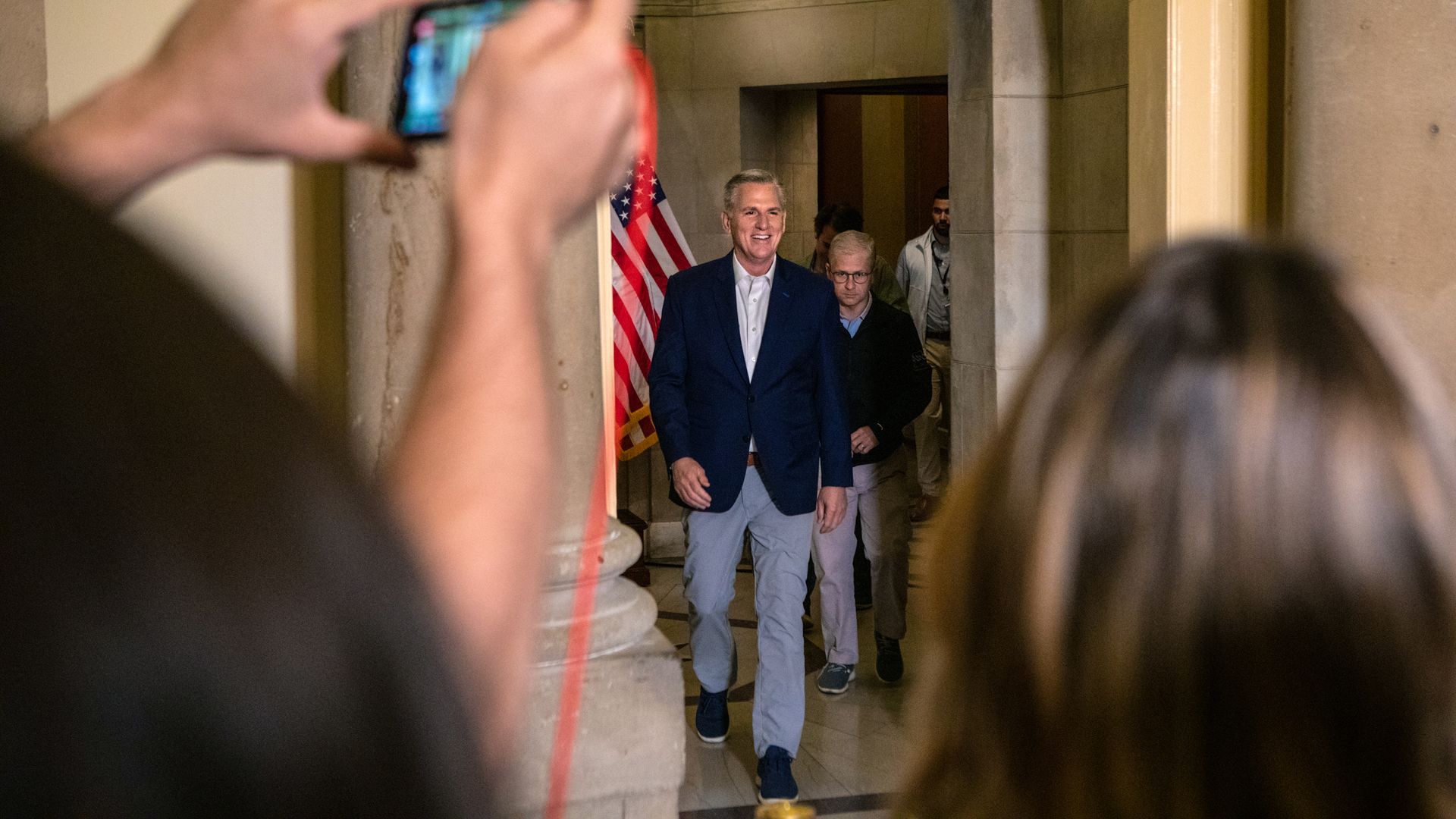 House Republican leaders are signaling confidence they'll round up enough GOP votes to pass House Speaker Kevin McCarthy's compromise with President Biden to raise the debt ceiling for two years.
Why it matters: The leaders are trying to counter the notion that the loud complaints about the bill from members of the right-wing House Freedom Caucus — and other Republicans — represent the party's prevailing mood.
Conservatives and fiscal hawks are upset that the bill's proposed spending cuts fall far short of what they supported in a package House Republicans passed last month.
Driving the news: During a House GOP press call on Monday, 16 Republicans spoke in favor of the bill, including Freedom Caucus member and Homeland Security Committee chair Mark Green (R-Tenn.).
"This is a wide array of our conference," said GOP Conference chair Elise Stefanik (R-N.Y.).
"You have members from the [Republican Study Committee], the Freedom Caucus, the Problem Solvers Caucus ... So, strong support conference wide."
What they're saying: "I have every confidence this bill will pass," said Rep. Dusty Johnson (R-S.D.), chair of the center-right Main Street Caucus.
Johnson said "things are going well" with GOP leadership's efforts to shore up votes within the conference.
"Most of the folks I work closely with are supporting" the bill, Rep. Don Bacon (R-Neb.), who represents a district Biden won in 2020, told Axios.
State of play: The bill needs 218 votes to pass the narrowly divided House. The GOP leadership has projected as many as 60 defections, so the bill likely will require a significant number of Democratic votes.
The cavalry may have arrived on that front: The leadership of the 98-member, center-left New Democrat Coalition endorsed the bill Monday.
The other side: More than a dozen members of the Republicans' Freedom Caucus have publicly signaled plans to vote against the bill.
The detractors: Reps. Ralph Norman (N.C.), Chip Roy (Texas), Bob Good (Va.), Dan Bishop (N.C.) Matt Rosendale (Mont.), Ken Buck (Colo.), Andy Biggs (Ariz.), Lauren Boebert (Colo.), Anna Paulina Luna (Fla.), Keith Self (Texas), Byron Donalds (Fla.), Andrew Clyde (Ga.) and Eli Crane (Ariz.).
Rep. Victoria Spartz (R-Ind.) also tweeted criticism of the bill.
"Leadership is going to have to sell their hearts out to get a majority of the conference behind this garbage," a senior GOP aide told Axios.
Not just conservatives are balking. "I am not Freedom Caucus, but I am with them on this," one centrist House Republican told Axios.
The member complained that "leadership has just totally ... I won't say lie[d], I will say intentionally misled people on this bill," calling the proposed spending cuts "a shell game. They're just moving stuff around."
The lawmaker added that many Republicans are preparing to vote for the bill: "Everybody is just drinking the Kool-Aid ... doing the mental gymnastics necessary to be on board with the team."
Zoom in: Before the bill makes it to the House floor, it has to pass the House Rules Committee. As part of his deal to become speaker, McCarthy gave three conservatives — Roy, Norman and Rep. Thomas Massie (R-Ky.) — seats on the panel.
Roy has signaled an effort to use panel as a chokepoint to block the bill.
However, Massie is expected to vote to pass it out of Rules, according to three sources familiar with his thinking.
"His posture is that he can vote to get it out of the Rules Committee but he doesn't necessarily have to vote for it on the floor," said one Republican.
What we're watching: If GOP defections swell and the bill gets more Democratic votes, it could prove problematic for McCarthy — whose job sits on a razor's edge because just one House member can trigger a vote to oust him.
"I don't think that'd be a good look, let's just put it that way," Biggs told Axios last week.
"I think we have to get more Republican [votes]," said Republican Study Committee chair Kevin Hern (R-Okla.).
What's next: House Republicans are expected to meet in person Tuesday evening, ahead of the Wednesday vote.
Editor's note: This story has been corrected to show Mark Green is from Tennessee, not Texas.
Go deeper