Progressives cool on debt ceiling bill as vote nears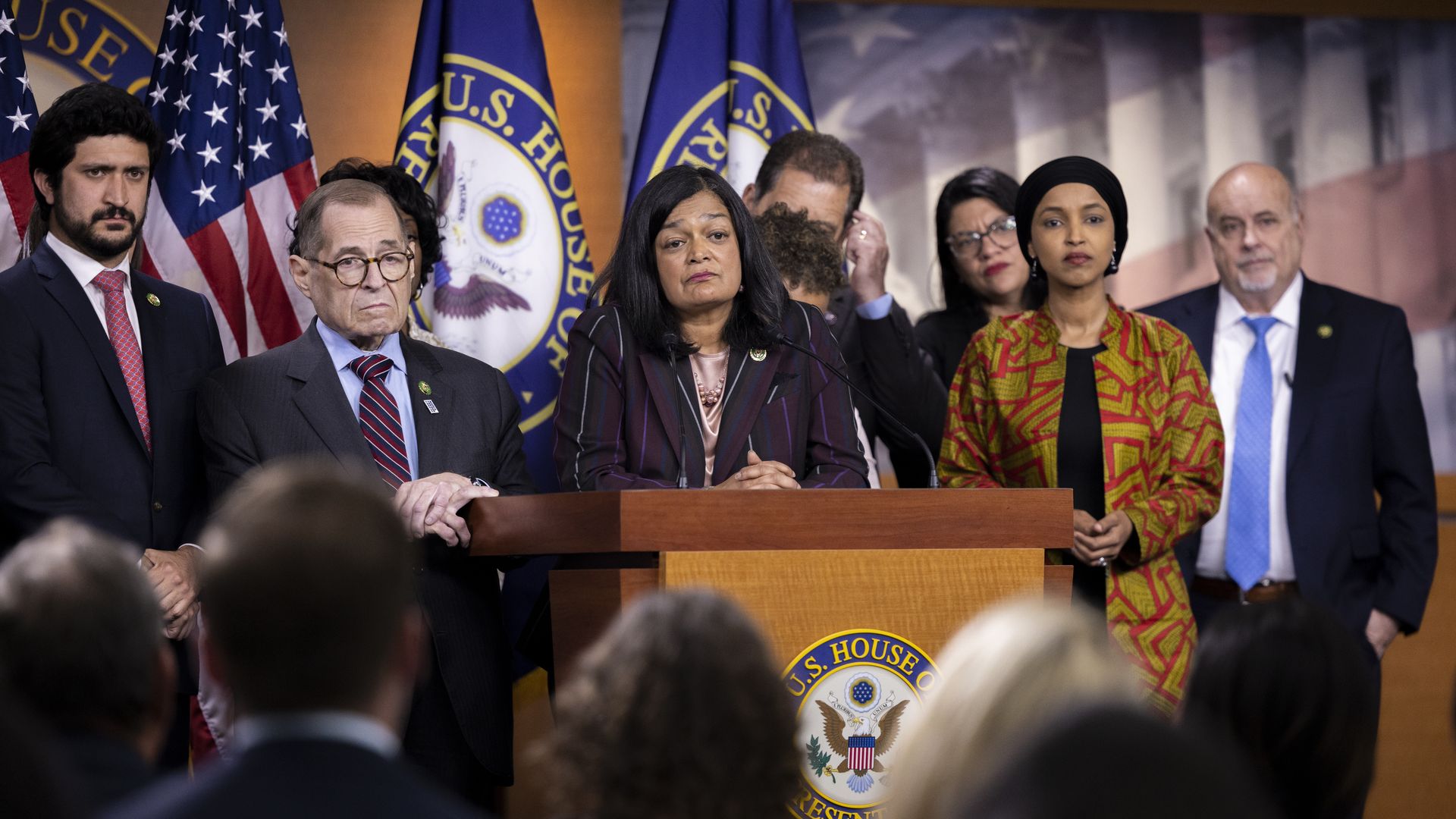 Members of the Congressional Progressive Caucus are split on the debt ceiling deal between President Biden and House Speaker Kevin McCarthy (R-Calif.) ahead of the House vote on Wednesday, Axios has learned.
Why it matters: The bill will likely need substantial support from Democrats to make up for dozens of lost votes on the GOP side.
The 100-member group is a significant portion of the 213-member Democratic caucus, but sources say Democrats will still likely be able to deliver enough of their caucus to put the bill over the finish line.
Driving the news: As the Progressive Caucus performs an internal whip count to determine whether to take an official position on the bill, four progressive aides and a lawmaker told Axios that members are split but generally leaning against it.
"My boss is leaning no and we think a good number of [CPC] members will follow suit," said one aide, who, like others, spoke on the condition of anonymity to offer insights into the group's internal dynamics.
Rep. Alexandria Ocasio-Cortez (D-N.Y.), a high-profile member of the progressive "Squad," said she is voting against the bill.
"Some number of progressives, including myself, lean no," Progressive Caucus whip Greg Casar (D-Texas) said.
Yes, but: Sources still said the bill could garner support from several dozen Progressive Caucus members, especially those with cross-membership in other caucuses like the center-left New Democrat Coalition.
A spokesperson declined to say what the threshold is for the group to endorse or whip against a bill.
Two of the sources said they believe progressives won't be outcome determinative and that enough Democrats will vote for the bill for it to pass.
A significant majority of the 98-member New Democrats is expected to back it, according to an aide familiar with the group's whip count.
What they're saying: Progressive Caucus Chair Pramila Jayapal (D-Wash.) told reporters on a Tuesday press call that the GOP "did not win any major concessions on spending," but that the bill still has provisions progressives are "seriously concerned about."
She cited the bill's welfare work requirements and energy permitting reforms as examples of provisions progressives are displeased with.
"There will be real harmful impacts for poor people and working people," she said, adding that members have "serious concerns about the environmental justice implications of this bill."
The other side: "You have to deal with reality in politics," Rep. Steve Cohen (D-Tenn.), a Progressive Caucus member, told Axios. Concerns about work requirements and permitting are "totally secondary to keeping the world's economy ... on track."
"It's not a good situation," Cohen said. "But it's reality ... I don't want to vote for those things either, but I also don't want to put us into a fiscal catastrophe."
Axios' Eugene Scott contributed reporting.
Go deeper