DeSantis hits Trump from the right on crime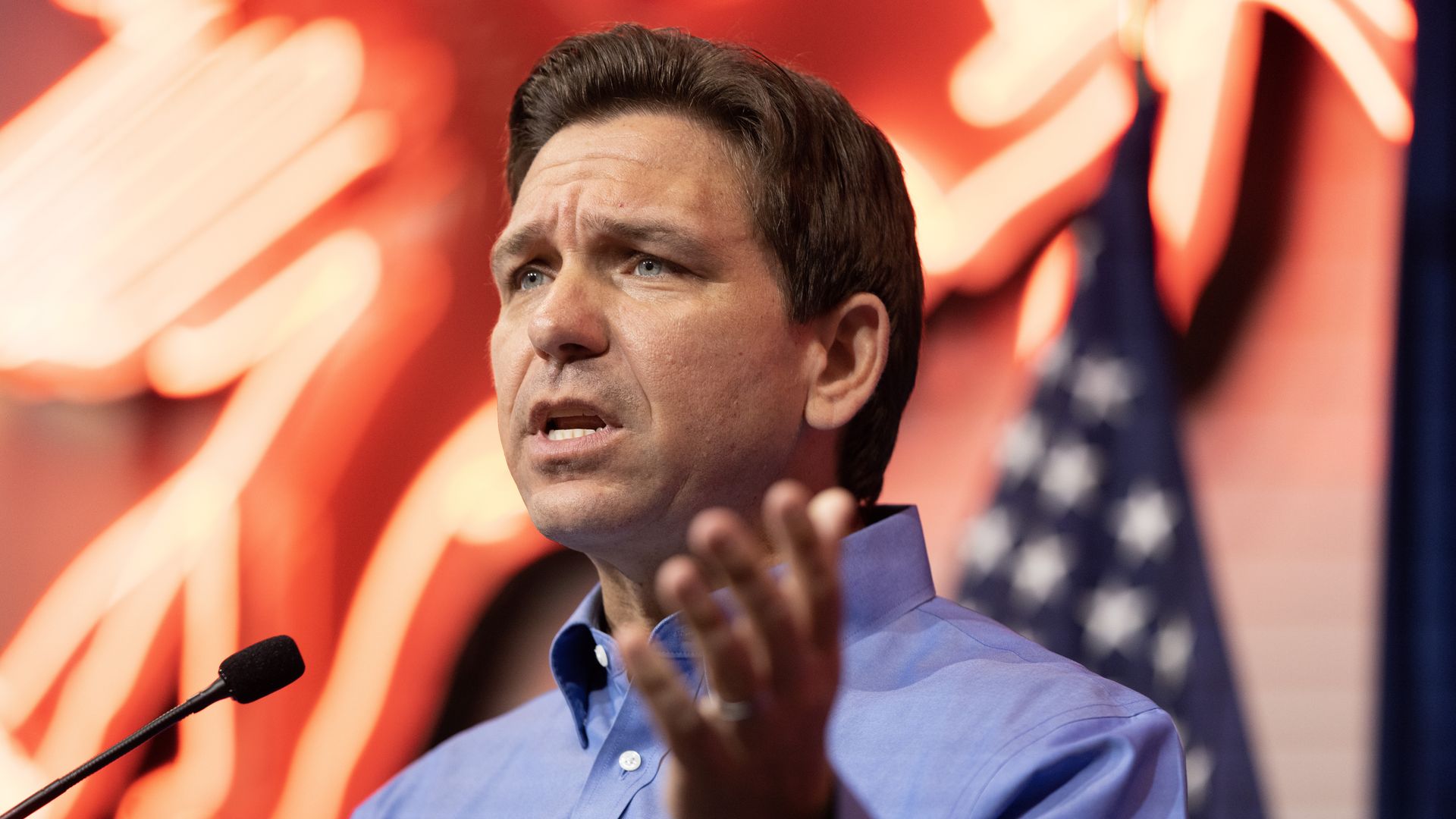 Florida Gov. Ron DeSantis is betting that he can pry conservative voters away from Donald Trump by homing in on the former president's record on crime.
Why it matters: Some of Trump's moves to moderate ahead of the 2020 election have now made him vulnerable to attacks from the right, and after months of avoiding direct shots at Trump, DeSantis — now officially a GOP presidential candidate — is jabbing away.
What happened: Last Friday, DeSantis told right-wing host Ben Shapiro that Trump had signed "basically a jailbreak bill" that "has allowed dangerous people out of prison who have now re-offended, and really, really hurt a number of people."
DeSantis pledged that as president he would try to repeal the First Step Act of 2018, a bipartisan bill Trump signed that reduced some federal sentences considered excessive and sought to improve federal prisons.
Thousands of prisoners were made eligible for early release under the law but some of those released early have been arrested again for crimes, including murder.
Asked whether Trump still supports the bill or if there are any parts he would change, the Trump campaign did not respond.
Instead, Trump's team issued a statement portraying DeSantis as a flip-flopper because, as a member of Congress, he voted for an earlier version of the bill that had significant differences from the final legislation.
"He sounds just like John Kerry. What a phony," Trump spokesman Steven Cheung told Axios.
Between the lines: DeSantis resigned his House seat before the final vote in December 2018. The bill he voted for seven months earlier did not include several changes Democrats managed to get into the final version.
In May 2018, 226 Republicans voted for the earlier version of the bill; only two voted against it.
On the final version of the bill, 34 Republicans changed their votes from from "yes" to "no." While 57 Democrats voted against the bill in May, zero voted "no" in December.
One of those 34 Republicans, Rep. Ken Buck of Colorado, told Axios that Trump's attack was "not only disingenuous, it's dishonest. They were completely two different bills."
Buck, a member of the conservative House Freedom Caucus who has not endorsed any 2024 presidential contender, also said he believes DeSantis has a better record on criminal justice than Trump.
"Ron DeSantis has shown in Florida and in his time in Congress, that he understands the causes of crime and can lead and help reduce crime in this country," he said. "And Donald Trump with this bill, and other signals that he's sent, does not understand crime.
"Jared Kushner certainly doesn't understand the causes of crime and how to address it," Buck said of Trump's son-in-law, who was the White House's lead driver of the bipartisan effort — even as some Trump officials were skeptical.
Sent Buck's remarks, Kushner did not respond.
Others note that an overwhelming majority of Republicans supported the bill Trump signed, and say DeSantis' "soft on crime" criticisms are false and cynical politics.
Flashback: Criminal justice changes including the First Step Act were a key part of Trump's 2020 re-election strategy to court votes from people of color, whose communities are disproportionately imprisoned.
What's next: Criminal justice won't be the only issue DeSantis will use to hit Trump.
After a muted rollout, DeSantis has been on the attack, questioning Trump's electability in the general election and citing their different approaches to COVID-19, the national debt, immigration and Trump's ties to Saudi Arabia.
DeSantis also has noted that if elected, the former president would be limited to just one term, while the Florida governor could serve two terms.
Go deeper