Timeline of mass shootings during Abbott's tenure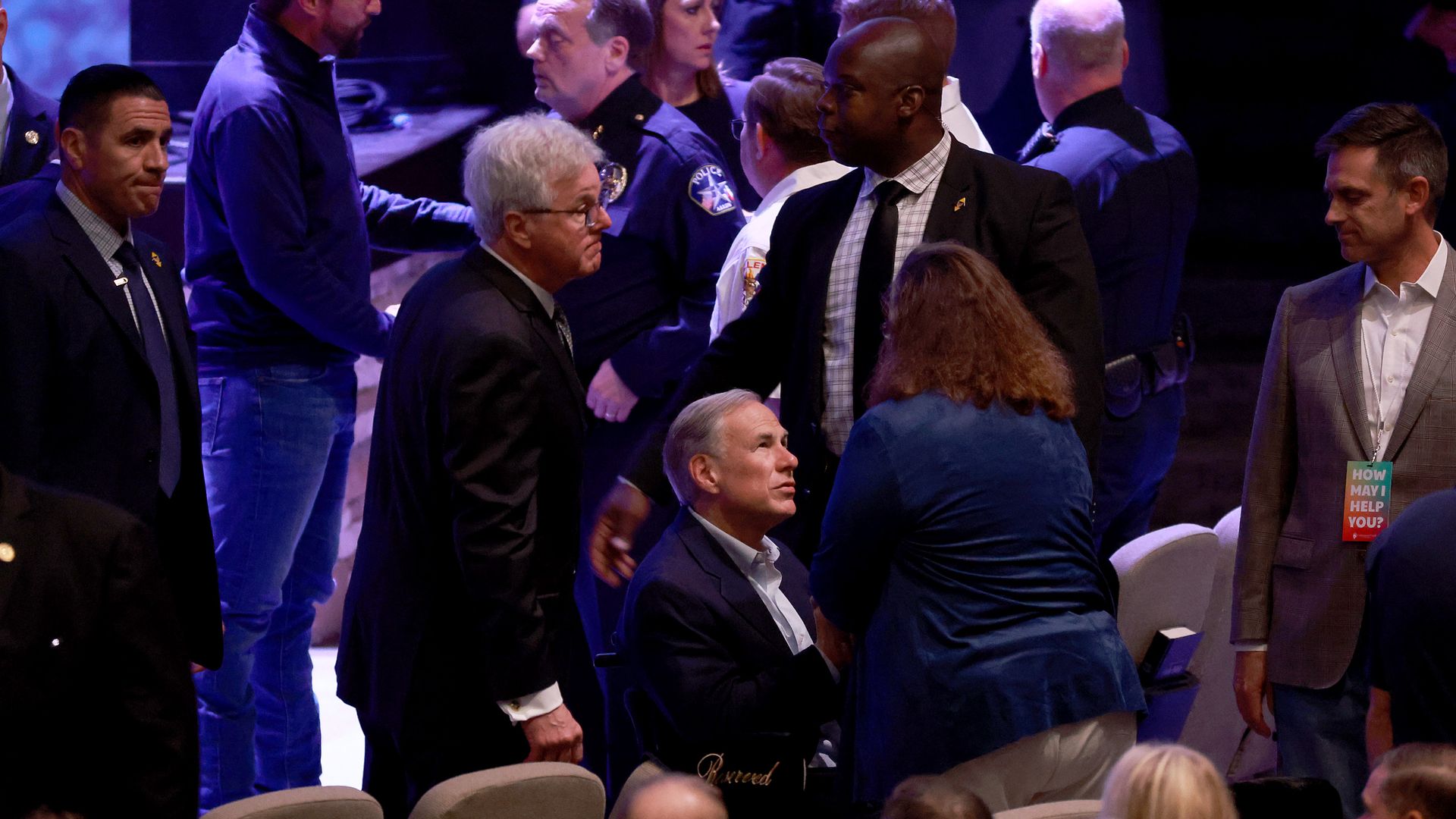 At least seven mass shootings have occurred in Texas during Greg Abbott's tenure as governor, including the Allen mall shooting.
Why it matters: During his eight years in office, Abbott has denounced the actions of the gunmen, offered prayers, and increased funding for mental health resources. He has also signed several bills that expanded gun rights.
By the numbers: Texas had more firearm deaths than any other state in 2021, but not the highest rate per 100,000 people, according to the most recent CDC data.
There were 4,613 deaths from guns in Texas in 2021, a rate of 15.6 deaths per 100,000 people.
California, which has a larger population, had the second most gun deaths. There were 3,576 — a rate of nine deaths per 100,000 people.
Yes, but: The majority of U.S. gun deaths were suicide, per a Pew Research Center analysis.
Of note: Mass shootings are typically defined as occurring in a public place.
One mass killing in Plano has not been listed in many tallies. In that case, a 32-year-old man opened fire at a football watch party on Sept. 10, 2017, killing eight people, including his estranged wife. He was killed by police.
Timeline of previous mass shootings:
Uvalde elementary school shooting, May 24, 2022: A heavily armed 18-year-old spent over an hour in a fourth-grade classroom, killing 19 students and two adults, while law enforcement officers gathered outside.
The gunman started buying thousands of rounds of ammunition and two AR-15-style rifles after his 18th birthday, per the Texas Tribune.
Midland-Odessa rampage, Aug. 31, 2019: A 36-year-old man who had been fired hours before he was pulled over by state troopers started shooting at the officers and sped away, randomly shooting people between Midland and Odessa.
The man, who killed seven people and injured 22 others, died in a shootout with police.
A Lubbock man who sold the AR-15 to the shooter was sentenced to two years in federal prison in January 2021 for dealing firearms without a license.
El Paso Walmart shooting, Aug. 3, 2019: A 21-year-old man drove from Allen to El Paso to target Mexicans. He opened fire at a Walmart, killing 22 people. He surrendered to police.
In February, he pleaded guilty to 90 federal hate crimes and firearms violations.
Santa Fe High School shooting, May 18, 2018: A 17-year-old armed with a shotgun and a revolver killed 10 people at a high school outside the Houston area.
In January, a judge in Galveston County found that the alleged shooter remains incompetent to stand trial. He will remain in a state mental health institution for up to another year, per Houston Public Media.
Sutherland Springs church shooting, Nov. 5, 2017: A 26-year-old Air Force veteran wearing a ballistics vest opened fire during Sunday service, killing 26 people and injuring 20 others.
Victims of the shooting settled with the Department of Justice for $144.5 million in April. The Air Force failed to enter the shooter's criminal history into a background check database for gun sales.
Dallas police ambush, July 7, 2016: A 25-year-old U.S. Army veteran ambushed police officers who were working at a protest in downtown Dallas. Five officers were killed and 11 others were injured.
The gunman was killed by a bomb delivered by a police robot after an hours-long standoff.
More Dallas stories
No stories could be found
Get a free daily digest of the most important news in your backyard with Axios Dallas.