Gun violence settlements prevail as reform stalls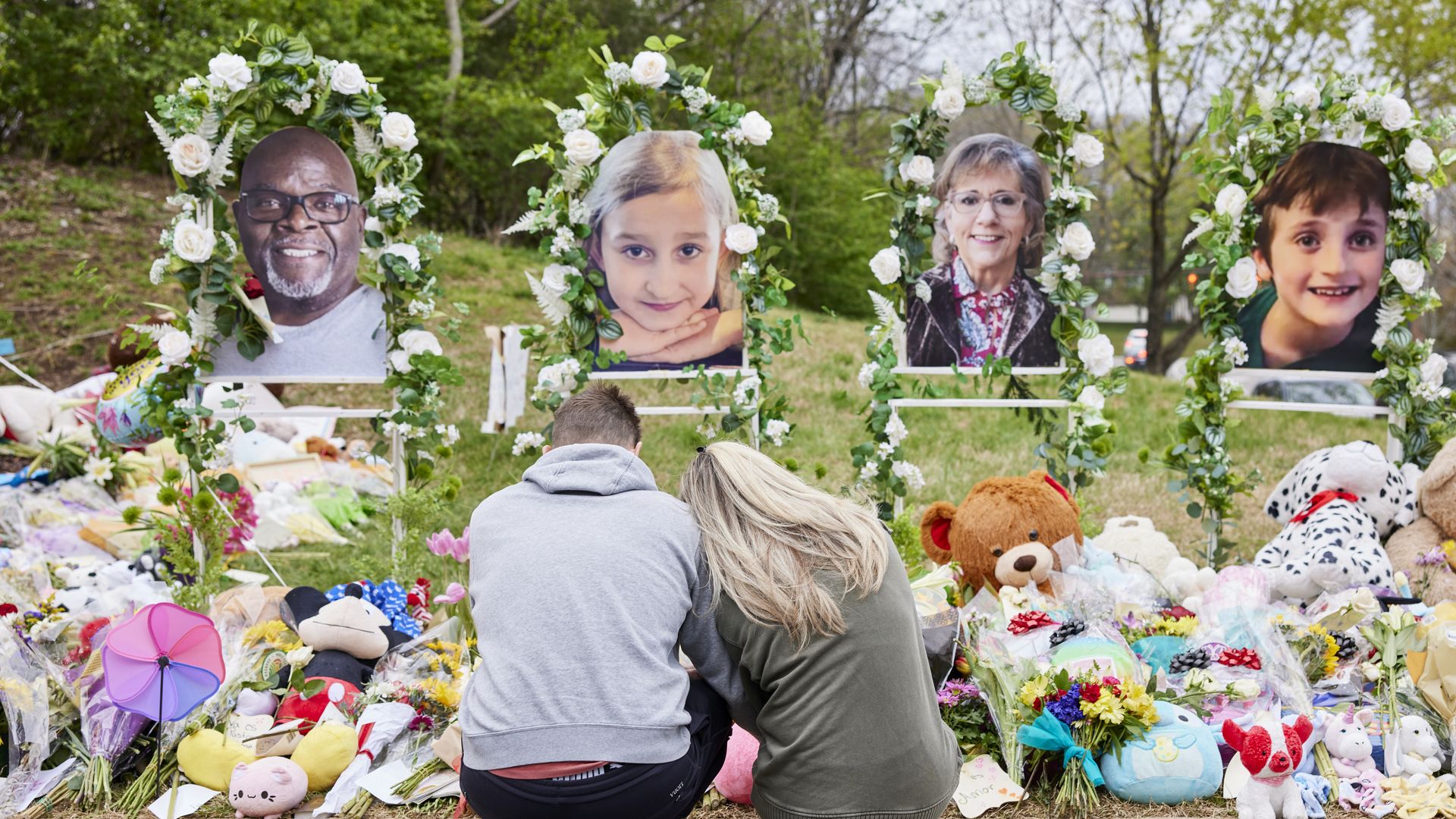 Families of gun violence victims can't get the gun control they've been fighting for. But they are winning in court.
Driving the news: Victims of the 2017 Sutherland Springs, Texas shooting settled with the Department of Justice for $144.5 million on Wednesday. That's the latest multimillion-dollar settlement awarded to families as mass shootings are an increasingly prevalent part of life in the U.S.
Meanwhile, the Nashville school shooting last week reignited the gridlocked debate around a federal assault weapons ban, as familiar lines were drawn by Democrats and Republicans, Axios' Shawna Chen writes.
The back-and-forth hasn't led to reform, a reality that has dominated issues surrounding gun violence in the U.S. for over a decade.
By the numbers: Families of the 2018 Parkland shooting victims settled with the DOJ for about $130 million.
Zoom in: Kristina Infante, the lead attorney for the Parkland families, explained that the idea of compensatory justice is to compensate those who have suffered harm due to negligence.
"In some sense, this is an impossible task because no amount of compensation can give these families the lives they would have had if tragedy had not occurred," she said.
Victims who sue after such tragedies often seek both monetary damages and industry reforms, according to Philip Bangle, senior litigation counsel at Brady, a nonprofit advocating against gun violence.
"It's a recognition in large part, which can be symbolic," he said of the compensation. "But more importantly, the larger it is, the more of an impact it will have."
But one of the nuances of these cases, Infante said, is that "the entities involved – such as police departments, school administrations, social media platforms, gun manufacturers – benefit from protections in the law which are not afforded to ordinary citizens."
"This creates an uneven playing field when it comes to assigning liability, and it makes for complex, multilayered cases," she added.
Between the lines: The goal, according to Bangle, is to make it more profitable for the gun manufacturers, who are often the defendants in such cases, to implement change rather than to payout lofty settlements.
"The whole point of monetary settlements is to lead to reform," he explained.
Yes, but: Josh Koskoff, the lead lawyer for the families in the Sandy Hook suit, said in that case, it wasn't about politics or activism.
"The goal isn't for policy change at a political level or governmental level or even a macro level," Koskoff said. "It's really to engage those that make the profits — in this case, the gun manufacturer."
"This is an industry that should fall all over itself to prevent mass shootings," he added. "And yet they do the opposite."
Koskoff said some gun manufacturers promote the risk of violence.
"I would have hoped that the lesson that was taken by the industry from the Sandy Hook case was that if you're going to sell these weapons, you should market them with the utmost of responsibility," he said. "You shouldn't target youth or kids. You shouldn't promote violence. ... There is a way to do this responsibly."
Of note: California Gov. Gavin Newsom (D) last year signed into law a bill that allows victims to sue gun manufacturers.
"Our kids, families and communities deserve streets free of gun violence and gun makers must be held accountable for their role in this crisis," he said at the time. "Nearly every industry is held liable when people are hurt or killed by their products – guns should be no different."
The other side: The National Shooting Sports Foundation, the gun industry's trade association, is challenging state laws that allow gun manufacturers, sellers and distributors to be sued in such cases.
Mark Oliva, the foundation's director of public affairs, said that under the Protection of Lawful Commerce in Arms Act, neither the gun industry or the manufacturer can be sued for the criminal misuse of a lawful product.
"We see a lot of these lawsuits that are being brought up and being pushed are being backed by gun control groups," Oliva said.
"The whole idea is to attempt to bankrupt the industry, to put them out of business, to force gun control through court action, rather than through policy debate and legislative action."
The bottom line: While any kind of gun control legislation is stalled, the settlements are one of the only avenues victim's families can pursue.
"With the increasing number of mass shootings, you can naturally expect increasing litigation around those shootings," Koskoff said.
And, Bangle said, there are more mass shootings because "the gun industry is acting more and more craven."
"Nothing can replace losing a family member or having to go through this catastrophic physical injury. And even bringing these lawsuits is really challenging and difficult to relive that tragedy," Bangle said. "Monetary damages, even complete reform of the industry, is just not a substitute for losing a loved one or going through such a catastrophic tragedy."
Go deeper: At least 57 killed, 133 injured in 38 U.S. mass shootings this March
Go deeper