What we know about the Nashville school shooting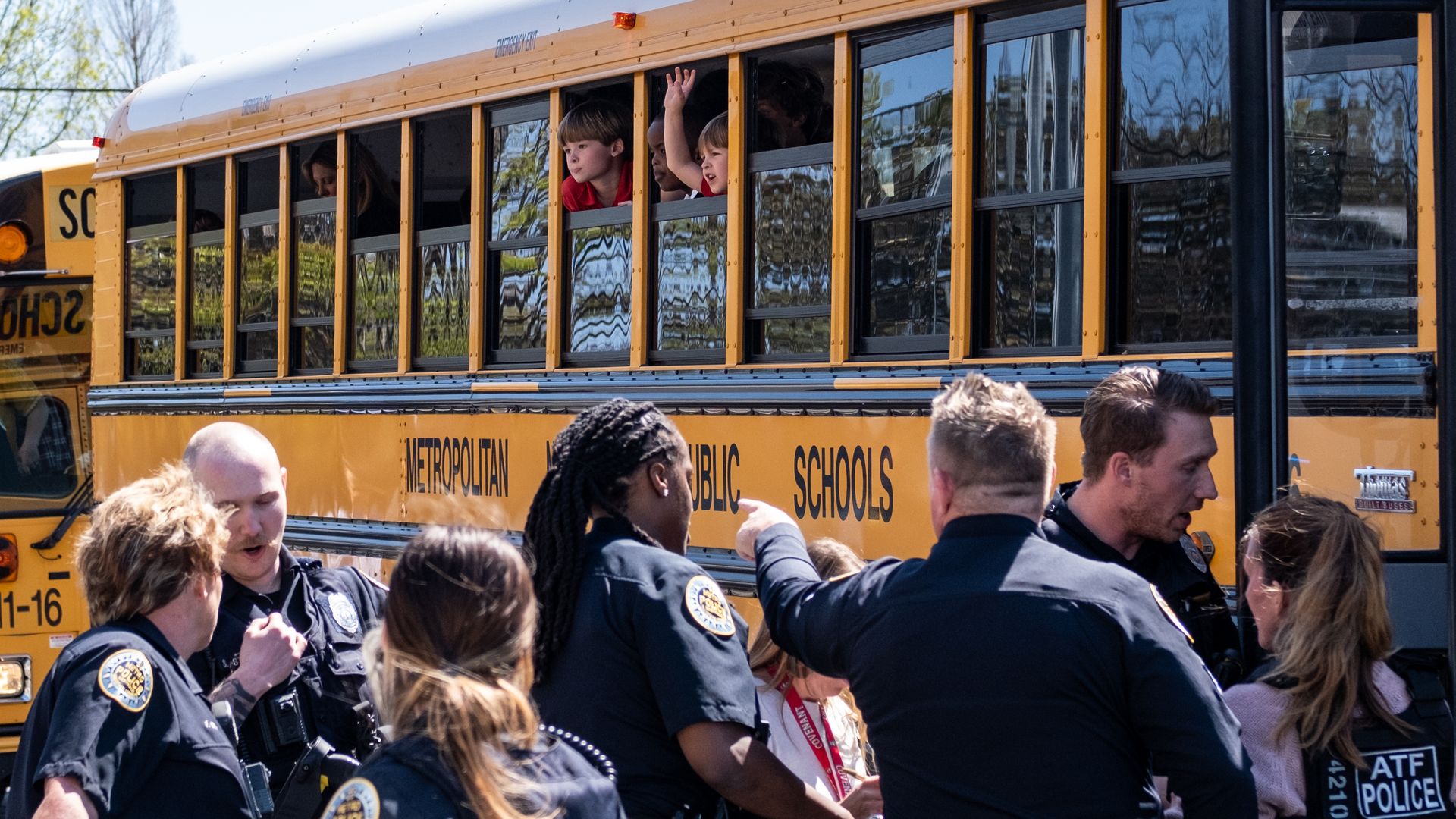 Six people, including three children, were killed in a shooting at a Nashville school last week.
The latest: The suspect had been planning the shooting at The Covenant School "over a period of months," the Metropolitan Nashville Police Department said in an update Monday.
While the shooter's motive remains under investigation, police said the suspect "considered the actions of other mass murderers."
What happened
Officers responded to a call of shots fired at the school at 10:13am local time on March 27.
A "team of five immediately within the school went to where gunshots were being heard and engaged the suspect," Metro Nashville Police Chief John Drake said during a news briefing.
The shooter entered the school through a side entrance and went from the first floor to the second floor, firing multiple shots, police spokesperson Don Aaron said.
The suspect fired through a window at arriving police cars, the MNPD said in its statement later that day.
Two of the officers, identified as Rex Engelber and Michael Collazo, opened fire on the shooter and fatally wounded the suspect by 10.27am, police said. That made the police response time about 14 minutes.
Police identified the suspect as a 28-year-old former student of The Covenant School, whom they said began shooting into the building while armed with two "assault-type guns and a 9 millimeter pistol," sharing video from the incident.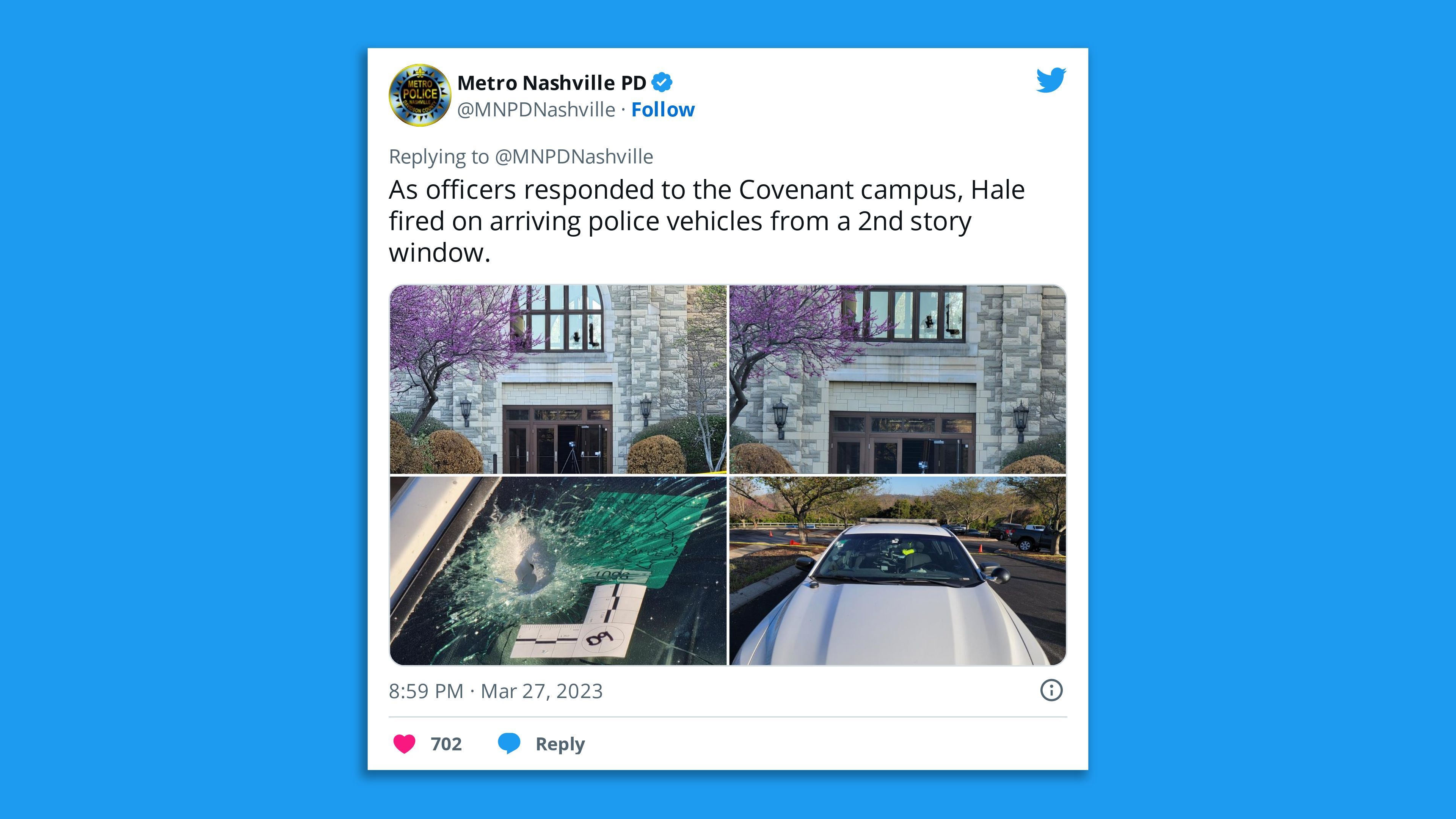 What we know about the victims and the school
Three adult staff members and three children were killed in the shooting.
The victims were identified as Evelyn Dieckhaus, Hallie Scruggs and William Kinney, all age 9; and Cynthia Peak, 61, Mike Hill, 61, and Katherine Koonce, 60, who was the head of school.
The Covenant School is a private school that was founded in 2001 as a ministry of Covenant Presbyterian Church. It serves children in grades preschool through sixth grade.
The victims appear to be chosen at random, per Drake.
The police chief told CBS that police "strongly believe" other targets were possible "including maybe family members and one of the malls here in Nashville."
What we know about the suspect
Police identified the suspect as Audrey Hale, of Nashville.
Drake said Hale had drawn detailed maps of the school, including of surveillance and entry points. "We know and believe entry was gained through shooting through one of the doors," he added.
"We have a manifesto, we have some writings that we're going over that pertain to this date," the police chief said at a news conference. "We have a map drawn out of how this was all gonna take place."
Investigators said the school, which Hale attended, was intentionally targeted.
Hale was being treated by a doctor for "an emotional disorder," the police chief said last week.
In response to a reporter's question, police confirmed Hale identified as transgender but provided no further details on it at the press conference. Police later said Hale was a biological female but had a social media account with male pronouns.
Police said on Monday they found Hale's "collective writings" in the suspect's vehicle in the school parking lot and bedroom. Police allege Hale "documented, in journals" over several months plans "to commit mass murder at The Covenant School."
What we know about the weapons used
Drake told reporters last Tuesday that Hale had legally purchased seven guns from local gun stores. Three of the weapons were found at The Covenant School.
The police chief said Hale's parents did not think Hale should own weapons and were only aware of one of the firearms, which they thought had been sold.
But Hale had hidden the firearms around the house, Drake said.
The MNPD said in an update on Monday that "Hale fired a total of 152 rounds (126 5.56 rifle rounds and 26 nine millimeter rounds)" from shooting into the school until police fatally shot the suspect.
Officer Engelbert discharged a total of four 5.56 rounds from his rifle and Collazo fired four rounds from his 9-millimeter pistol, according to police.
What they're saying
President Biden who spoke with Tennessee Gov. Bill Lee (R) and Nashville Mayor John Cooper (D) about the shooting, described the incident as "heartbreaking" during a briefing last Monday and said it was "ripping" apart communities and "the very soul of the nation."
"We have to do more to protect our schools so they aren't turned into prisons," Biden added. "So I call on Congress, again, to pass my assault weapons ban."
Meanwhile, the school issued a statement that night saying the community was heartbroken and thanked first responders "who acted quickly to protect our students, faculty and staff."
"We are grieving tremendous loss and are in shock coming out of the terror that shattered our school and church," the statement added.
"We are focused on loving our students, our families, our faculty and staff and beginning the process of healing."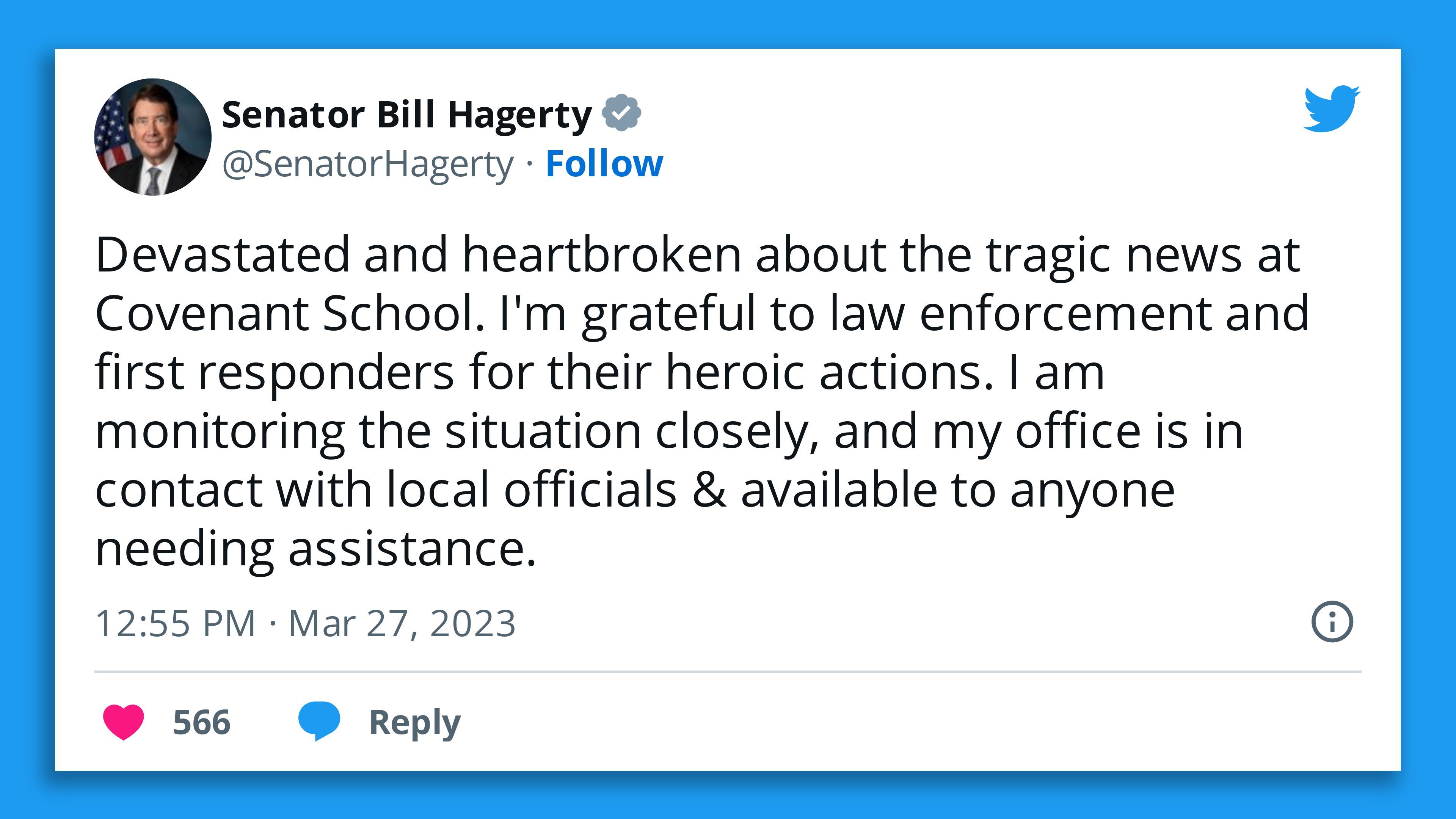 Go deeper: At least 57 killed, 133 injured in 38 U.S. mass shootings this month
Editor's note: This article has been updated with additional details throughout. Axios' Adam Tamburin contributed to this report.
Go deeper