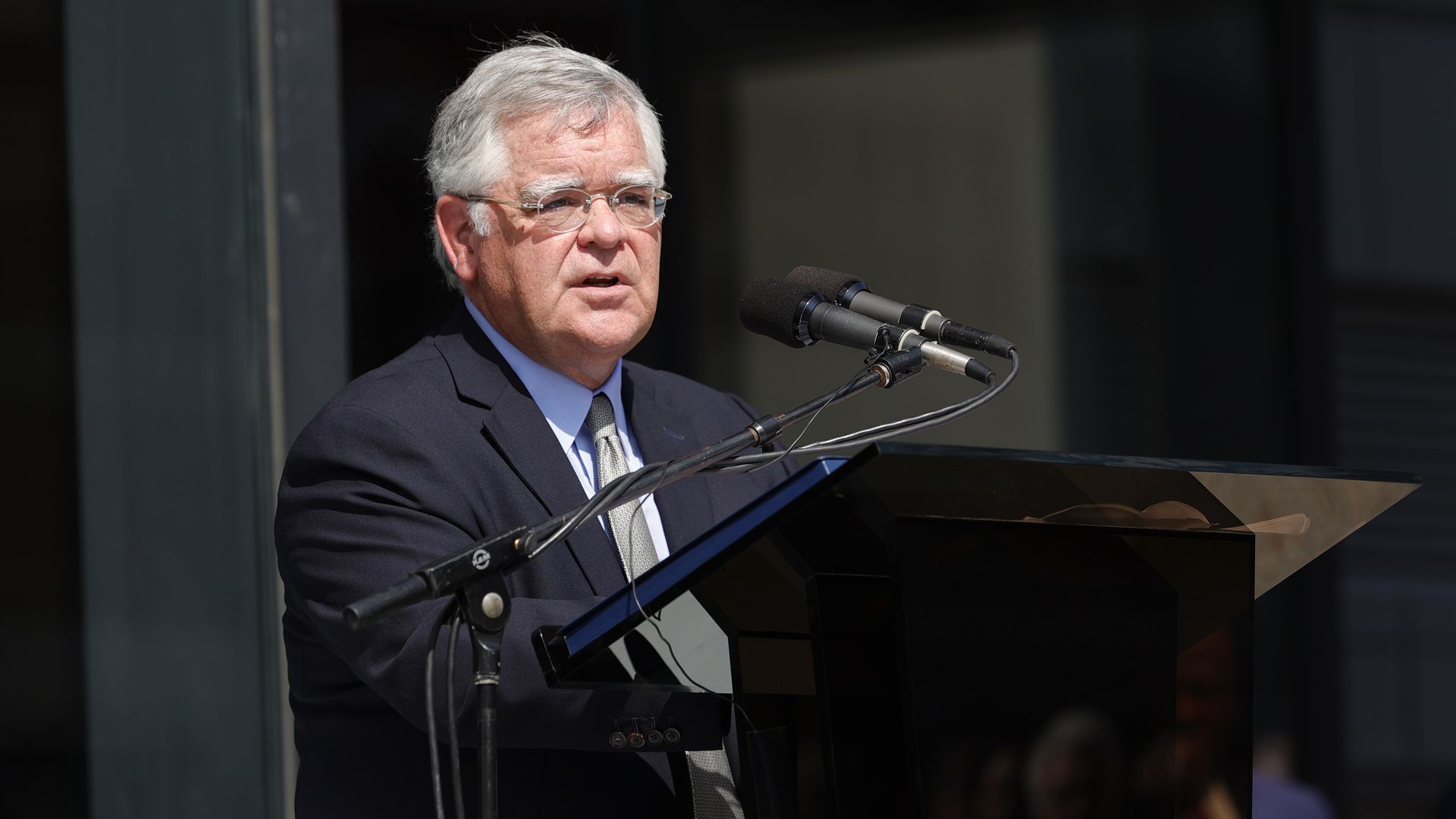 Nashville politics experienced yet another tectonic shift Tuesday as Mayor John Cooper announced he would not seek re-election.
Cooper's replacement will give Nashville its fourth mayor in 5.5 years.
State of play: Cooper has been famously wishy-washy about election decisions, and it became clear in recent weeks he was uncommitted to running again.
The mayor made his final decision over the weekend in consultation with his wife and alerted his full staff Tuesday morning.
Why it matters: Cooper is the first full-term mayor to not seek re-election since Mayor Bill Boner in 1991. His once-in-a-generation decision jolted the city's power center, as several heavyweights openly considered joining the three existing candidates vying to replace Cooper.
With Nashville's congressional representation newly splintered between Republican districts, the mayor's office has a heightened importance for ambitious Democrats.
What we're watching: The deadline to qualify for the Aug. 3 election is May 18.
Reality check: Cooper was perceived as a reluctant mayor given his indecision before launching a campaign in 2019.
Then-Metro Councilman Cooper announced he would not run for mayor in February, reversed course, and entered the race in April.
The big picture: Since taking office in September 2019, Cooper has faced a financial crisis, the COVID-19 pandemic, a devastating tornado and the Christmas Day bombing. He hired a new police chief in 2020. Last year, he began negotiating a deal to build a new stadium for the Titans.
Cooper said he would spend the remainder of his term focused on funding public safety and education, addressing homelessness and revitalizing the East Bank.
"We have accomplished a historic amount, but we've got a lot of work still to get done," he said. "Let's all get back to work."
Cooper reiterated his aversion to campaigning at his press conference.
He said his top priorities would be easier to tackle "without a campaign and with my full focus."
"The truth is I never wanted to campaign. I wanted to govern."
Between the lines: Cooper's retirement brings the family's recent political dynasty to a close. His brother, former Rep. Jim Cooper, retired from Congress last year, ending a two-decade run representing Nashville in Washington, D.C.
Flashback: The mayor spent his time on the Metro Council concentrating on land use, economic development incentives and financial issues. His campaign promised a deeper focus on Nashville's neighborhoods over the downtown tourist district.
Yes, but: Two of his highest profile accomplishments — an economic incentive package for Oracle to bring corporate jobs here and a new stadium deal with the Tennessee Titans — seemed to contradict his campaign messaging.
In his two final years on the council, Cooper voted against raising property taxes. But then during his first year as mayor, he led the passage of the largest property tax increase in Metro government history.
Be smart: While Cooper entered office expecting to correct Nashville's finances, he couldn't have fathomed the crises he would have to navigate.
From the lectern Tuesday, Cooper touted his investments in education, which include the highest teacher pay raise in state history, and public safety. Cooper's decision to promote John Drake to police chief was particularly well received.
Financing a new $2.1 billion Titans stadium has occupied the last year of his tenure. The deal has initial approval from the council, but a final agreement is still pending.
"I think this mayor's legacy will be navigating the county through some really tough situations that were either created by previous leadership or acts of God. Things like the pandemic and the tornado," Metro Councilember Zach Young tells Axios.
"And he's leaving office with Nashville in much better financial standing than when he came into office."
More Nashville stories
No stories could be found
Get a free daily digest of the most important news in your backyard with Axios Nashville.