Nashville officers rushed toward gunfire at The Covenant School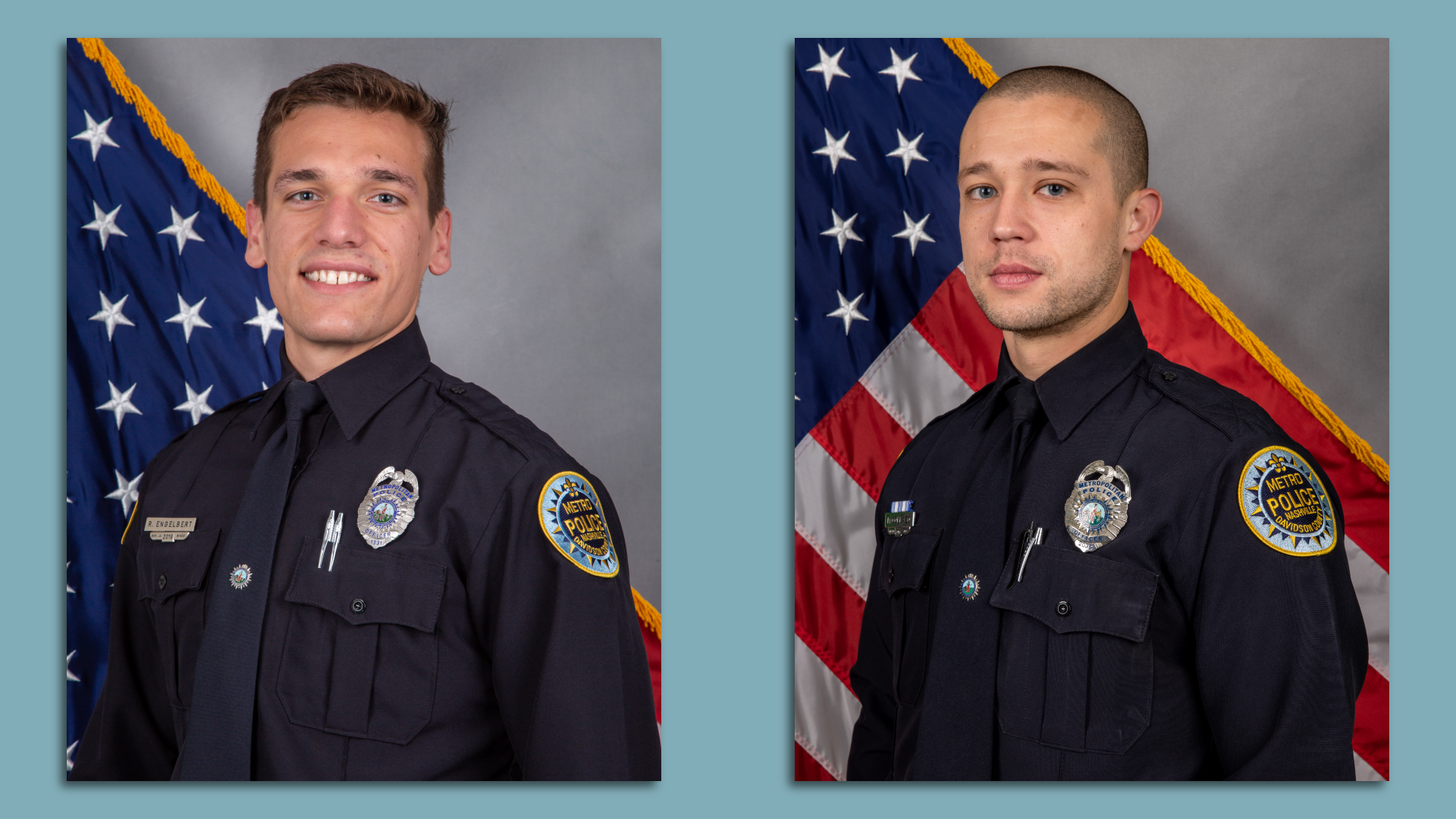 Nashville police released body camera footage Tuesday showing officers charging into The Covenant School during a mass shooting that killed six people, including three 9-year-old students.
The footage shows officers acting quickly and running toward the sound of gunfire.
Less than three minutes after entering the building, two officers confronted and fired on the shooter, who authorities identified as 28-year-old Audrey Hale, a former student at the school. Hale was also killed.
The scene stands in stark contrast to the shooting last year in Uvalde, Texas, in which first responders were criticized for hesitating to confront a gunman.
Nashville police Chief John Drake said the officers' decisive actions Monday likely saved lives. Police said the shooter was heavily armed.
The officers have been heaped with praise. President Biden and Mayor John Cooper hailed their actions as heroic.
"I want to say thank you to our first responders who got there and immediately went in and addressed the threat of someone who had multiple rounds of ammunition [and was] prepared for a confrontation with law enforcement, prepared to do more harm than was actually done," Drake said.
"As I've said before, I was hoping this day would never, ever come here in this city, but we would never wait to make entry and to go in and to stop a threat. Especially when it deals with our children."
The video
The video, which includes graphic content, offers a chilling view of the response.
Officer Rex Engelbert, a four-year veteran, was one of the first to arrive on the scene. He was immediately met by a woman, who described to him how the school was on lockdown but two students were missing.
She said there was gunfire coming from the school's second floor.
Engelbert quickly used a key to enter the front door, calling for other officers to join him.
"Let's go!" Engelbert said as he unlocked the door. "I need three! Let's go!"
Children's brightly colored artwork decorated the hallway that Nashville police officers burst into shortly after the first 911 calls of a shooter at the Covenant School.
Weapons drawn, the officers shouted "Metro police!" as they worked their way through classrooms filled with small desks and down hallways lined with jackets and backpacks. Engelbert and other officers yelled "Clear!" and "Next!" as they made their way through the building.
The school's fire alarm was blaring.
Less than two minutes after entering the school, the team heard the shots coming from upstairs. Bursts of gunfire erupted from down the hallway after Engelbert and others raced up the stairs and toward Hale.
A blurred-out body can be seen on the ground of the second-floor hallway as the officers sprint toward the shots.
As Engelbert turned a corner at the end of the hallway, Hale stood at a window and shots rang out.
Police said Hale was firing on responding officers from this second-floor window. MNPD shared a photo of a police cruiser that sustained substantial gunfire.
Engelbert fired multiple shots, and Hale dropped to the ground.
Moments later, officer Michael Collazo, a nine-year veteran, approaches Hale and fires more shots from his handgun. Officers shouted, "Stop moving!" and "Get your hands away from the gun!" as they stood over Hale.
About two minutes and 39 seconds passed from when Engelbert entered the building to when Hale was down and disarmed.
Police said just 14 minutes passed between the initial 911 call and the end of the deadly rampage.
More Nashville stories
No stories could be found
Get a free daily digest of the most important news in your backyard with Axios Nashville.