El Paso suspect confessed to targeting Mexicans in mass shooting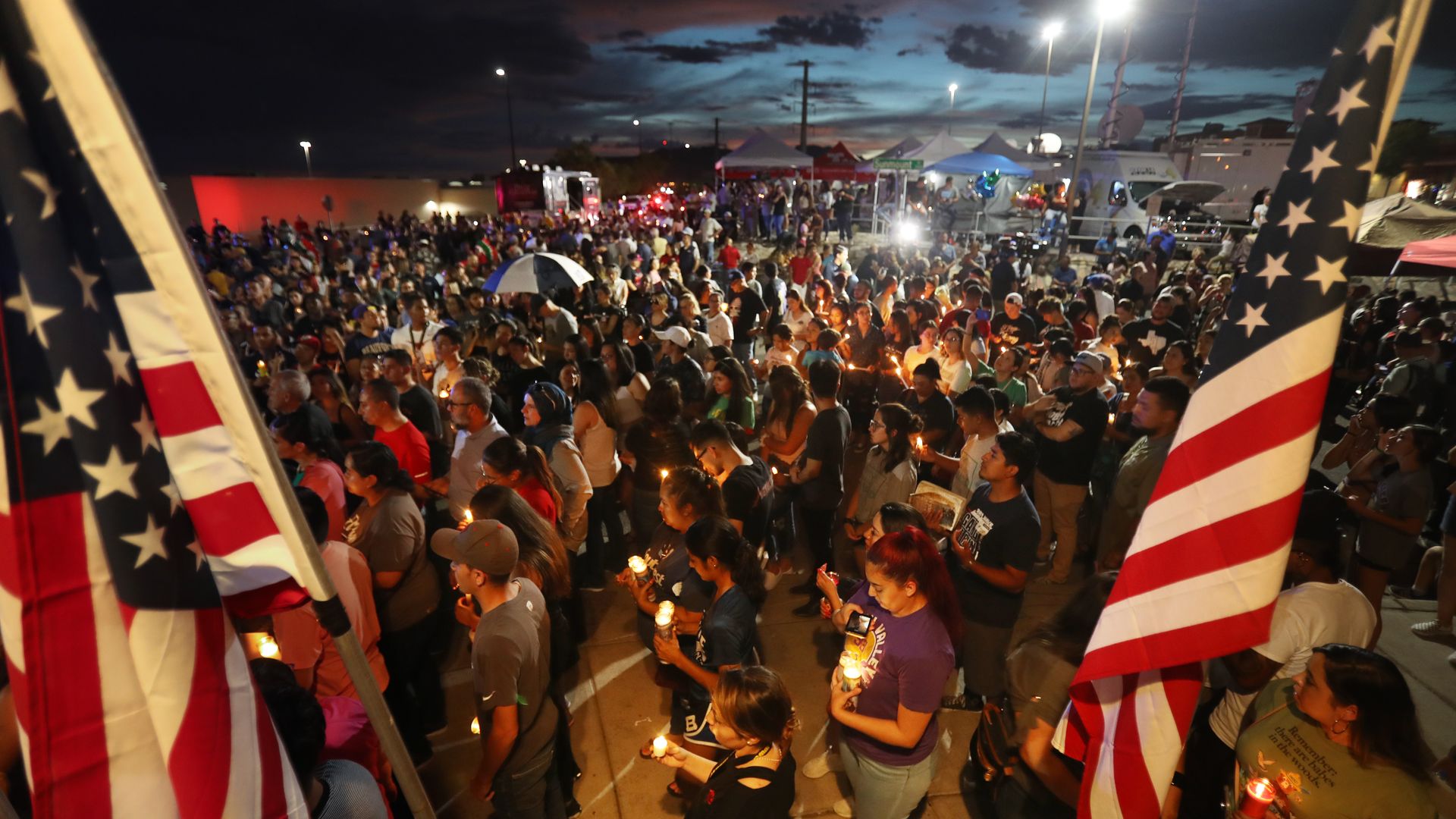 The man accused of killing 22 people in last Saturday's deadly mass shooting at an El Paso, Texas Walmart confessed to law enforcement upon his surrender and admitted to targeting Mexicans in the attack, per AP.
The latest: The suspect reportedly told the police on Saturday, "I'm the shooter," according to Detective Adrian Garcia per an arrest warrant affidavit obtained by the Washington Post.
What we know:
The shooting is being treated as a domestic terrorism case, federal authorities say. Federal prosecutors are also weighing charging the suspect with a hate crime.
The suspect, 21-year-old Patrick Crusius from Allen, north of Dallas, has been formally charged with capital murder and is in custody without bond.
The district attorney said he would seek the death penalty for Crusius.
Police are investigating a racist online post that appeared just before the shooting, El Paso Mayor Dee Margo said. The anti-immigrant screed praised President Trump's border wall plan — though AP notes the writer said any attempt to blame the president for his actions was "fake news."
The suspect's mother called the Allen police weeks before the shooting because she was concerned about him owning an "AK"-type firearm, lawyers for the Crusius family told several news outlets.
El Paso Police Sgt. Enrique Carrillo said the man got out of a car about a quarter mile from the Walmart Saturday with hands raised and told an officer keeping guard at a crime scene perimeter that he was the shooter, per AP. El Paso Police Chief Greg Allen said earlier the suspect had driven for more than 10 hours from the Dallas area and ended up at Walmart "because, we understand, he was hungry.
El Paso's victims:
The death toll rose to 22 on Monday after 2 victims died in the hospital, El Paso police said.
Most shoppers died at the Walmart, where up to 3,000 shoppers and 100 employees were present, police said.
Mexican officials say 8 Mexican nationals were among the dead.
The big picture: The attack occurred hours before another shooting in Dayton, Ohio, in which 10 people were killed, including the suspect.
On July 30, a former Walmart employee shot at supervisors and killed 2 people in Southaven, Miss., the New York Times reports.
A shooting at the Gilroy Garlic Festival in California on June 28 left 3 people dead. Police say the suspect legally bought the "AK-47-type" assault rifle used in the attack.
What they're saying:
Trump condemned racism and white supremacy in an address to the nation on Monday: "In one voice, our nation must condemn racism, bigotry and white supremacy. These sinister ideologies must be defeated. Hate has no place in America. Hatred warps the mind, ravages the heart and devours the soul."
Several 2020 Democrats, including former Texas Rep. Beto O'Rourke, have accused Trump of inciting violence through his racist rhetoric. O'Rourke said on CNN Sunday: "He is saying that some people are inherently defective or dangerous — reminiscent of something that you might hear in the Third Reich, not something that you expect in the United States of America ... He is an open avowed racist and is encouraging more racism in this country."
Senate Minority Leader Chuck Schumer and House Speaker Nancy Pelosi are calling on Senate Majority Leader Mitch McConnell to cancel August recess and "immediately" vote on background check bills passed in the House earlier this year.
Editor's note: This article has been updated with new details throughout.
Go deeper:
Go deeper