19 students, at least 2 adults dead in Texas elementary school shooting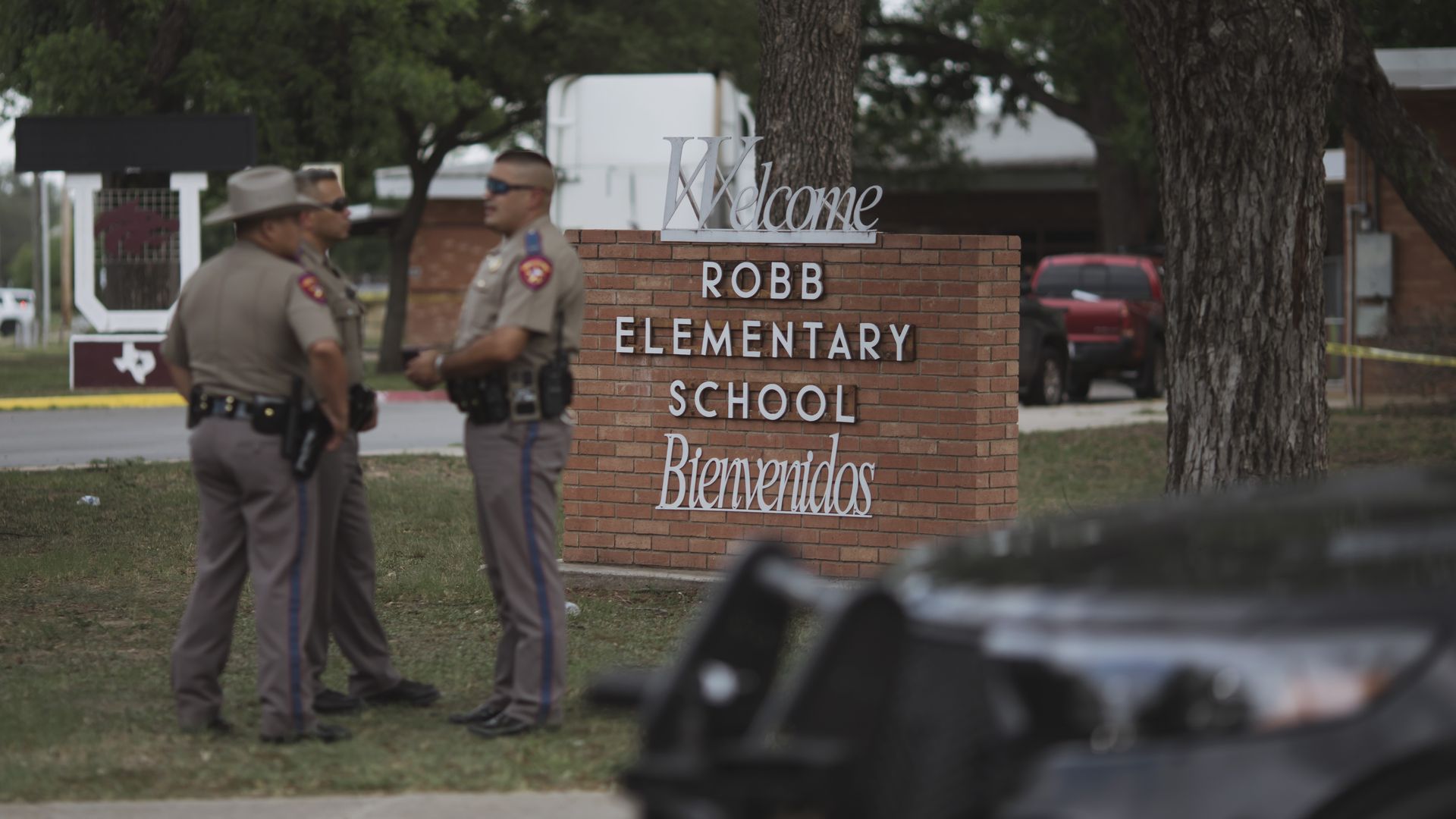 Nineteen students and at least two adults are dead after a gunman opened fire at an elementary school in Uvalde, Texas, Tuesday, police said.
The latest: At least 17 others were injured, but no injuries are life threatening, Texas Gov. Greg Abbott said Wednesday speaking in Uvalde.
The 18-year-old suspect, from Uvalde, entered Robb Elementary School in Uvalde, Texas, with a handgun, per AP.
The suspect is believed to have shot his grandmother before entering the elementary school. She's "hospitalized in critical condition," Sgt. Erick Estrada, of the Texas Department of Public Safety told CNN on Tuesday night.
Estrada said the suspect crashed his car near the school, some 85 miles west of San Antonio, with a rifle and a backpack while wearing body armor, per CNN.
He said the shooter was engaged with law enforcement, but he still entered the school where he "entered several classrooms and started shooting."
What they're saying: President Biden said in a proclamation issued Tuesday that U.S. flags will be flown at half-staff at the White House, public buildings and all military posts in honor of the victims.
He said in a speech from the White House Tuesday it's "time to turn this pain" of gun violence into action, adding: "As a nation, we have to ask: When in God's name are we going to stand up to the gun lobby?"
"Jill and I will be traveling to Texas in the coming days to meet with the families, let them know we have a sense — just a sense of their pain," Biden said Wednesday afternoon during an event to sign an executive order on police reform.
What we know: The deadliest shooting at a U.S. elementary, middle or high school since the 2012 Sandy Hook shooting began at 11:32 AM, the Texas Tribune reports.
The suspected shooter acted alone "during this heinous crime," Uvalde chief of police Pete Arredondo said during a press conference Tuesday.
"We had numerous law enforcement officers and agencies that assisted with the safety release for those students," Arredondo said.
There's no evidence of a second suspect, he said.
Zoom in: Uvalde Memorial Hospital said in a statement that two individuals who arrived at UMH had died. No details on their ages were available. It added it received 13 children by ambulance or buses for treatment.
University Health in San Antonio confirmed earlier Tuesday the hospital had received a child and adult from the school. The 66-year-old woman was in critical condition.
The other patient, a 10-year-old girl, is also in critical condition, the hospital said.
Meanwhile, Homeland Security Secretary Alejandro Mayorkas has been briefed on the shooting, tweeted Marsha Espinosa, the assistant secretary of public affairs for DHS, Tuesday.
U.S. Customs and Border Protection (CBP) responded to the shooting "to provide support, including medical aid," she said.
"DHS is actively coordinating with federal, state and local partners, and will continue to provide the department's full support," she added.
Editor's note: This story and headline have been corrected to show at least two adults were killed in the shooting. The shooter was also killed.
Go deeper ... Remembering the victims of the Texas school shooting
Go deeper