Chicago writers sound off on Hollywood strike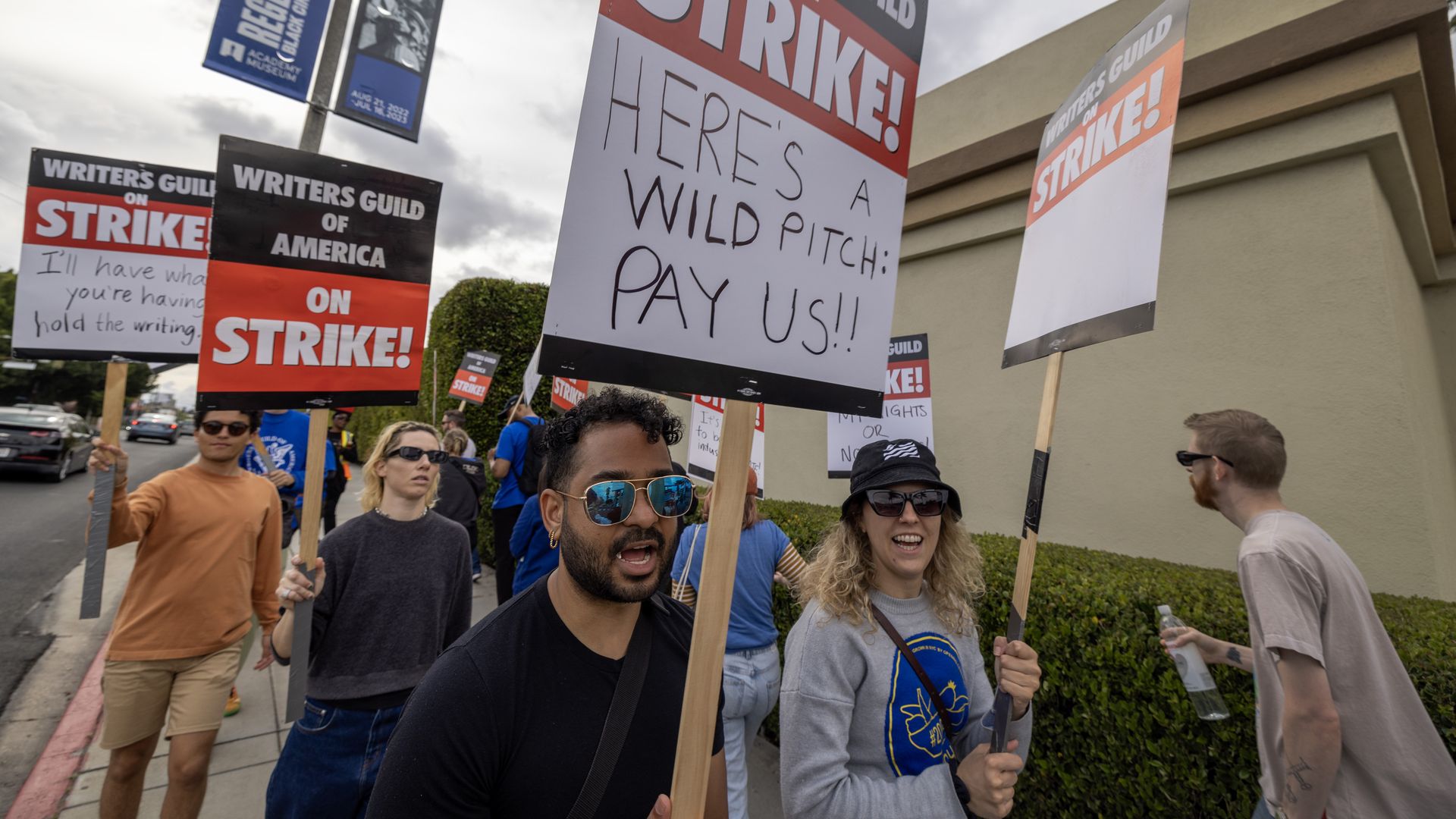 The Hollywood writers strike has spilled into its second week as both sides dig in for what could be a lengthy dispute.
What's happening: The Writers Guild of America (WGA) is looking for better pay and working conditions, especially when it comes to residuals on streaming shows. Writers also want minimum staffing requirements for writers rooms and protections against artificial intelligence.
The last Hollywood writers strike lasted 100 days.
Zoom in: We spoke to several union writers with Chicago roots, thanks to their time and training at places like The Second City, about why they're striking.
What they're saying: Katie Rich was a Second City mainstage cast member who went on to write for "Saturday Night Live" and, more recently, Netflix's "Chicago Party Aunt."
"Screenwriting as a career is not going to be possible for most people if things don't change," Rich tells Axios.
"That's true of many careers in film/TV and beyond. I truly believe this is only the beginning — I've never seen such unity."
Diallo Riddle knows a thing or two about writing for Chicago. The former "Late Night with Jimmy Fallon" writer co-created and wrote HBO Max's "South Side."
"I'm very concerned about the role of AI in the writing process," Riddle tells Axios. "Our show 'South Side' wouldn't be the show it is without the active, healthy collaboration between the brilliant human beings who sat in our writers room."
"The fact that the studios haven't even been willing to discuss rules around the use of AI is a clear sign this is a fight we must have now, not three years from now."
Ike Barinholtz spent years in Chicago improvising, including time at The Second City. In addition to acting, he's written for several shows, and he's currently in the HBO series "White House Plumbers."
"I've ... watched writers' livelihoods shrink to the point where some can't make ends meet," Barinholtz tells Axios. "We don't want to be doing this! We want to be writing jokes and telling cool stories and eating Pringles."
"But we can't do that without making sure we're not going to be replaced by some stupid AI bulls--t."
Tim Kazurinsky started his career at The Second City, which led to work as a writer and cast member on SNL. Since those days, Kazurinsky has been writing mainstream movies and television scripts.
"I support the WGA 100%. They have had my back for 44 years," Kazurinsky tells Axios.
"As for the film and TV producers … they are a bunch of snakes on a plane (always up in first class, mind you)."
Peter Grosz also worked at Second City, before moving on to write for "Late Night with Seth Meyers." He's currently starring in "Good Night, Oscar" on Broadway.
"It's definitely hard to strike, but everyone I'm talking to feels like the issues on the table are worth fighting for," Grosz tells Axios.
"I'm fairly certain no one watches their favorite TV shows and thinks, 'I like this, but I wish the writers were paid less and worked under less-favorable conditions.'"
The other side: The Alliance of Motion Picture and Television Producers has pushed back against some of the writers guild's claims, saying late last week that the producers had made a generous offer.
But the alliance stopped short of saying whether it would put forth a new one.
More Chicago stories
No stories could be found
Get a free daily digest of the most important news in your backyard with Axios Chicago.