Food Fight: Where to find the best pancakes in Chicago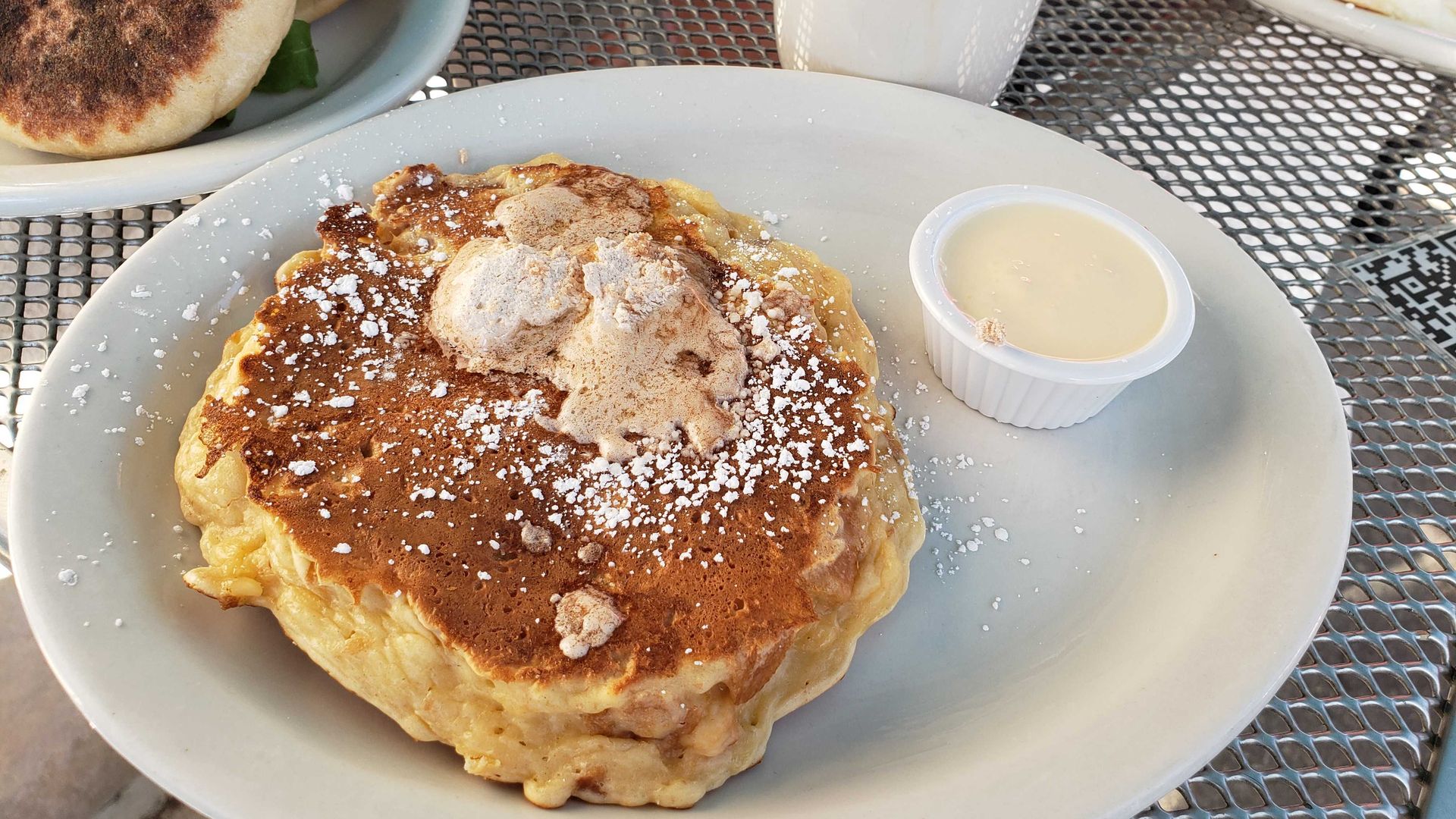 Last Fat Tuesday you helped compile a list of Chicago's best paçzki — and by now we've almost recovered.
Monica's pick: For this middle-aged lady to indulge in pancakes, they have to be special, like the silky, gooey bread pudding variety from Southport Grocery and Cafe in Lake View.
You can get a stack for $13.50, but a solo order ($6.50) is plenty for me, especially with its vanilla anglaise sauce and cinnamon butter.
Southport also offers a gluten-free Cupcake Pancake ($12.95 to $5.50) served with vanilla butter and maple syrup. Our testers couldn't tell it was gluten-free.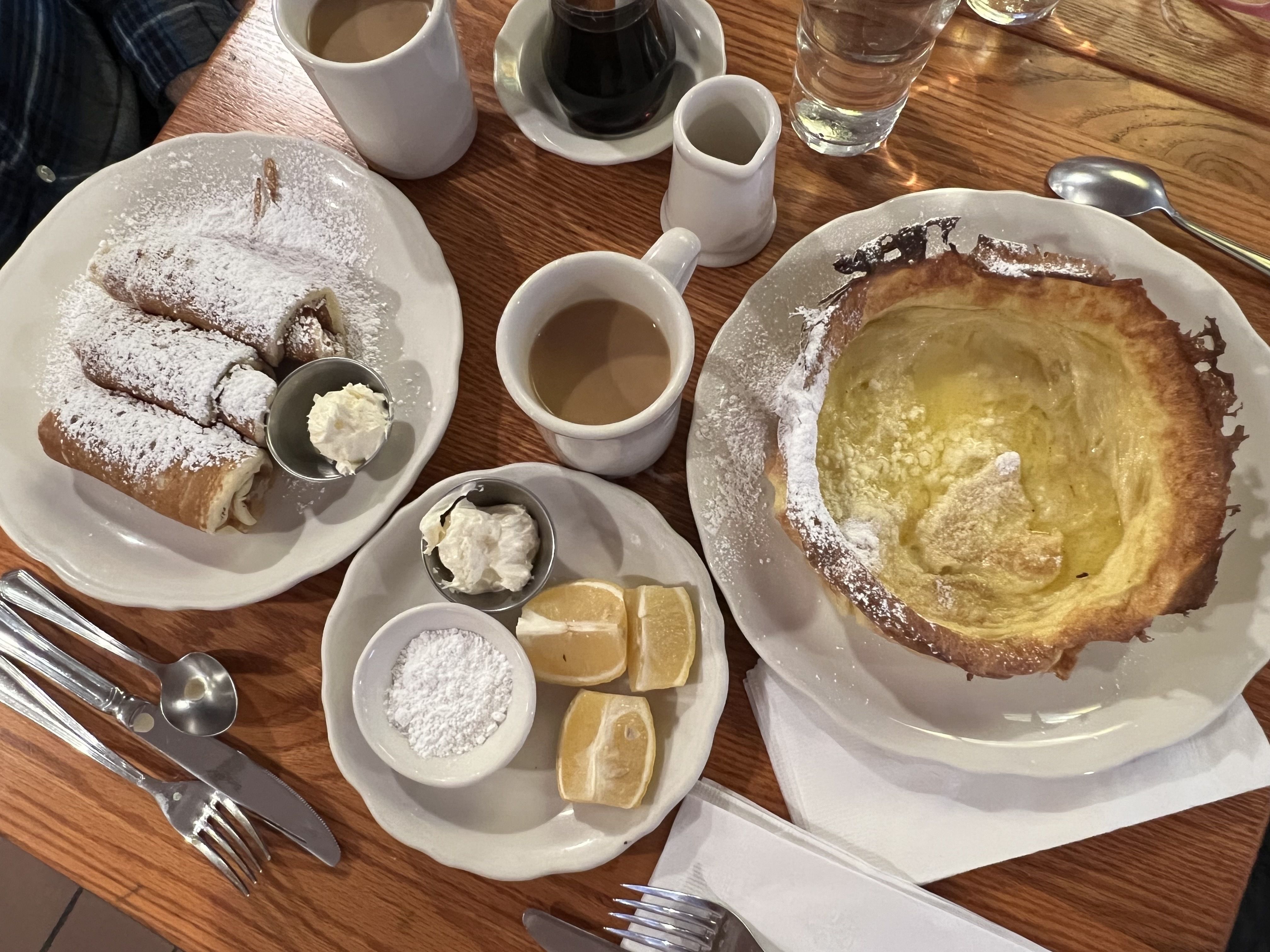 Justin's pick: It's hard to go against Walker Bros. in the suburbs, but my choice is the Original House of Pancakes on East Bellevue Place in the Gold Coast.
It serves the mother of all pancakes, a lemon-zested, egg-based behemoth called the Dutch Baby ($14.99).
Sprinkle it with lemon and powdered sugar, and you don't have to eat lunch (and possibly dinner).
And we're flipping out over all the tasty suggestions you sent our way:
Tony B., Carrie N., and Mike M. all like Walker Bros. Mike A. likes the one in Schaumburg "even though I know it originated in Wilmette."
Joe J.: "There's a Back of the Yards pancake house (Tom's Place) that is really amazing. Their very fluffy buttermilk pancakes are made from a family recipe and they are damn good.
"Orange Nut Pancakes are their specialty. They also have a very friendly staff and a warm, inviting environment. Highly recommended."
Jim A.: "Pancakes? Svea, in the 5200 block of North Clark Street. Swedish pancakes best served with tart lingonberries. They are thin, so you will not feel stuffed."
Christine S.: "Hanabusa pancakes. Fresh, fluffy and flavorful."
Rachel A.: "Best pancakes in the suburbs — Uptown Cafe in Arlington Heights. It's been around for decades. Recently I met a colleague for breakfast and was reintroduced to their homemade buttermilk pancakes. Worth the ride on the Metra NW line to the Arlington Heights stop for breakfast."
Scott N.: "I went all over the city for pancake research when I lived in Chicago, and my favorite was Golden House Restaurant and Pancake House just to the left of The Riviera Theater. I found it to be the most consistent texture as well, meaning that it didn't fall apart and separate once you covered it in syrup. It was thick, bouncy, yet light, flavorful, and held its shape once doused."
Alan M.: "Agreed. Wonderful little restaurant which has been there for decades, and has avoided gentrification. Have senior specials with lots of locals in attendance."
Jocelyn G.: "These are flawless pancakes. Literally the best ones I've ever had."
Monica likes the diner's red booths and that it was featured in "Station Eleven" and "Shameless."
Lisa Y.: "Sweet Maple all the way."
Susan A.: "Egg Harbor Cafe all the way."
Maria M.: "The Swedish Pancakes from Ann Sather."
Leslie L.: "I really love Chicago's own Long Table Pancake Mixes."
Tom M.: "IHOP in Rosemont. If I'm in the mood for pancakes, it's always the Harvest Grain 'N Nut pancakes, which are very satisfying and delicious."
Emily W.: "Original Alps Pancake House makes my favorite kind of pancakes."
JeanMarie B.: "Katie's Kitchen in Des Plaines."
Bonnie R.: "The Breakfast House on Ashland and Wellington (they have a couple locations) has these yummy sour cream pancakes, served with a fruit compote. Phenomenal!"
Still hungry? Read more of our Food Fight series to find the best guacamole, BBQ rib tips and more.
Editor's note: This story has been updated to add reader recommendations.
More Chicago stories
No stories could be found
Get a free daily digest of the most important news in your backyard with Axios Chicago.