Newsom's complicated choice in replacing Feinstein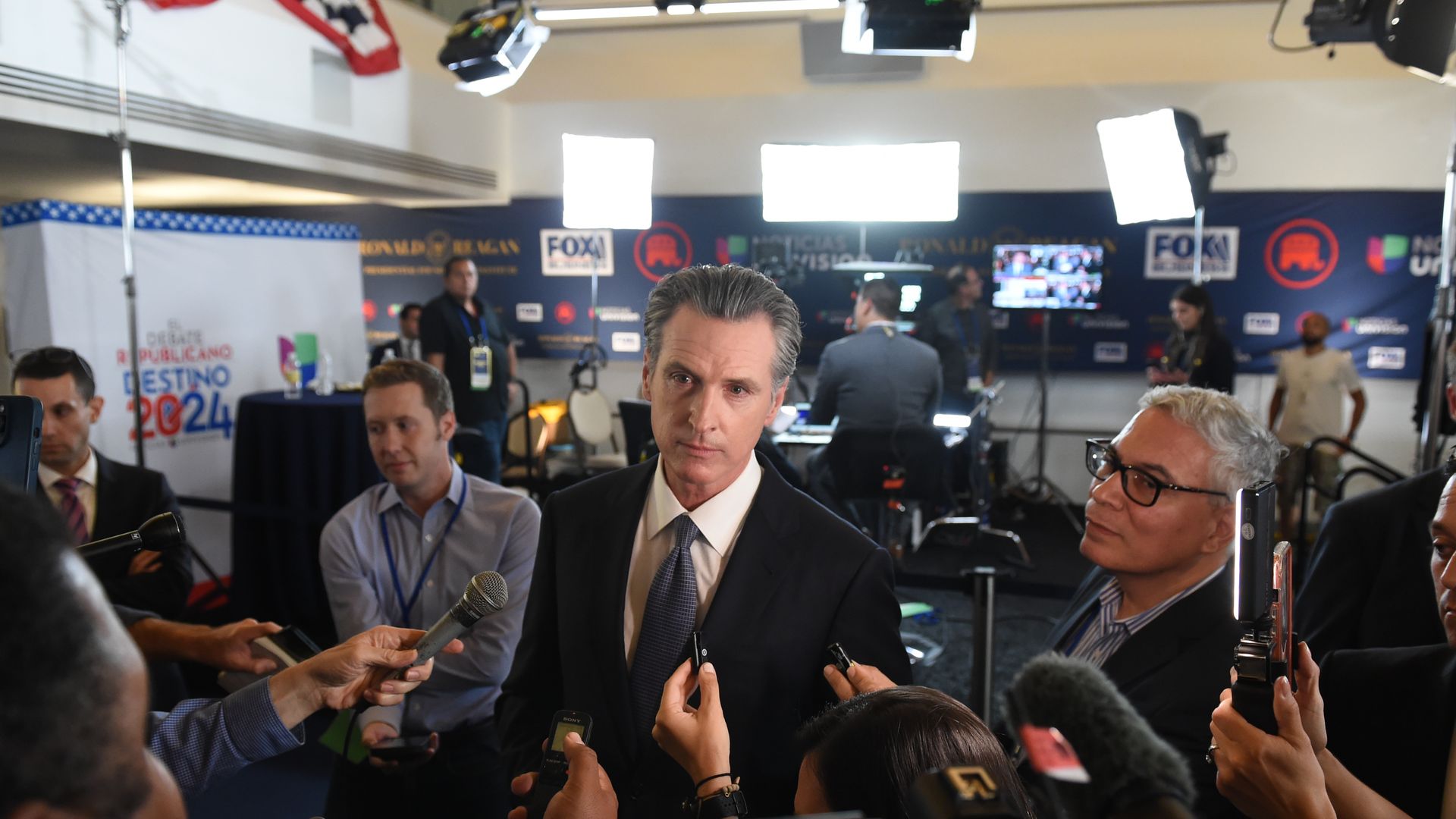 California Sen. Dianne Feinstein's death presents the state's Democratic governor, Gavin Newsom, with a complicated political problem — and an opportunity.
Why it matters: Newsom is widely expected to use the appointment of Feinstein's replacement to bolster his political standing for a potential presidential run at some point, according to California political advisers.
Feinstein, 90, a Democratic stalwart who died late Thursday after more than 30 years in the Senate, had been dealing with health issues when she announced in February that she wouldn't seek re-election in 2024.
Newsom said afterward that he'd appoint a Black woman to serve out Feinstein's term if she had to resign before it expired in January 2025, when the new Congress will convene.
Zoom in: One option would be Rep. Barbara Lee (D-Calif.), a former chair of the Congressional Black Caucus who has been in Congress for 25 years.
But Lee is among three Democratic members of Congress battling for the Senate seat in a primary that's less than six months away — and Newsom has said it would be unfair to appoint anyone running in the primary.
That has put a spotlight on Shirley Weber, California's secretary of state, as a potentially safer choice for Newsom: She's African American but her appointment wouldn't impact the Democratic primary.
Flashback: After then-Sen. Kamala Harris (D-Calif.) resigned her seat to become vice president in 2021, it took Newsom five weeks to settle on Sen. Alex Padilla (D-Calif.), who was elected to a full six-year term last year.
The big picture: With a government shutdown looming and Senate Democrats bracing for a negotiation with House Republicans over how to fund the government, Democrats might need every vote they can get in the politically divided Senate.
Newsom will be under pressure to move quickly with the appointment, but because Feinstein's deteriorating health had raised questions about whether she should resign, he's had some time to think about possible replacements.
The top two finishers in California's March 5 primary will advance to the general election in November.
Besides Lee, California Democratic Reps. Adam Schiff and Katie Porter are running in one of the most-watched Senate races of the 2024 cycle.
In California's open primary, the top two vote-getters could be Democrats — raising the possibility that the party's second choice could win in the general election if Republican voters get behind that candidate in big numbers.
The intrigue: Newsom has vowed not to challenge President Biden in 2024, but he clearly has presidential ambitions and is positioning himself for a national campaign down the line.
That could set up a clash with someone he grew up with in Democratic politics in Northern California: Kamala Harris.
He appeared to relish appearing at the GOP debate this week at the Ronald Reagan Presidential Library, needling the performance of the Republicans on stage. He pronounced the whole affair "JV, it's XFL, it's veep-stakes, maybe."
What they're saying: For now, Newsom is focusing on praising the life and legacy of Feinstein, a mentor.
"She was a political giant, whose tenacity was matched by her grace," he said in a statement. "She broke down barriers and glass ceilings, but never lost her belief in the spirit of political cooperation."
What we're hearing: If Newsom decides to break his pledge to appoint a Black woman, sources say that other options would include former Stockton, Calif., Mayor Michael Tubbs, currently a special adviser to Newsom for economic mobility.
Go deeper