Sen. Dianne Feinstein won't seek re-election in 2024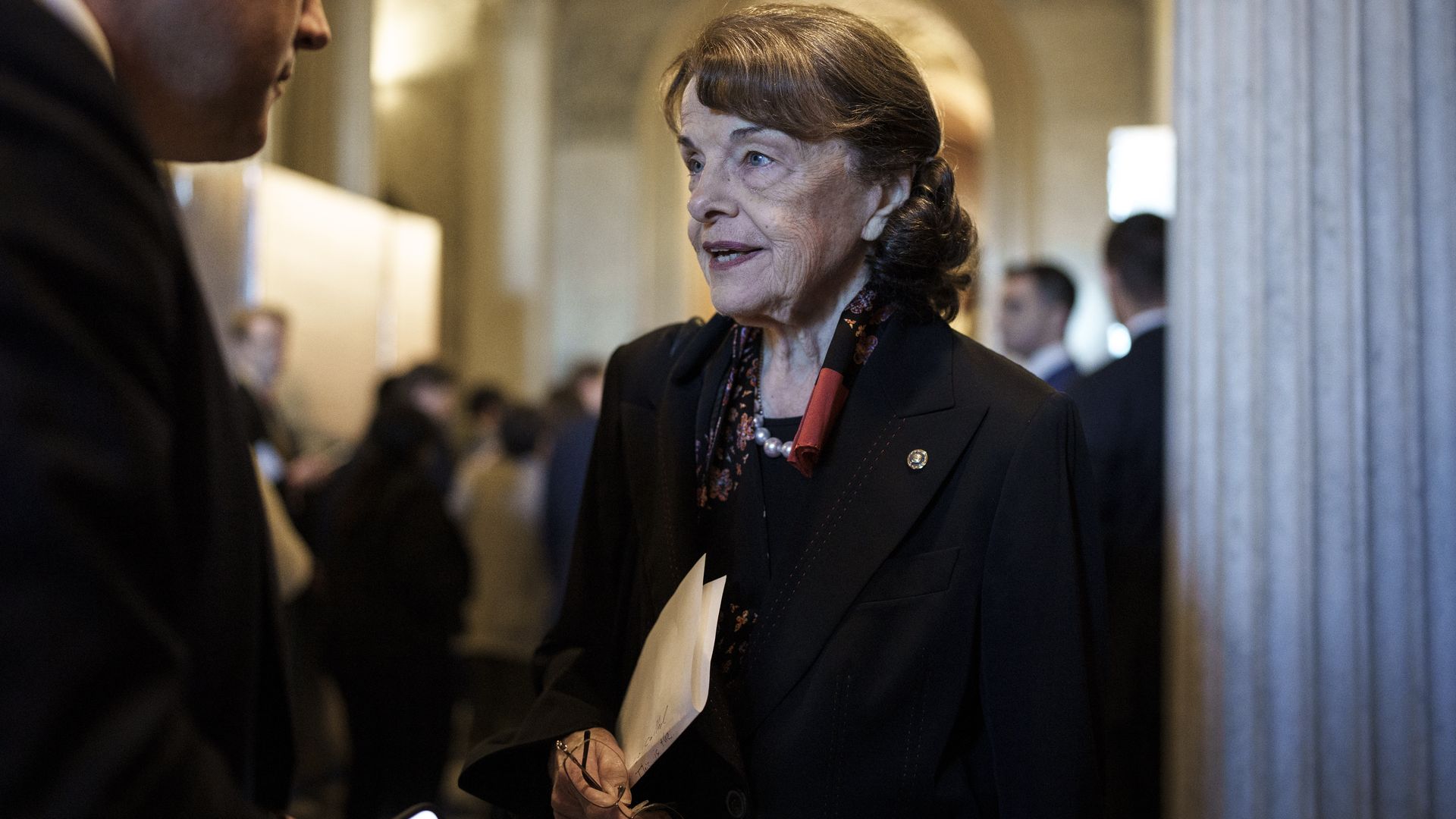 Sen. Dianne Feinstein (D-Calif.) said Tuesday she will not seek re-election in 2024.
Why it matters: The announcement marks the beginning of the end of more than three decades in the Senate and spurs a free-for-all among ambitious would-be successors for a rare open Senate seat in safely Democratic California.
Driving the news: "I am announcing today I will not run for reelection in 2024 but intend to accomplish as much for California as I can through the end of next year when my term ends," Feinstein said in a statement.
She said she will focus her energy in her last two years in Congress on pushing legislation, specifically on gun violence, stating, "Even with a divided Congress, we can still pass bills that will improve lives."
On Capitol Hill, she told Axios: "The time has come. It's not till the end of next year, so don't hold your breath. [But] there are times for all things under the sun, and I think that will be the right time."
What they're saying: Rep. Adam Schiff (D-Calif.), one of the House Democrats running for Feinstein's seat, said in a statement: "Dianne Feinstein is one of the finest legislators we've ever known. From the torture report, a dogged pursuit of gun safety, and championship of LGBTQ+ rights, her body of work defines her legacy."
"Feinstein has had a remarkable career serving the people of California," Rep. Katie Porter (D-Calif.), another contender, said on Twitter. "She created a path for women in politics that I am proud to follow. I thank the Senator for her leadership and appreciate all that she has accomplished for our state."
Rep. Barbara Lee (D-Calif.) also plans to jump in the race. In a statement praising Feinstein on Tuesday, she said, "I know there are questions about the Senate race in 2024, which I will address soon."
Feinstein says she's not yet ready to make an endorsement. "I'll talk about that later. I don't have anybody in mind right now," she told reporters at the Capitol on Tuesday, adding that she is likely to make a decision in "a couple months."
Senate Majority Leader Chuck Schumer (D-N.Y.) said at a press conference that Feinstein broke the news first to her colleagues in a "heartfelt, teary" address to the Senate Democratic Caucus lunch on Tuesday and received a "standing ovation that lasted minutes and minutes and minutes — one of the longest I've ever seen."
"We're all glad she'll be remaining with us in the Senate," he said. "She's a legend."
Schumer later tweeted: "When she came to the Senate, there were only 2 women senators. Today there are 25 serving — all of whom stand in some small part on her shoulders."
The context: The 89-year-old, five-term senator is the oldest member of the Senate and has a long and complicated legacy. Her ability to serve has come into question in recent years amid reports of her declining memory.
She's bowed out from several leadership positions in the last two years, including Senate Judiciary Committee chair and Senate president pro tempore — which is third in the presidential line of succession.
Feinstein was confused when speaking to reporters on Tuesday as to whether the statement announcing her retirement had been put out. A spokesperson told Axios she "approved it going out today, just confusion on timing."
"The senator was out of the office for votes, a meeting, lunch and more votes when the announcement was sent," the spokesperson added.
The backdrop: Feinstein stepped into the national spotlight in 1978 as a member of the San Francisco Board of Supervisors, becoming the city's first female mayor after the murders of Mayor George Moscone and fellow supervisor and legendary LGBTQ+ rights figure Harvey Milk.
She was elected to the Senate in 1992 — dubbed the "Year of the Woman" after the election of four female Democratic senators — and authored the 1994 assault weapons ban.
Feinstein served as chair of the Senate Intelligence Committee from 2009 to 2015, leading a sweeping investigation into the CIA's post-9/11 torture program and later joining the late Sen. John McCain (R-Arizona) to offer a legislative amendment banning so-called "enhanced interrogation techniques."
Editor's note: This story has been updated with additional details throughout.
Go deeper