In the GOP debate spin room, strategies are revealed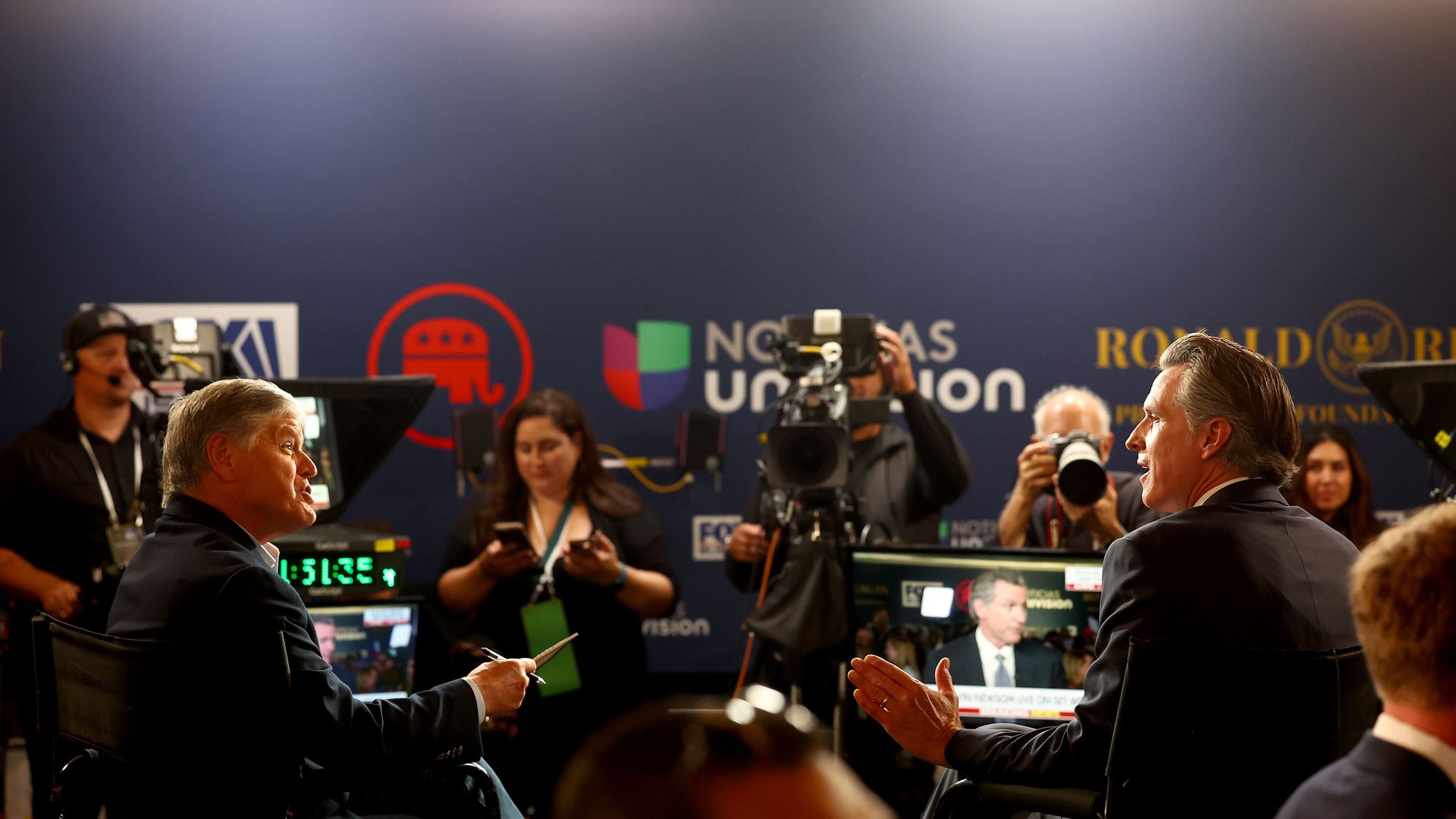 South Carolina Sen. Tim Scott, whose allies thought he was too nice in the first GOP presidential debate last month, is a "fighter." Entrepreneur Vivek Ramaswamy, whose camp worried that he came off as a know-it-all in that first debate, is actually quite "humble."
Why it matters: Those were among the messages the campaigns were pushing in the "spin room" after Wednesday night's GOP debate — themes that helped explain the strategies behind the candidates' performances that viewers saw on TV.
Scott took a more aggressive approach this time, and Ramaswamy was more measured — even as he came under fire from former UN ambassador Nikki Haley and others.
Florida Gov Ron DeSantis' post-debate spinsters called him a "man of action," as he mostly tried to remain above the fray and focus on his record in Florida.
Former President Trump's team — present even though the GOP frontrunner wasn't — dismissed the debate was "boring." And California Gov. Gavin Newsom (D), on hand to dish spin for President Biden, called the whole affair "JV, it's XFL, it's veep-stakes, maybe."
Zoom in: Every campaign represented last night at the Ronald Reagan Presidential Library in Simi Valley, Calif., said their person "won," of course.
Trump's team argued that he didn't just win the debate but the entire GOP nomination, and that any other debates — there's another one scheduled for November — should be canceled.
Though the first primary contests are still more than three months away, "the Republican electorate has made its choice," top Trump aide Chris LaCivita told Axios in the spin room.
Wednesday's debate was just a contest to become the "designated survivor," LaCivita added.
Senior Chris Christie adviser Mike Duhaime fired back, saying that LaCivita "is a very smart operative, and that's a smart move for Trump because he would look bad up there with everybody else."
Asked why Trump is still campaigning in primary states if the nomination contest is over, LaCivita replied, "that's kind of a dumb question."
Scott's spokesperson Matt Gorman said the senator "showed he was a fighter and wanted to make a contrast on policy with folks like Vivek and Ron and Nikki."
Scott took on his rivals after some private criticism from Scott donors and allies that he was too nice during the first debate.
After Ramaswamy's combative first debate, his campaign's Iowa co-chair, Matt Schultz, told reporters that the fast-talking businessman was more humble than the media portrays him.
"He listens and he takes criticism very well," Schultz said.
Asked about Haley's quip to Ramaswamy — "Every time I hear you, I feel a little bit dumber"—Schultz said "the only dumb thing that we would do is send another career Washington politician to be our president."
Between the lines: Newsom, the Biden surrogate, gleefully jumped between TV hits — including on Fox News — as he denounced the GOP and made the case for the president's re-election.
Ramaswamy and North Dakota Gov. Doug Burgum were the only candidates to enter the spin room scrum, as the others decided to stay behind the barrier separating Fox — the host of the debate — from the other media outlets.
DeSantis appeared to have the most surrogates in the spin room with officials from both his Super PAC and official campaign talking to reporters.
What we're hearing: There was widespread frustration with Fox Business, which broadcast the debate, and the constant cross-talk among the candidates.
"I found the moderators to not be very strong tonight — they lost control," said Trump surrogate Kari Lake.
Burgum, who was wheeled into the spin room because he's recovering from a torn Achilles, said "the people that lost the night was the American voters because…the voters decide who's going to move forward in this campaign, not televised cable clickbait."
While watching the debate, one senior Republican told Axios: "Trying to press one for English on this thing. Awful."
On stage, former New Jersey Gov. Chris Christie and Florida Gov. Ron DeSantis each made a point of calling out Trump, criticizing him for not showing up to debate and defend his record.
The impact of Trump's absence also could be seen in the media area, where reporters gathered to cover the debate. There were dozens of empty seats.
Go deeper