Sen. Dianne Feinstein dies at age 90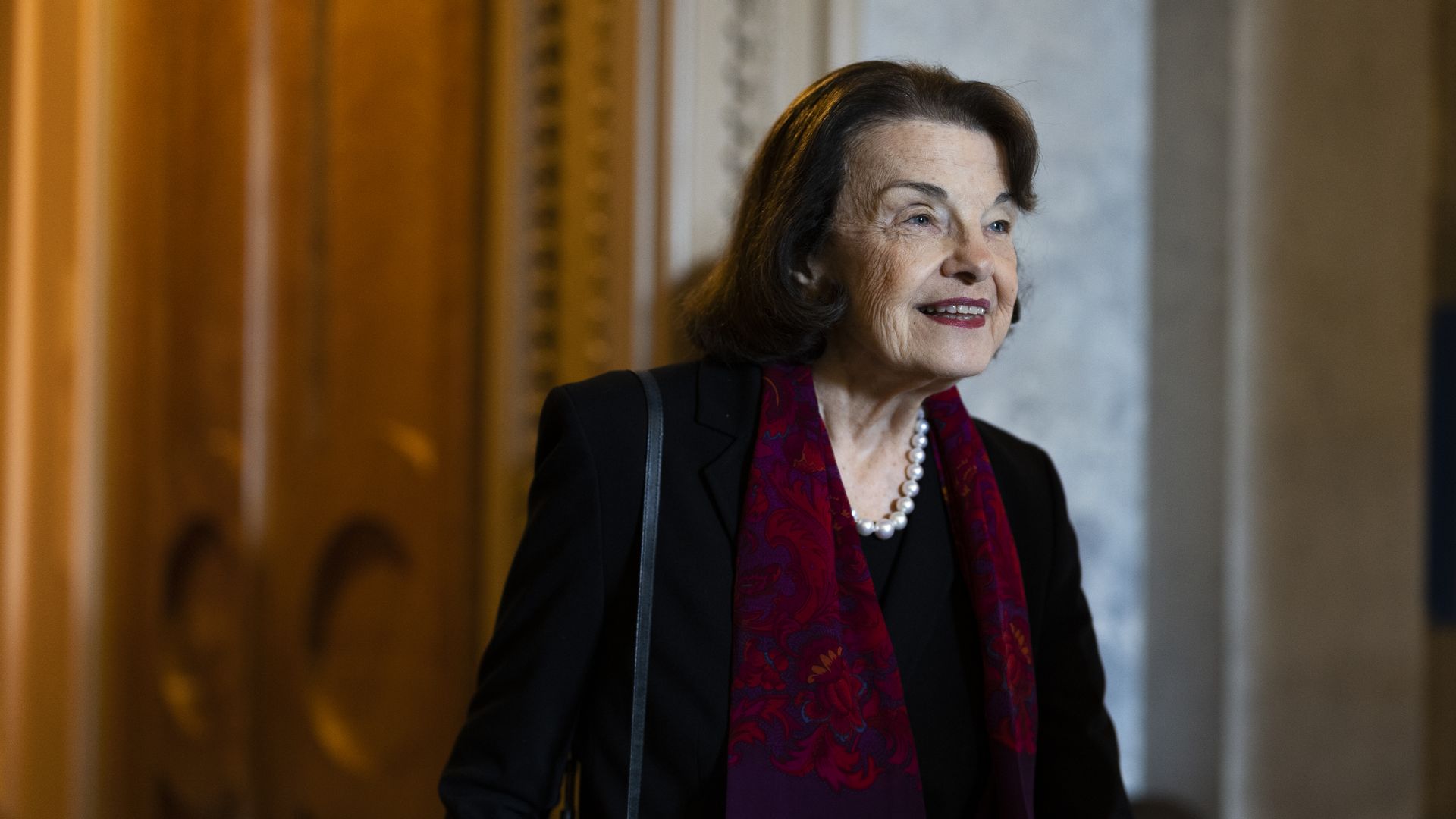 Sen. Dianne Feinstein (D-Calif.), the oldest serving member of the U.S. Senate and longest serving female senator, has died at age 90.
The big picture: Feinstein's death, first reported by Punchbowl News, marks the end of a distinguished senatorial career.
Driving the news: "Sadly, Senator Feinstein passed away last night at her home in Washington, D.C.," Feinstein's chief of staff James Sauls said in a statement Friday morning.
"She left a legacy that is undeniable and extraordinary. There is much to say about who she was and what she did, but for now, we are going to grieve the passing of our beloved boss, mentor and friend."
Context: The six-term senator announced in February that she would not seek re-election in 2024 amid deteriorating health.
What they're saying: "Today, we grieve. We look at that desk and we know what we have lost," Senate Majority Leader Chuck Schumer (D-N.Y.) said in a tearful speech on the Senate floor.
He called Feinstein "a friend, a hero for so many, [and] a leader who changed the nature of the Senate."
Former House Speaker Nancy Pelosi (D-Calif.) said in a statement that "it was a great honor to serve alongside Dianne for decades – from the hilly streets of San Francisco to the hallowed halls of Congress."
"We were not only colleagues, but neighbors and friends," Pelosi added.
"She's a true public servant," Sen. Chuck Grassley (R-Iowa), who worked closely with Feinstein on the Senate Judiciary Committee, said on X. "I'll miss her."
Flashback: Born in 1933, Feinstein was the first female president of the San Fransisco Board of Supervisors, the first female mayor of San Fransisco and first female U.S. senator from California.
Feinstein rose to national prominence in the late 1970s as a San Francisco supervisor, becoming mayor after the murders of Mayor George Moscone and fellow supervisor Harvey Milk, an iconic LGBTQ+ rights figure.
She lost a bid for California governor in 1990 but won election to the Senate in 1992, authoring the 1994 assault weapons ban and, as chair of the Senate Intelligence Committee, leading a sweeping investigation into the CIA's post-9/11 torture program.
"She's made history in so many ways, and our country will benefit from her legacy for generations," President Biden said in a statement Friday.
She is survived by her daughter, Katherine Feinstein, and her granddaughter, Eileen Feinstein Mariano.
Go deeper: Pioneering Feinstein remembered by women lawmakers: "A force"
Editor's note: This story has been updated with additional comments throughout.
Go deeper