Hollywood writers reach tentative deal with studios that would end strike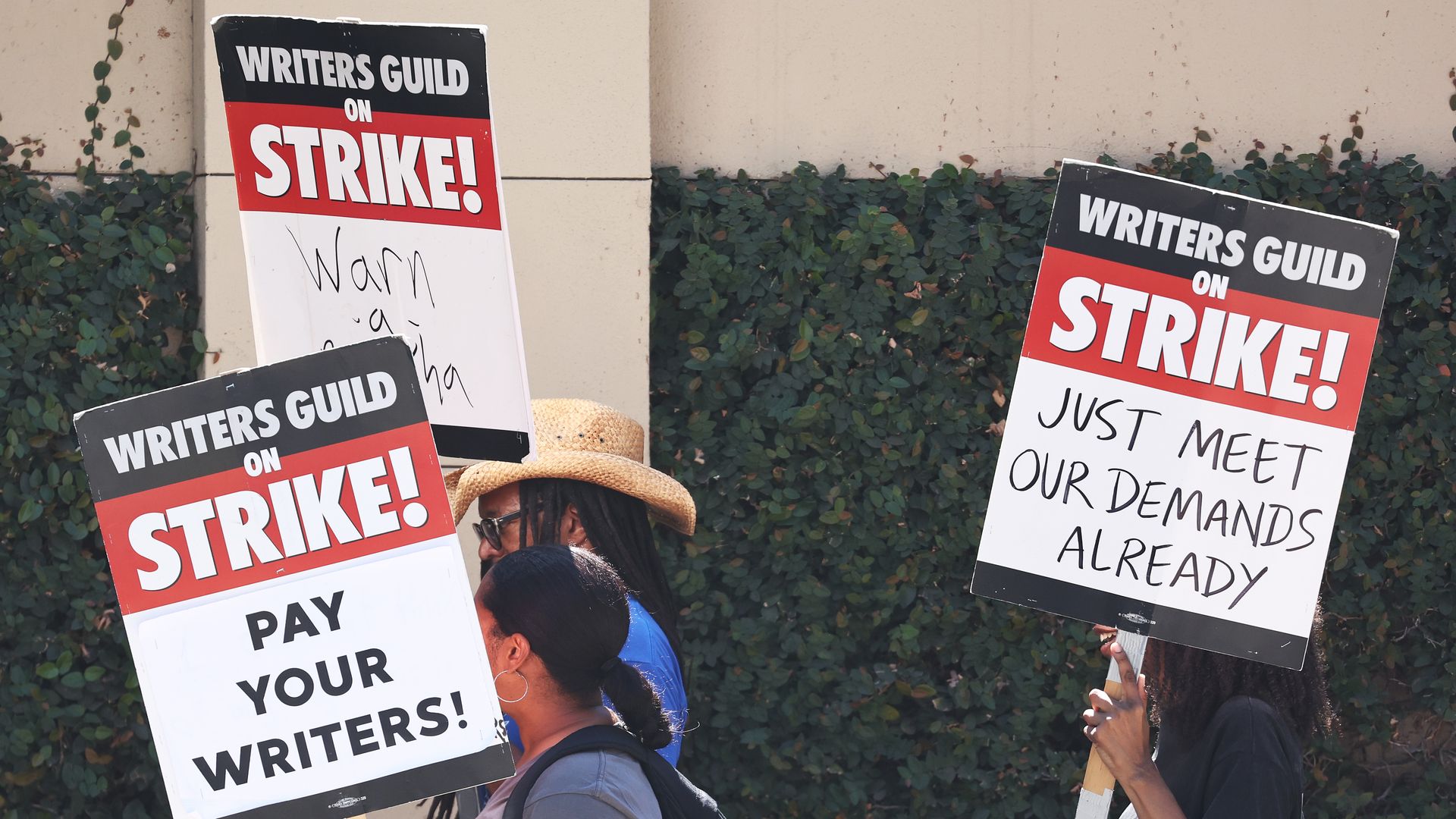 The Writers Guild of America (WGA) announced on Sunday that it had reached a "tentative agreement" with the major Hollywood studios that would bring an end to the 146-day strike.
Why it matters: With a deal in hand with the writers, the studios can turn their attention toward cutting a deal with the actors' union to end the Hollywood labor stoppage for good.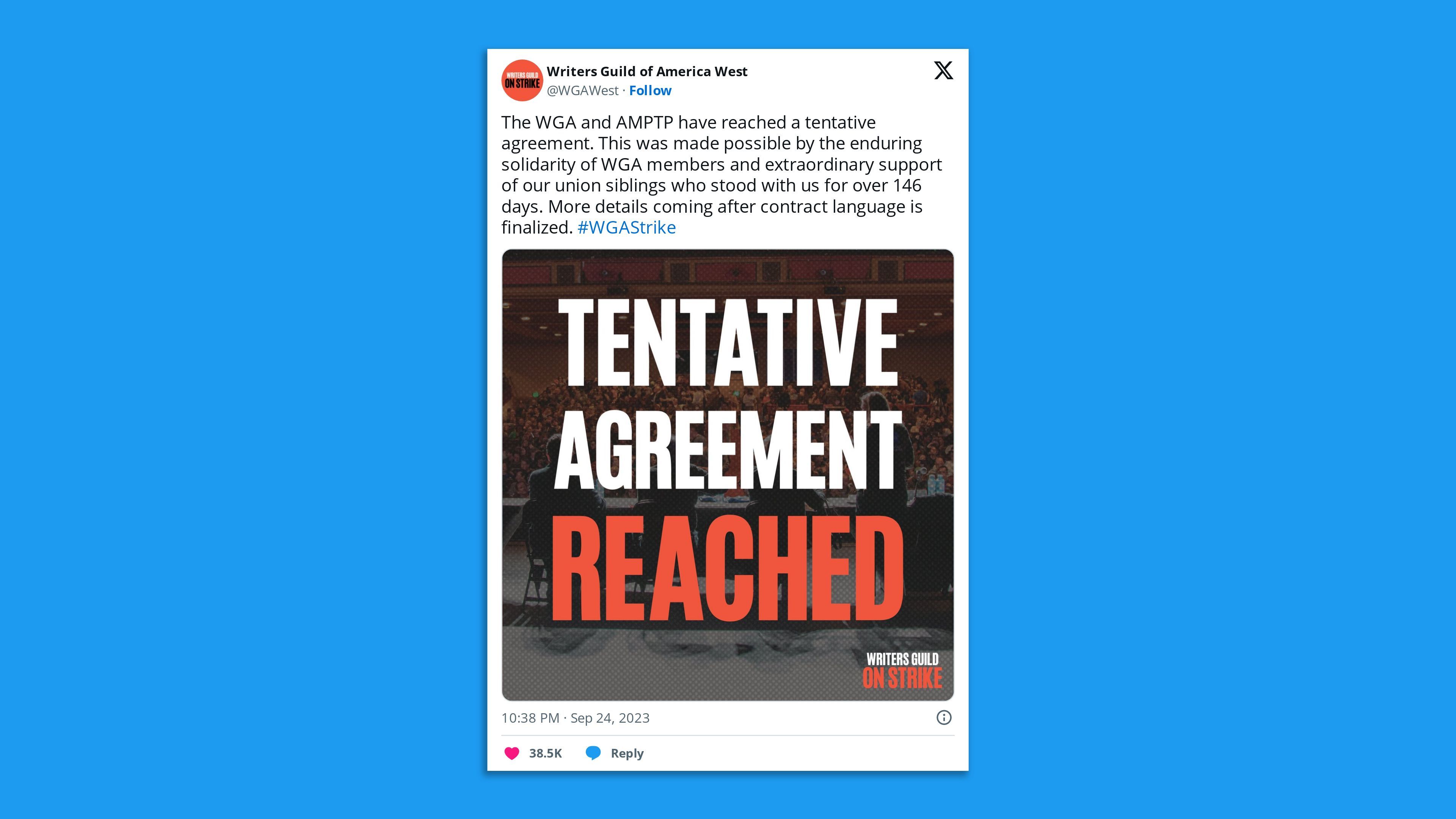 Details: The WGA released a statement Sunday, after five days of continued negotiations, saying that a tentative agreement with the Alliance of Motion Picture and Television Producers (AMPTP) had been reached, but is "subject to drafting final contract language."
It noted that union members are not to return to work "until specifically authorized" to do so by the Guild. "We are still on strike until then. But we are, as of today, suspending WGA picketing," it added, encouraging writers to join the SAG-AFTRA picket lines this week.
The WGA lauded its members for their patience and determination throughout the process. "It is the leverage generated by your strike, in concert with the extraordinary support of our union siblings, that finally brought the companies back to the table to make a deal," it said.
What they're saying: SAG-AFTRA, the union that represents striking actors, in a Sunday night statement congratulated the WGA for reaching a tentative agreement with the AMPTP.
"We remain on strike in our TV/Theatrical contract and continue to urge the studio and streamer CEOs and the AMPTP to return to the table and make the fair deal that our members deserve and demand," the statement added.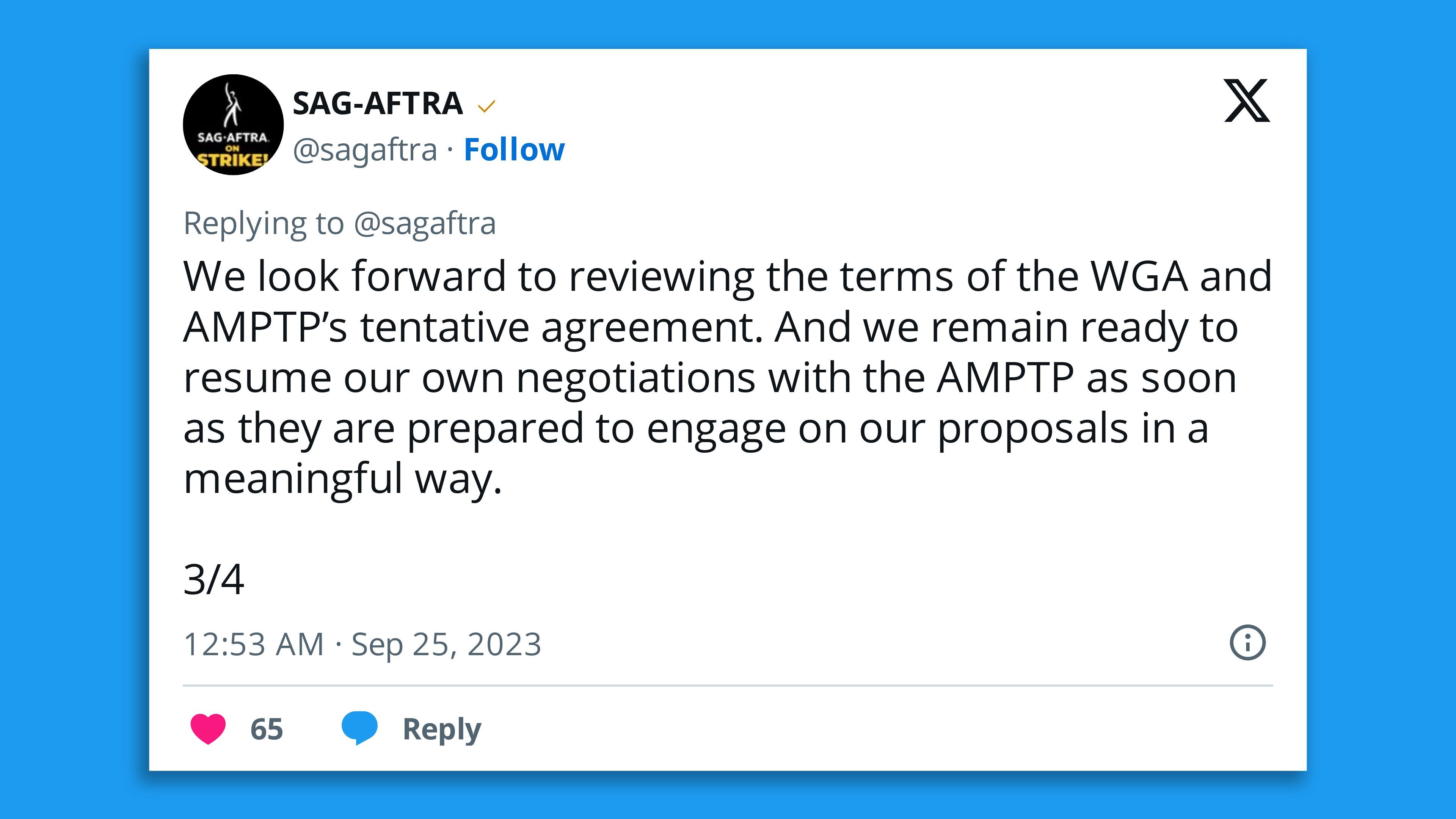 Meanwhile, California Gov. Gavin Newsom (D) said in a statement on Sunday night that the state's entertainment industry "would not be what it is today" without its world-class writers.
"For over 100 days, 11,000 writers went on strike over existential threats to their careers and livelihoods — expressing real concerns over the stress and anxiety workers are feeling," he added.
"I am grateful that the two sides have come together to reach an agreement that benefits all parties involved, and can put a major piece of California's economy back to work."
The big picture: The dual strikes in Hollywood by writers and actors wreaked havoc on the entertainment industry.
Virtually all production of scripted content has been shut down since the actors' union joined the writers guild in striking in July. That led to a cascade of production delays for both TV and films; late-night talk shows have been on hiatus since the writers strike began in May.
Once the actors went on strike and ceased all promotional work, some studios delayed the release of already-completed films, like Warner Bros.' "Dune" sequel.
Be smart: The strike also took a financial toll on media giants. After first arguing that the production shutdown would save them money, media CEOs in recent weeks have detailed just how much the strike is costing them.
Warner Bros. said the strike will wipe out as much as $500 million in earnings this year.
What's next: The agreement needs to be ratified by WGA members through a vote before finalized.
More from Axios:
Editor's note: This article has been updated with new details throughout. It has also been updated with an embedded photo showing a post by the WGA on X (formerly Twitter). A previous version incorrectly showed a post from the UAW.
Go deeper