Writers' strike highlights extra barriers Latinos and writers of color face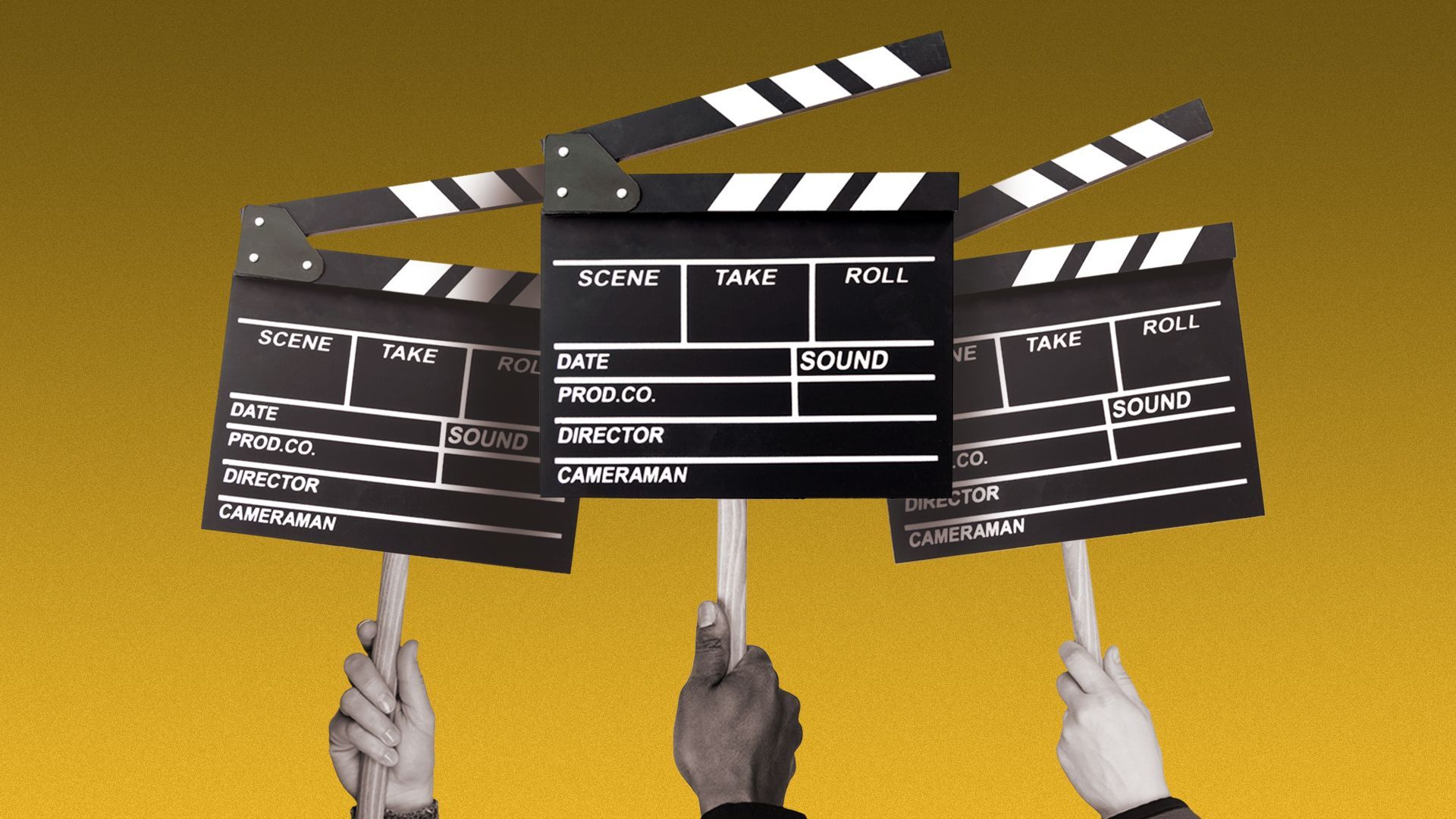 The Hollywood studio policies that writers are on strike against are particularly harmful to writers of color and Latino writers because they trap many in entry-level positions, industry professionals tell Axios.
The big picture: Thousands of writers in Los Angeles and New York went on strike last week against the Alliance of Motion Picture and Television Producers (AMPTP), grinding to a halt costly productions while they fight for a number of changes they say are crucial for writers to be able to earn a living.
How it works: There are two categories of TV writers: those who develop shows to get them greenlit, and those who are on writing staffs for greenlit shows (some writers do both).
Among writers staffed on TV shows, there are three general levels: lower, middle and upper.
Emerging Latino writers are finding themselves stuck at the lower levels because of "mini rooms," a term used to describe the practice of hiring a small group of writers who often work for short stints before a show is greenlit or starts production.
The guild says mini rooms have turned TV writing into a part of the gig economy, with writers hired at the union minimum and forced to quickly find new jobs after their project ends.
What's happening: The union is demanding studios hire a minimum number of writers for shows to battle the ubiquity of mini rooms.
Mini rooms hurt entry-level Latinos and other writers of color because they don't often lead to a full-season job, according to Victor M. Dueñas, who has been working as a writer in the industry since 2017. That's because showrunners (the boss on any show) often end up picking upper-level writers and their friends for those positions, he says.
Writer Gabriela Revilla Lugo says there are certain scenarios in which mini rooms work, but that "they should be the exception, not the norm."
The other side: The AMPTP declined to comment for this story but sent Axios Latino a document released last week in which it addresses the WGA's demands and concerns, including mini rooms.
It said the WGA's proposal on staffing minimums "is in reality a hiring quota that is incompatible with the creative nature of our industry."
"We don't agree with applying a one-size-fits-all solution to shows that are unique and different in their approach to creative staffing."
The union is also pushing against the exclusion of some writers from TV show sets, where they learn other aspects of the business. Writers who work in mini rooms are often no longer employed by the time production starts, and studios don't want to pay them to come back to work on sets.
This keeps people out of the pipeline for future showrunners, Revilla Lugo says.
She adds that "it affects women of color most because we don't have a lot of the same connections, so if we don't have on-set experience, we're not coming up the same as some of our colleagues."
Between the lines: Who you know is a huge part of being successful in the entertainment industry.
If you're an unknown Latino writer with few connections, it's harder to climb the ladder when studios are filling writer's rooms with so few writers compared to the past.
"It's just a plain fact that the industry is dominated by white males," says Jorge Rivera, who is the vice-chair of the Latinx Writers Committee of the WGA.
The bottom line: Rivera, who was not speaking on behalf of the guild, says that while studios have made great strides in hiring more diverse writers, it's still lagging.
"Those folks, some of them, are not aware of their own biases and sometimes don't hire outside their own pool of, or circle of, influence," Rivera says.
Go deeper:
Subscribe to Axios Latino to get vital news about Latinos and Latin America, delivered to your inbox on Tuesdays and Thursdays.
Go deeper