Striking Hollywood writers prepared for lengthy battle with studios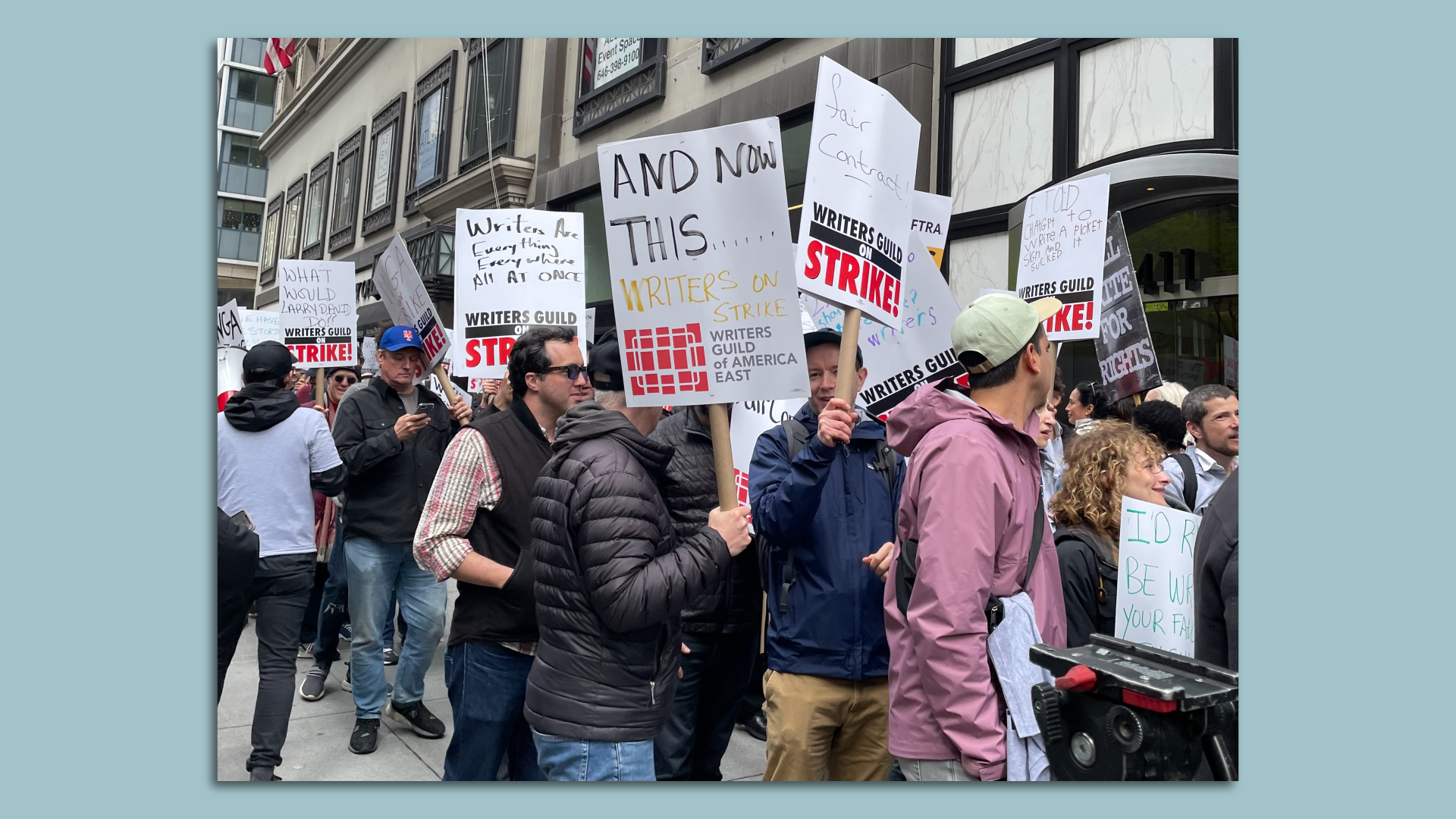 Writers were galvanized Tuesday across New York and Los Angeles on the first day of the Writers Guild of America's strike against Hollywood studios.
Why it matters: WGA members appear ready for the long labor fight ahead of them.
State of play: In New York, the WGA took up the entire block outside of Peacock's NewFront advertiser event in midtown Manhattan
Scored by chants, megaphones, drums and supportive horn honking from drivers, picketers forced advertisers — and journalists covering the NewFront — to walk around them as they entered Center415.
Context: This is Hollywood's first major work stoppage in 15 years, threatening to upend its comeback from pandemic-induced shutdowns.
What they're saying: "People are really energized. And it's not because they want to be on strike," Josh Gondelman, a longtime late-night TV writer whose credits include "Desus & Mero" and "Last Week Tonight," told Axios.
"Everybody knows this is a fight worth fighting for — the existential future of television, film and streaming writing as a career," he said.
Dave Sirus, a writer on "Bupkis" — one of Peacock's prized new shows that it was touting to advertisers on Tuesday — was also outside picketing.
"Everyone here wants to work," he said. "We all really wanted them to be able to negotiate, but what other choice do we have?"
Zoom out: The strike began Tuesday morning after the WGA's current labor deal with the studios expired. The two sides appear to be far apart on a new contract.
The streaming era has upended traditional Hollywood business practices, and writers feel they've been left out of the "peak TV" content boom.
Streaming services dominating the TV landscape are ordering fewer episodes per season and ending shows earlier than their broadcast and cable forefathers.
Additionally, residuals for streaming shows are far less than what writers would get from TV syndication deals.
Plus, the rapid growth of AI has writers concerned studios will look to replace some of their work with machines.
"There's been such a sea change in the way the work that we do is distributed," said Gondelman.
"And I think that corporations have seized upon that as a chance to take profits. They're trying to turn writing into an unstable gig economy type job."
The other side: The Alliance of Motion Picture and Television Producers, which represents the major studios and production companies, has argued its most recent proposal included "generous increases in compensation" and increases in streaming residuals.
The alliance added that it was prepared to improve that offer.
"The AMPTP member companies remain united in their desire to reach a deal that is mutually beneficial to writers and the health and longevity of the industry, and to avoid hardship to the thousands of employees who depend upon the industry for their livelihoods," the alliance said in a statement after talks broke down Monday night.
The intrigue: Compared to the 2007-2008 strike, which lasted for 100 days, the WGA has formed a more united front with fellow Hollywood guilds like the Director's Guild of America and SAG-AFTRA, which represents the actors.
Both guilds' labor deals with the studios expire at the end of June. In 2008, the DGA cut its own labor deal that may have undercut the WGA's stance.
Members of the DGA and SAG-AFTRA, as well as the International Alliance of Theatrical Stage Employees — representing 168,000-plus below-the-line industry crew members — joined in the picketing on Tuesday.
Sirus praised the support, noting: "We saw 15 years ago what happens when you try to work around writers. And I don't think anyone wants that."
What's next: WGA has picketing planned for at least the next two weeks in both cities, including outside of Netflix's New York offices Wednesday afternoon.
"Whatever it takes to keep the membership galvanized, keep the pressure on," says Lisa Kron, a longtime playwright and writer on HBO's "Somebody Somewhere."
As for how long the strike will last? "It's not up to us. It's up to the studios," she says.
Go deeper