Axios Latino
May 30, 2023
🤠 Welcome back!
🪅Would you like to see yourself or a loved one featured in our weekly pachanga series? Reply to this email with a nomination!
👀Puede leer este boletín en español aquí.
This newsletter, edited by Astrid Galván, is 1,259 words, a 5-minute read.
1 big thing: Rate of police killings soar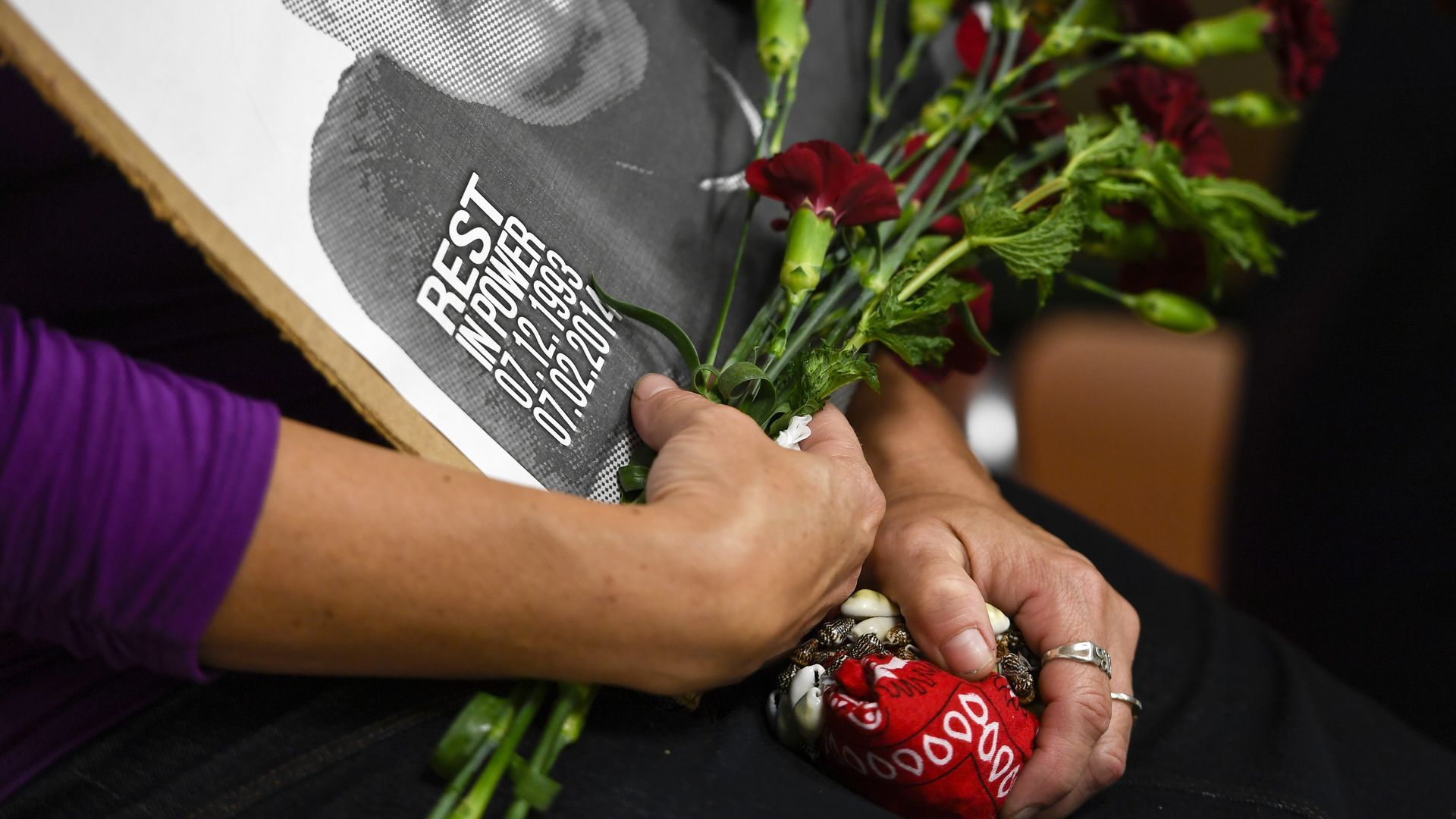 The rate of Hispanics killed by law enforcement officers jumped nearly 45% in the last decade, according to newly released data reviewed by Axios.
The big picture: It's been three years since George Floyd was murdered by Minneapolis police, resulting in a worldwide racial reckoning and protests against police brutality. But little data exists on how police violence affects Latinos, Russell writes.
By the numbers: Latinos killed by law enforcement hit .26 per 100,000 residents in 2020, up from .18 in 2011, a study published this month in the Journal of Community Health found.
The researchers examined mortality data from the Centers for Disease Control and Prevention from 2011 to 2020.
Zoom in: They found that Hispanics accounted for nearly 20% of all deaths in police custody between 2011 and 2020 and that their rate of fatal encounters was 1.33 times higher than the rate for non-Hispanic whites.
Latino men between the ages of 20 to 39 and those living in Western U.S. states have seen the greatest spikes in deaths caused by police.
Background: Researchers cautioned that the CDC's mortality data had limitations, and the rates may be even higher.
That's because police departments and other agencies don't keep standardized racial and ethnic data.
Jagdish Khubchandani, a professor of public health at New Mexico State University and co-author of the study, said researchers used population and police shooting trends to help develop the rates — a methodology reviewed by Axios.
A Washington Post analysis examining police shootings since 2015 found that Black Americans are killed by police at more than twice the rate as white Americans. Latinos are killed at a rate 55% higher than whites, according to the Post.
What they're saying: "The perception is that police brutality is exclusive to African Americans, which is not true," Khubchandani told Axios.
Khubchandani said the lack of public health research about Latinos and how Americans focus on a Black-white dichotomy when discussing race contribute to the lack of information about Latinos' police interactions.
He said many police departments remain primarily white and male, fostering systemic racism.
Between the lines: Latinos have always known police killed Hispanics disproportionately but rarely had the consistent data to prove it, Max Markham, vice president of policy and community engagement at the Center for Policing Equity, told Axios.
"In the majority of cases, law enforcement themselves are the ones who determine the racial identity of people who they interact with. And that isn't always accurate."
2. Peruvian president's upcoming testimony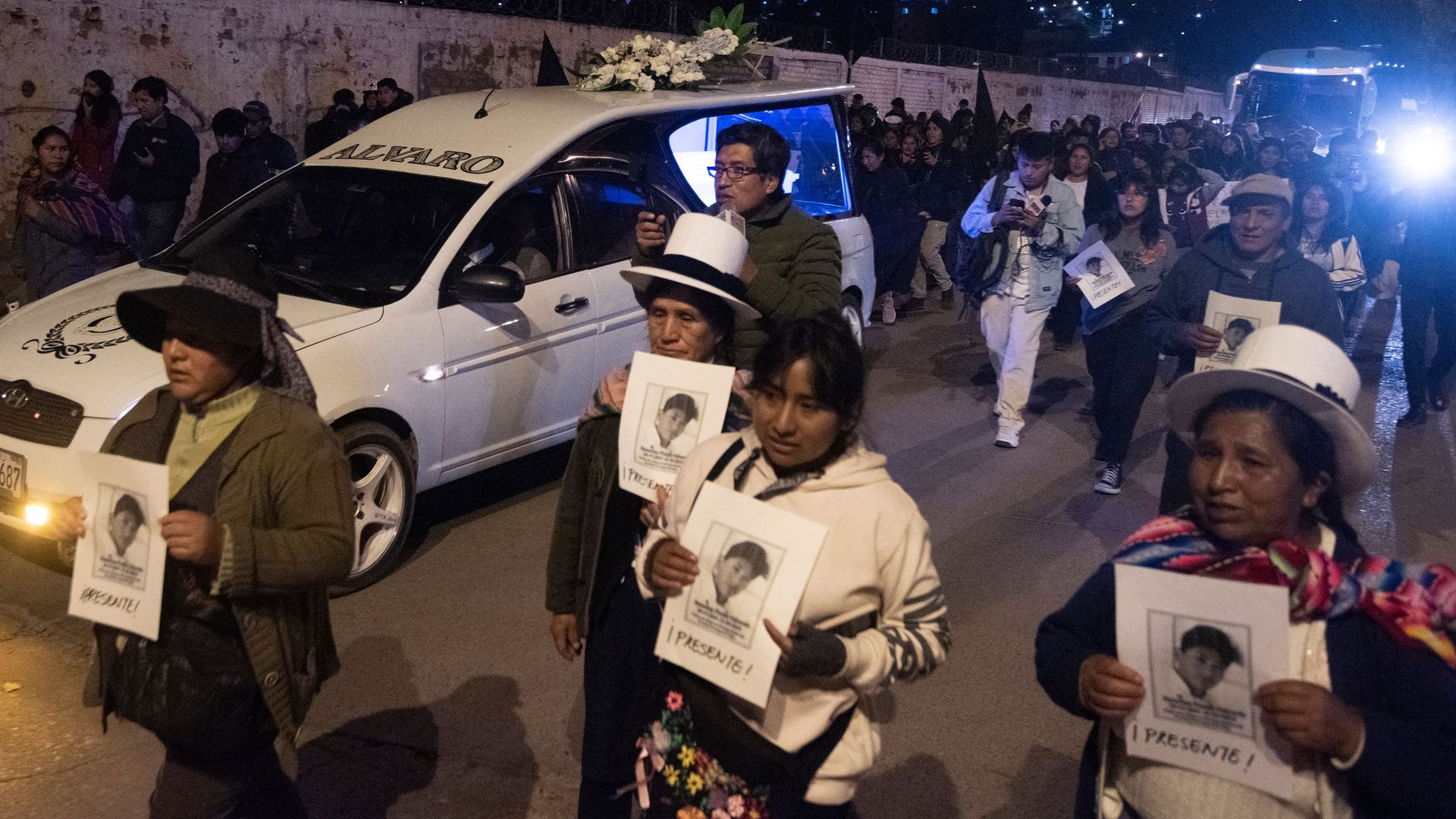 Human rights groups in Peru say they're cautiously optimistic that President Dina Boluarte's upcoming testimony in a federal inquiry into the killings of dozens of anti-government protesters will push the investigation forward, Marina writes.
Driving the news: Boluarte is expected to testify on June 6 in the investigation into the killings of at least 67 largely Indigenous protesters by government forces. The protests, which have mainly ended, began after former President Pedro Castillo — a champion of Indigenous rights — was removed from office following his attempt to dissolve Congress.
Boluarte, who denies any wrongdoing, could face charges of murder in the first degree and causing severe injuries, although experts believe that is unlikely.
Protesters demanded that Boluarte, who took over after Castillo, step down and call for new elections.
Details: An Amnesty International report from last week says government forces deliberately used excessive force and in some cases killed protesters execution-style, and that those actions were either ordered or tolerated by high-ranking officials. The report was based on an analysis of autopsies and interviews with witnesses.
The Inter-American Commission on Human Rights (IACHR) analysis similarly concluded this month that there was excessive use of force.
The big picture: Past criminal inquiries into alleged abuse of authority by Peruvian security forces have petered out.
No Peruvian security officers or superiors have been convicted in the approximately 200 deaths of protesters in the last two decades, says Will Freeman, fellow for Latin American studies at the Council for Foreign Relations.
The current inquiry involving Boluarte could similarly fall apart because the country's judiciary independence is in question, he says.
Amnesty International says that key steps in the current investigation, including collecting testimonies, have not happened or weren't carried out promptly. The organization adds that "in some cases, the chain of custody of certain evidence had not been preserved."
What they're saying: Groups including the coalition Coordinadora Nacional de Derechos Humanos say the investigation is an opportunity for justice.
The coalition also said this week it will explore escalating the case, such as going before the IACHR, if the federal investigation ends without convictions.
3. Community colleges rebound
Community college enrollment, buoyed by younger students and fresh interest in job-related programs, rose this spring for the first time in more than a decade, according to new data from the National Student Clearinghouse Research Center.
Why it matters: The high cost of higher education, economic anxiety, and the hot labor market may be leading students to reconsider how to get the most bang for their buck with post-secondary degrees, Axios' Erin Doherty writes.
"I think that students are increasingly looking towards programs and majors that they can see, and easily see, a direct link to the workforce," National Student Clearinghouse research and executive director Doug Shapiro said on a call with reporters.
Driving the news: Years of steep declines hit community colleges across the country. Community college enrollment rose 0.5% from the previous year, after falling 8.2% and 10.1% in 2022 and 2021.
Enrollment in public two-year colleges rose after the 2008 economic recession but started trending downwards in 2010 and plummeted during the pandemic, according to NSC data.
The majors at two-year institutions that saw increases this spring include Computer and Information Sciences and Support Services (9.7%), Mechanic and Repair Technologies/Technicians (8.2%), Personal and Culinary Services (9.7%), and Transportation and Materials Moving (11.8%).
Zoom in: Postsecondary enrollment overall still lags heavily behind pre-pandemic levels. But the rate of Hispanic students enrolled in community colleges has spiked from 18.5% in 2011 to nearly 28% in 2018, according to data from the organization.
Hispanic enrollment in all higher ed institutions grew from 13.7% to almost 21% in that same timeframe.
4. Stories we're watching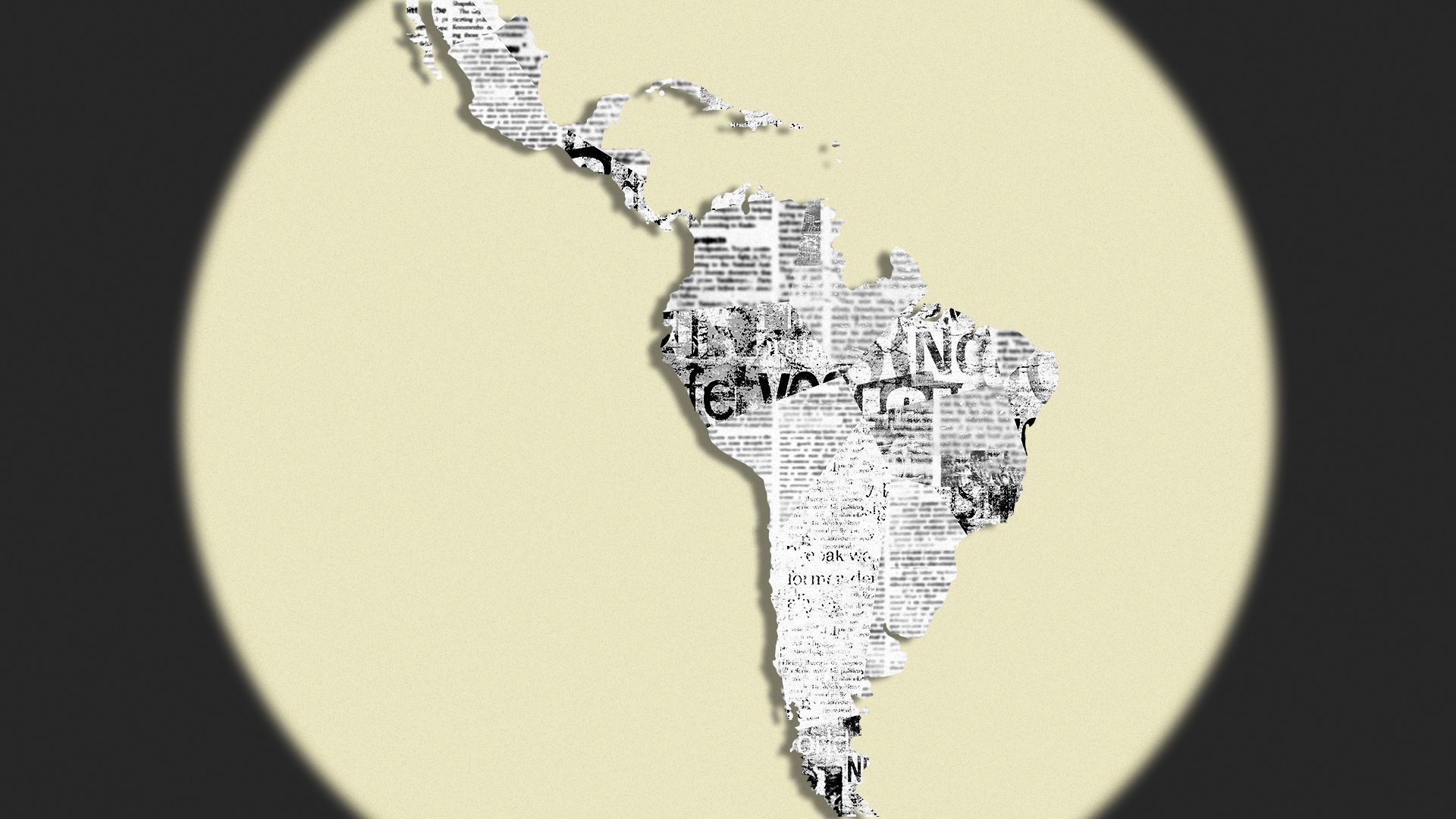 1. Salvadoran President Nayib Bukele said Sunday he'll reinforce his anti-gang strategy in the coming days, with moves he says will ensure gangs can't re-group.
He provided no details, but he's had the country under a state of emergency for the last year that allows authorities to arrest people en masse and jail them indefinitely.
2. The first South American leaders summit in almost a decade is taking place today in Brasilia.
Among the planned discussions is an agreement to better protect Indigenous peoples in the Amazonian region, shared by eight countries. The summit lasts only one day.
5.🇩🇴Smile to go: A space to call their own
The Dominican community in New York City now has its own dedicated public space with Quisqueya Plaza, Marina writes.
Details: The plaza was renamed in February after the taíno name for the island by order of the city's government.
This month, the plaza was chosen as one of the public spaces that the city will revamp.
What they're saying: The renaming and planned funds are an acknowledgment of Dominicans' deep roots in the city, Susana Osorio, a local restaurateur who lobbied for the plaza, tells Noticias Telemundo.
"It's starting to look great, and on Sundays there's always something going on, orchestras and people," says local resident Juan Ovalle.