Latina lowriders make their mark
Women are debunking the myth that lowriding — the practice of fixing up vintage cars, dropping them low, and installing hydraulics to cruise around town — is a man's game.
The big picture: Women lowrider clubs from California to New Mexico have popped up in the past few years, countering the sexism that many say was pervasive in the lowriding culture.
Popular YouTube videos and Instagram accounts dedicated to "Lady Lowriders" show women fixing their cars, "hitting switches" (turning up hydraulics) and hopping on well-known boulevards.
They hold fundraisers, cruise together, attend car shows and participate in community events.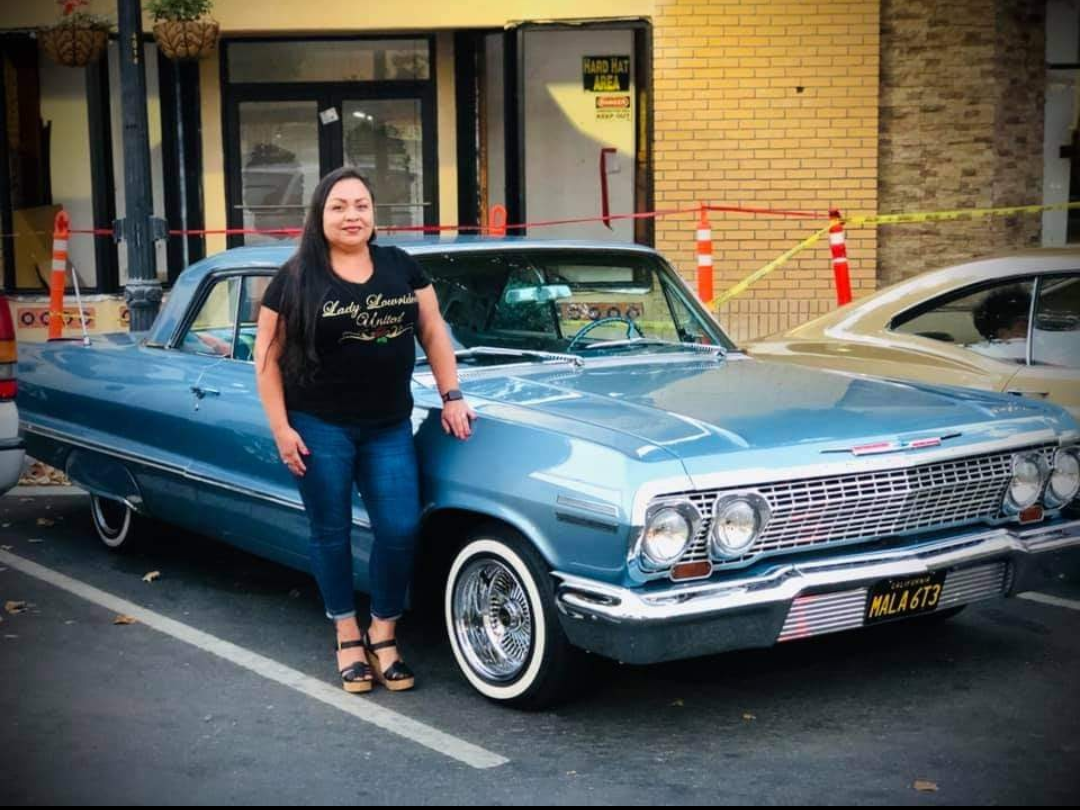 Background: Mexican Americans returning from World War II began lowriding in the 1940s, using the skills they learned in the military to customize their cars.
But in the 1950s, cities began passing ordinances banning cruising and low cars. Police said they were connected to gangs and crime, but activists said police were discriminating.
Lowriders responded by adding hydraulics to get around laws that banned cars low to the ground and cruised anyway in defiance.
Lowriding took a political tone in the Chicano Movement of the 1970s and were linked to community events and marches for civil rights.
Between the lines: Lowriding clubs in Los Angeles County are pushing for the repeal of anti-cruising ordinances they say are racist and target Mexican Americans, according to CBS Los Angeles.
Several California cities have recently lifted bans, including San Jose, which ended its ban late last year.
State of play: Women have always been part of lowrider culture but they were usually limited to being a driver's girlfriend, a passenger or to posing in a bikini next to a nice car, Jennie Luna, a professor of Chicana/o Studies at California State University Channel Islands, tells Axios.
"Creating our own lowrider clubs is countering the misogynistic and patriarchal nature that exists, not just in lowriding, but in all aspects in Mexican communities that denied women from expressing themselves."
What they're saying: "I've had haters because ... I'm a woman, and they don't think we should" be involved in lowriding, says Debbie Tigerina Martin, 62. Martin drives a 1965 gold Buick Wildcat she named "Tigerina."
The California native was in and out of juvenile detention as a teen and struggled with drugs, but says lowriding saved her.
She founded the Lady Lowriders United group to support and encourage other women lowriders.
Angel Romero of Sunnyvale, California, founded Dueñas Car Club in June 2019.
Romero, 44, grew up around lowriders — her mother drove a 1977 Monte Carlo that she fixed up herself.
But she'd only ever been in clubs with men and was looking for a place where women could feel empowered and where she could share her love for her 1965 Chevy Impala.
"I just felt like women contribute and do just as much as men do when it comes to lowriding, and we just didn't get a lot of credit for it. People assume if we had a car it was our husband's car or our dad's car," Romero tells Axios Latino.
"The lowrider culture and I think Latino culture in general is that the woman is usually in the back seat or the background supporting the male and taking care of the home and the children," Romero says, adding that "women are really stepping up and we're really showing them this is what we are."
Yes, but: Lowriding is an expensive hobby.
Romero painted and rebuilt her Impala for about $10,000 a decade ago but has now spent another $30,000 after it was in a collision, she said.
What's next: Lowriding aficionados are passing on the tradition to their young ones by founding lowrider bicycle clubs.
Nayelie Trinidad, 16, is the president of the Dueñas Bike Club, which also has 10 members, from ages 1 to 17. Nayelie's bike is shiny red with chrome rims and long handlebars.
For her, the bike club is about women's empowerment, she says.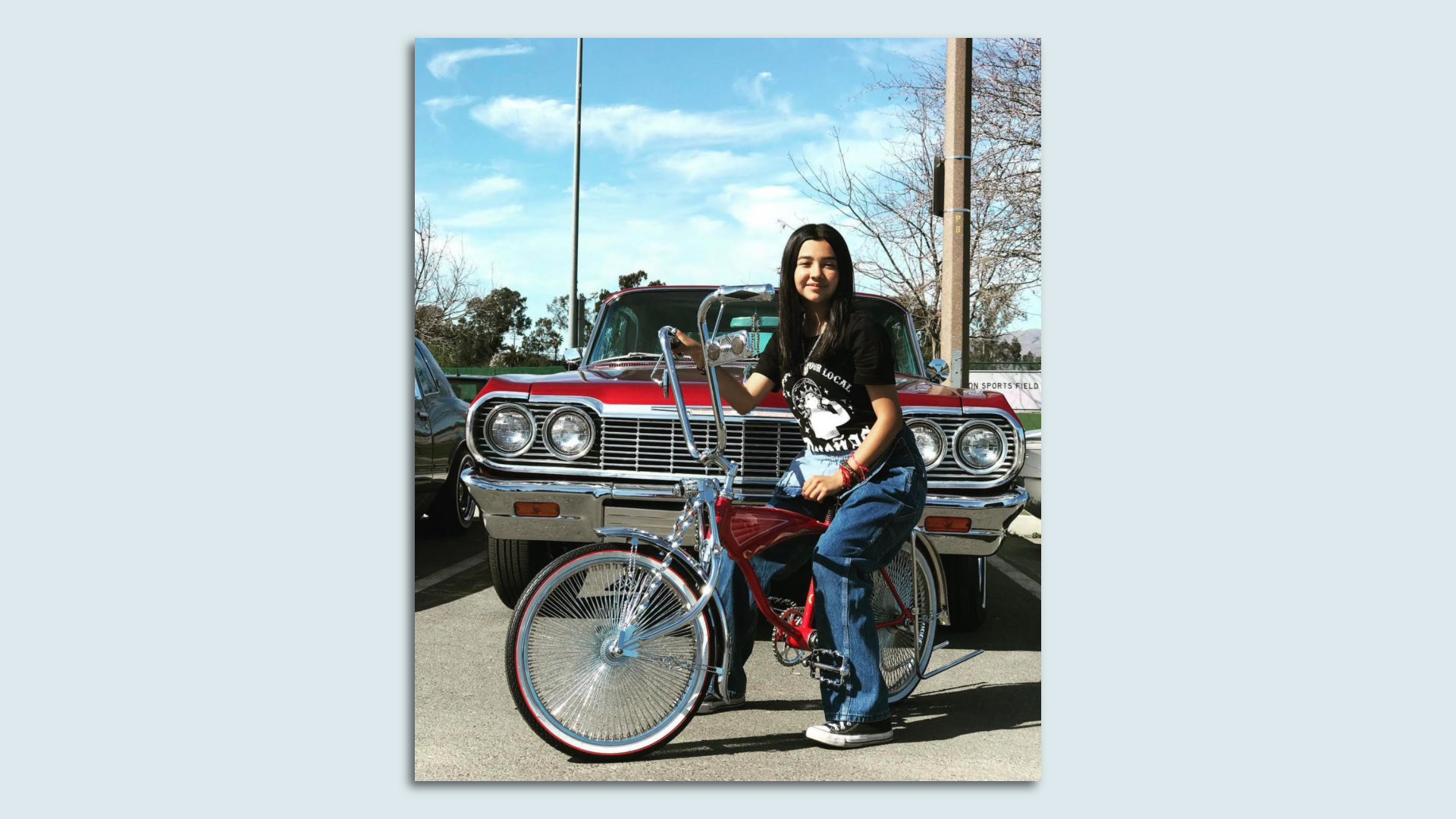 Editor's note: The caption in the first photo of this story has been corrected to reflect the car is a 1948 Chevrolet Fleetline, not Impala.
Subscribe to Axios Latino to get vital news about Latinos and Latin America, delivered to your inbox on Tuesdays and Thursdays.
Go deeper