Hollywood strikes cost cities and states billions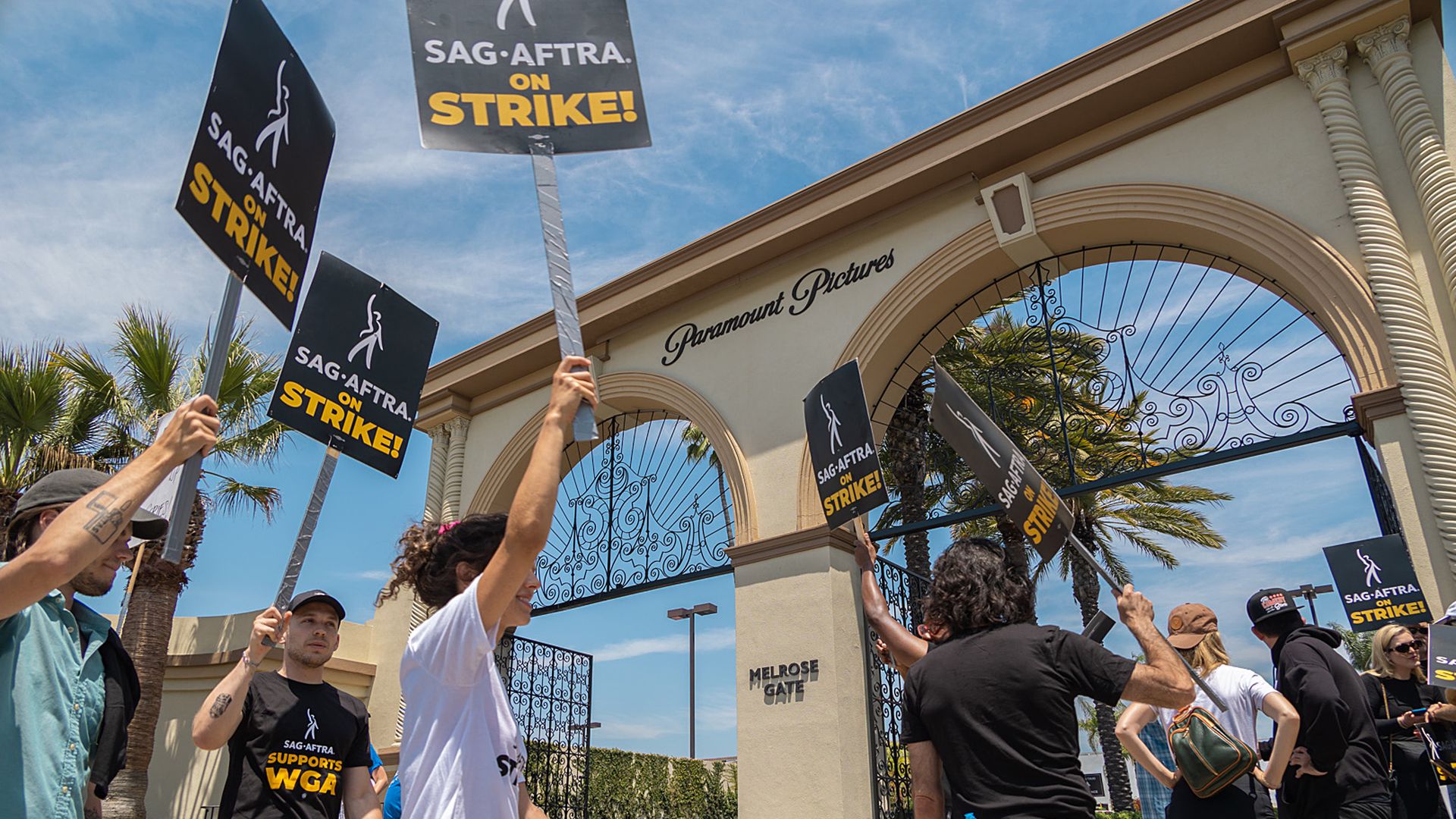 As Hollywood writers and actors strikes stretch on, states and local businesses are suffering billions of dollars' worth of losses amid the halt in production.
Why it matters: Film and TV production hubs like California, New York and Georgia now face massive budget losses even as they content with the problems of high inflation and rising cost of living.
State of play: California Gov. Gavin Newsom last month signed a $310.8 billion state budget that covered a nearly $32 billion deficit while extending tax credits for film and TV productions.
Film and TV productions were already slowing down before the strikes as media companies began spending more cautiously in an effort to produce profits.
If studios and streamers don't address workers' concerns regarding AI and residuals, "they're going to end up creating a race to the bottom where people can't ... afford to live," Rep. Jimmy Gomez (D-Calif.) told Axios.
By the numbers: The film and TV industry pays over $186 billion in wages annually, according to the Motion Picture Association.
"As much as $250,000 can be injected into local economies per day when a film shoots on location," per the MPA.
In the 2022 fiscal year, film and TV productions spent $4.4 billion in Georgia.
The film and television industry represents 6.5% of New York City's GDP and employs more than 185,000 New Yorkers, a City Hall Spokesperson told Axios.
The big picture: The impact of the strike isn't just in the short term, according to Gomez, whose district across parts of east and central Los Angeles contains 33,000 SAG-AFTRA members, as well as writers and behind-the-scenes workers in the IATSE union.
"What happens if these jobs become minimum wage jobs, when they were good, middle class jobs that people used to live off of?" Gomez asked.
A contract in which workers don't get paid enough to maintain "good living standards" will be "devastating" for the economic health of individual families and communities, he added.
Zoom in: Gomez noted that California benefits from tax credits that make it an attractive place for productions to film their movies and tv shows.
"Guess who does the lobbying for those tax credits? The union members," he said.
In Georgia, production "has ground to a halt," Kelsey Moore, executive director of the Georgia Screen Entertainment Coalition, told Axios.
It's impacted tens of thousands of local businesses, including restaurants, hotels and dry cleaners.
In New York City, Peter Marshark, co-owner of the New York City-based Marshark Craft, which provides craft services for film and tv productions, told Axios many of the company's employees are struggling and their trucks are "sitting gathering dust"
Worth noting: Emmy-winning hairstylist Barry Lee Moe told Axios the strikes led to two projects he was working on shutting down and while he considers himself fortunate, most artists can't be out of work "for one month, let alone three to six months."
In Los Angeles, on-location film production declined in the second quarter of 2023 — the sixth consecutive quarterly decline, per FilmLA.
Marshark noted that his business started feeling a slowdown in January, as "nobody was taking on new projects, except for the ones that were already written and slated."
What to watch: The Writers Guild of America (WGA) said it's meeting on Friday with the Alliance of Motion Picture and Television Producers (AMPTP), which represents the the major studios and production companies, for the first time since the writer's strike began in May.
The bottom line: Gomez said contracts "need to change to reflect the change in technology that's being used to air film and television shows."
Go deeper