Hollywood shuts down as actors join writers on strike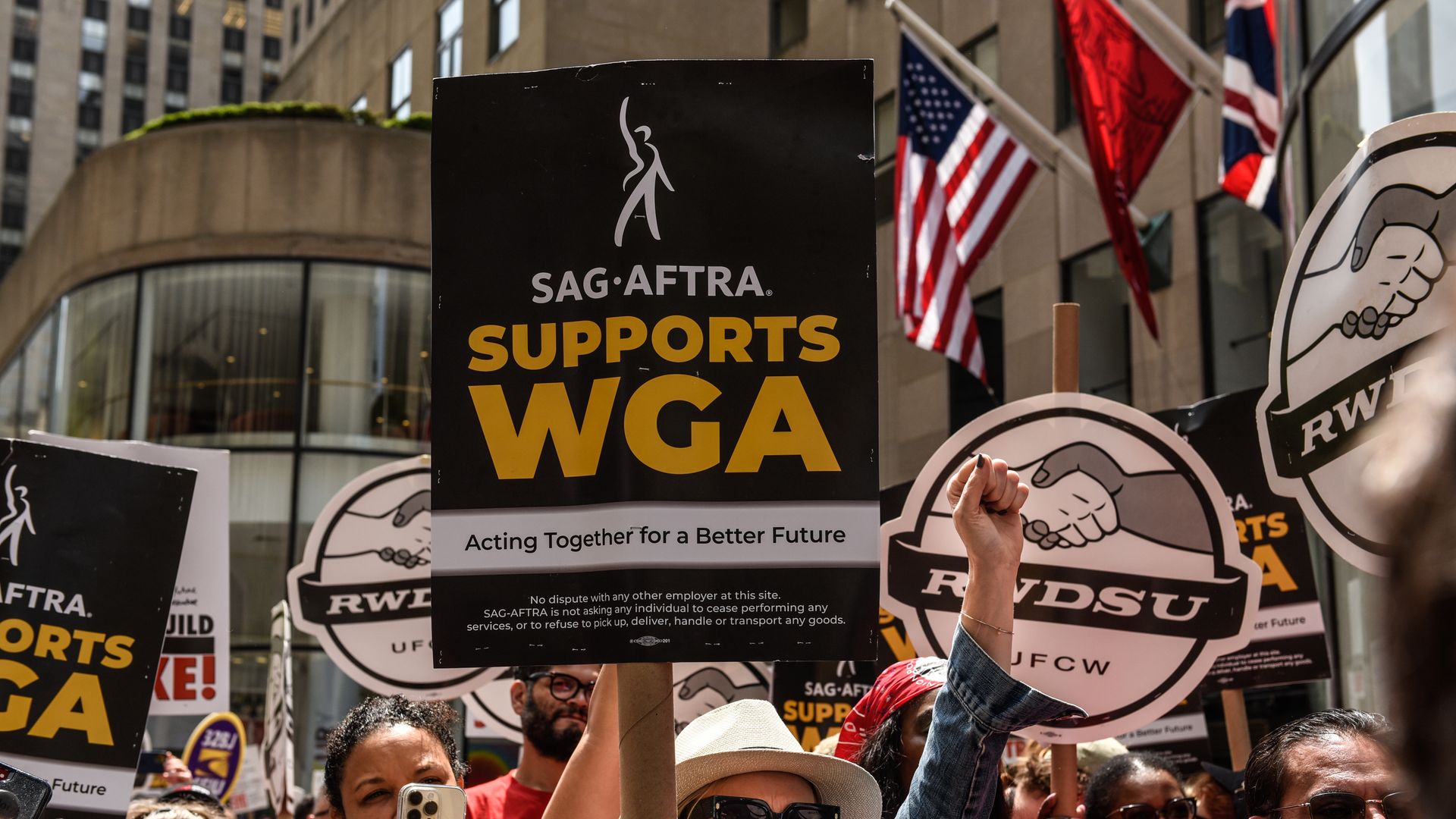 SAG-AFTRA, the union that represents Hollywood actors, will strike for the first time since 1980 after failing to reach a new labor deal with the major studios.
Why it matters: The actors' strike, which begins at midnight, marks the first time in 63 years that Hollywood has two unions on strike simultaneously, which is expected to bring the industry to a screeching halt. It could also lead to a quicker end to Hollywood's labor war.
The big picture: A strike by Hollywood's largest union, which encompasses 160,000 members in total, will essentially stop all scripted film and TV production — many of which were already halted amid the writers' strike.
Expect further delays on upcoming film releases and TV show premieres.
It also means that members will not be doing promotional work for upcoming blockbuster films and TV shows — including next week's "Barbie" and "Oppenheimer."
"Oppenheimer" stars Matt Damon and Emily Blunt left the U.K. premiere of the film shortly after the strike was called Thursday.
Details: The strike will begin at midnight PT and members will be on the picket lines Friday.
A federal mediator was brought in at the last minute to try and resolve the disputes, but the union announced early Wednesday that the SAG-AFTRA's contracts for television, theatrical and streaming contracts had expired "without a successor agreement."
During an impassioned press conference Thursday explaining their decision to strike, union president Fran Drescher harshly criticized the studios' stance during negotiations.
"We are being victimized by a very greedy entity," Drescher said from the union's Los Angeles headquarters. "I cannot believe it, quite frankly, how far apart we are on so many things; how they plead poverty, that they're losing money left and right, when giving hundreds of millions of dollars to their CEOs. It is disgusting."
Zoom out: The last time that both the actors' and writers' unions were on strike was 1960 — when SAG was led by Ronald Reagan.
Residuals were a major point of contention then as they are now. In those days, both unions were striking to get paid for movies licensed to or sold on TV.
The current residuals fight is over how much workers are paid when their shows and movies are licensed to streaming services.
The push to own content globally, rather than license out to local territories abroad, by the major media companies has also cut off a major source of income.
Zoom in: The rise of Netflix and other streamers has upended decades-long business practices that has led workers to believe the current Hollywood model is fundamentally broken.
Streaming has proven to be far less lucrative than expected, which has investors calling for reduced spending. That has put the squeeze on rank-and-file workers, while CEOs are still receiving 10-figure pay packages.
Additionally, the rapid growth of AI has caused panic among both writers and actors that their work could be replaced or replicated by machines.
Between the lines: SAG-AFTRA represents more than just film and TV actors.
The industry's biggest union encompasses TV journalists, stage performers, stunt and background performers, radio personalities and fashion models.
The other side: In a response to the strike, the Alliance of Motion Pictures and Television Producers, which represents the studios in labor talks, said their offer involved "historic pay and residual increases" and a "groundbreaking AI proposal that protects actors' digital likeness."
SAG-AFTRA executive director Duncan Crabtree-Ireland said AMPTP's AI proposal was:
"They proposed that our background actors should be able to be scanned, get paid for one day's pay, and their company should own that scan, their image, their likeness and to be able to use it for the rest of eternity in any project they want with no consent and no compensation."
What's next: When asked by reporters when they would return to the bargaining table, SAG-AFTRA leadership said they're willing to meet again at any time.
"They are well aware of what it takes to make a deal," Crabtree-Ireland said.
Editor's note: This is a breaking news story. Check back for updates.
Go deeper: Listen to the Axios Today podcast, where host Niala Boodhoo and Tim Baysinger talk about how big of a deal the strike is and how it's going to affect the rest of us.
Go deeper