Judge denies Meadows' bid to move Georgia case to federal court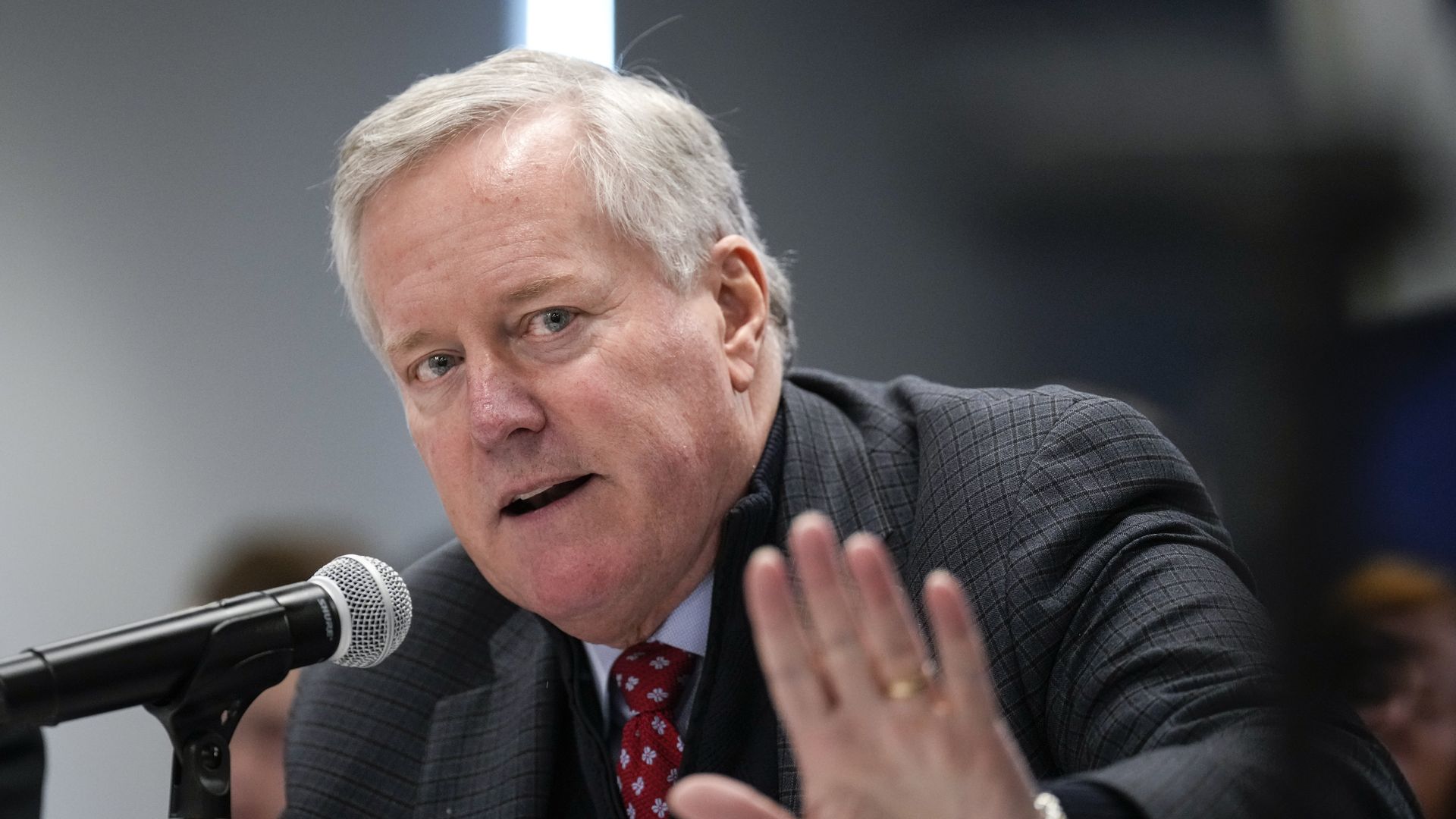 A federal judge on Friday denied former White House chief of staff Mark Meadows' request to move his Georgia racketeering case to a federal court.
Why it matters: U.S. District Judge Steve Jones' denial scuttles Meadows' bid to obtain a more favorable jury pool and signals what may be in store for other defendants, including former President Trump.
Meadows was the first of several defendants — including Jeffrey Clark, David Shafer, Cathy Latham and Shawn Still — in the sprawling Georgia case to request his trial be moved out of state court.
Trump has also been expected to try to move his case to federal court.
All 19 defendants in the case have pleaded not guilty.
Details: Jones ruled Meadows did not meet the burden of demonstrating that removal of Georgia's criminal prosecution against him is proper under the federal officer removal statute.
Jones also said the Hatch Act was "helpful in defining the outer limits of the scope the White House Chief of Staff's authority."
"Meadows has not shown how his actions relate to the scope of his federal executive branch office," Jones wrote in the decision.
The big picture: Meadows is charged with violating Georgia's racketeering law, known as RICO, and soliciting the violation of oath by a public officer as part of a broader effort to overturn Georgia's 2020 election results.
Meadows was present during Trump's Jan. 2021 phone call to Georgia Secretary of State Brad Raffensperger, in which Trump told Raffensperger to "find" the necessary votes for him to win.
Meadows has argued that he ought to be immune from the state charges because his actions were taken as part of his job as a federal official.
Between the lines: Meadows testified in August about moving his case and was questioned under oath by Fulton County District Attorney Fani Willis' office, CNN reported — allowing for prosecutors to potentially use his testimony against him.
The hearing also gave a glimpse into the evidence and legal arguments prosecutors plan to use in the case against the 19 defendants.
The DA's office did not immediately respond to Axios' request for comment.
Of note: Cameras would not be allowed in the federal courtroom.
A Fulton County judge ruled that all court proceedings in the Georgia case be televised.
Go deeper: Why Georgia's case against Trump could be so damaging
Editor's note: This story has been updated with additional details.
Go deeper