Scoop: White House elbows back on "MAGA" Hatch Act violation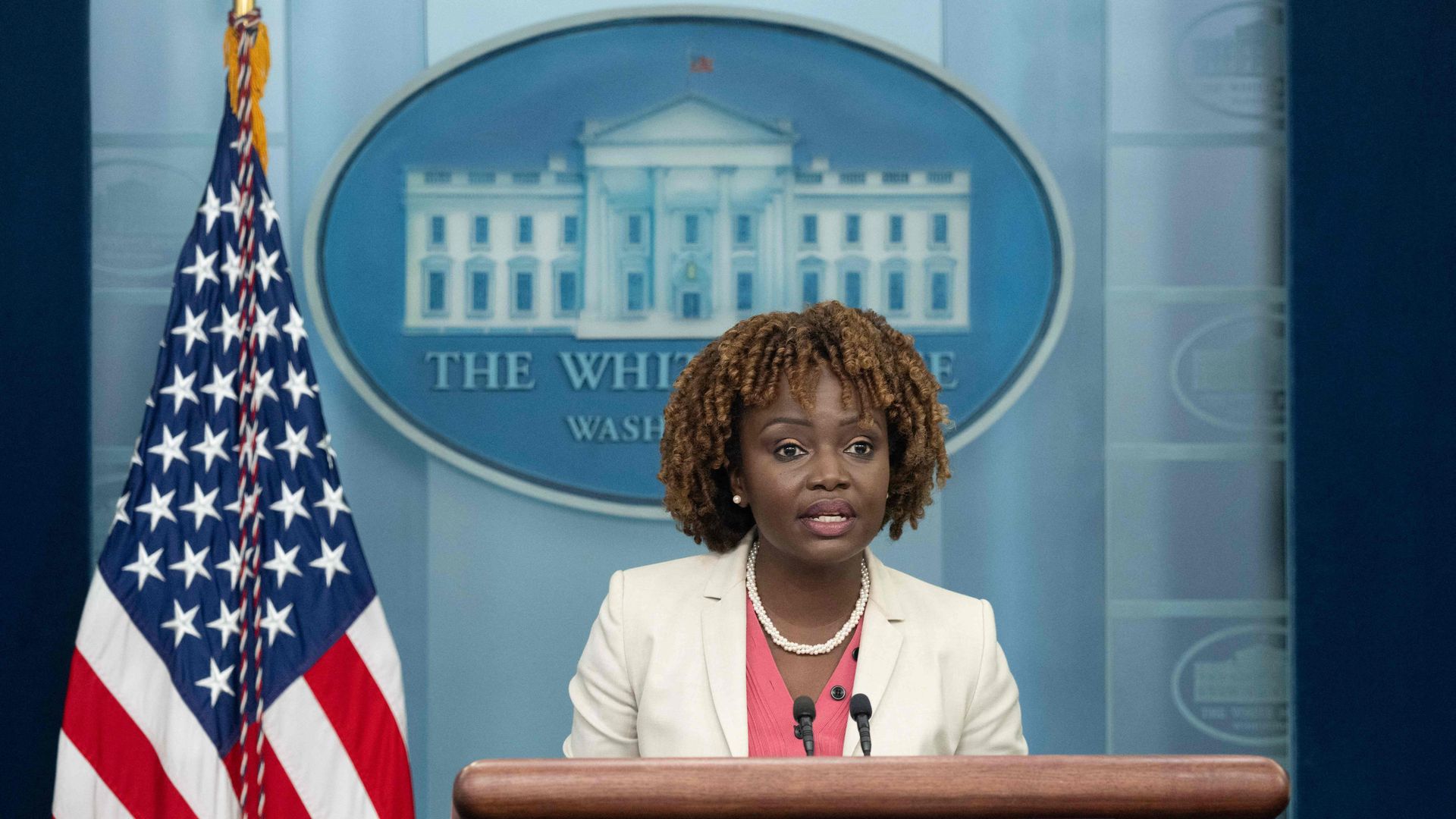 The White House will continue to use the term "MAGA" a week after the independent Office of Special Counsel (OSC) declared that doing so is a violation of the Hatch Act, according to a new memo obtained by Axios.
Why it matters: Since last year, White House officials have repeatedly labeled GOP members in Congress as "MAGA Republicans" as part of a larger strategy to cast them as out of touch and extreme.
State of play: On June 7, in response to a watchdog complaint about press secretary Karine Jean-Pierre's use of "MAGA Republicans," the OSC ruled that she violated the Hatch Act, which governs how federal employees can weigh in on political activities.
On the same day, the OSC sent guidance to agencies which stated that "MAGA" was off-limits because it was too closely connected with former President Trump's campaign for the White House.
"MAGA remains the campaign slogan of a current candidate for partisan political office, and therefore, its use constitutes political activity," the OSC wrote in the memo.
"Accordingly, federal employees should not use "MAGA" or "Make America Great Again" while on duty, in the workplace, or when acting in their official capacity, including communicating through social media, email, or on government websites."
The big picture: The Hatch Act is widely viewed as unenforceable for high-ranking White House officials (other federal employees can face real disciplinary action).
At least 13 Trump administration officials violated the Hatch Act during the former president's term, including when the 2020 Republican National Convention was held in large part on White House grounds.
Between the lines: The Biden administration has largely been careful to avoid violating the Hatch Act, but the White House is continuing to use the term.
On Wednesday, the White House released a statement to Axios that continued to use "MAGA."
Deputy press secretary Andrew Bates wrote in a memo that Republicans' "main economic agenda item" is "MAGA tax welfare for the richest Americans and giant corporations, at the expense of continuing to grow our economy by investing in America."
The White House declined to further comment, but Jean-Pierre offered a defense on Tuesday at her briefing.
"If you look at the archived Trump White House website, it contains about 2,000 — nearly 2,000 uses of "MAGA" to describe policies and official agendas," she said.
"Congressional Republicans have also used "MAGA" to refer to policies and official agenda frequently, for years now — even, clearly, before we entered the administration."
Editor's note: This story has been updated to clarify that the Hatch Act is widely viewed as unenforceable for high-ranking White House officials, but that other federal employees can face real disciplinary action.
Go deeper