DeSantis' policy wins in Florida under siege in courts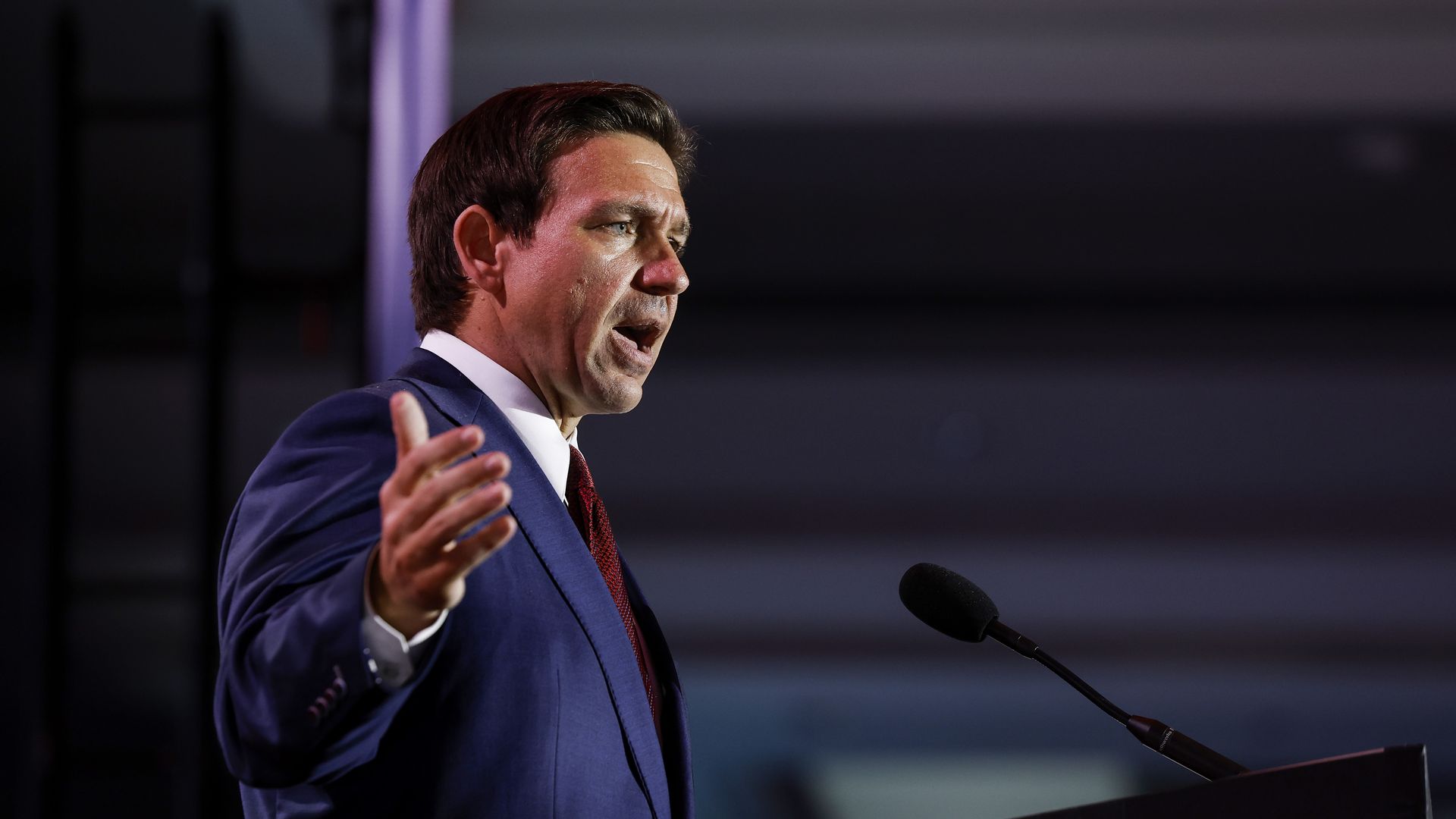 Florida Gov. Ron DeSantis has cast himself as a Trump-like conservative who's better at getting things done, but many of the state laws DeSantis touts as his biggest accomplishments are on hold, mired in court challenges.
The big picture: DeSantis and his state are facing a swarm of lawsuits challenging his policies aimed at abortion, trans rights, drag shows, voting by felons, discussion of racial issues in schools and more.
As the backlash to DeSantis' policies plays out in Florida his presidential campaign is struggling and undergoing a reboot, even as his chief GOP competitor, former President Trump, is being swamped with criminal indictments.
And while DeSantis continues to emphasize his "anti-woke" record in Florida, a solid majority of Republican voters — 67% — view Trump as more likely to "get things done," according to a New York Times/Siena College poll last month.
Zoom in: Many aspects of DeSantis' far-right cultural agenda passed by Florida lawmakers are under assault in the courts.
What they're saying: DeSantis' campaign dismissed the legal challenges, saying in a statement that "activists seek to use the court system to enact their agenda by judicial fiat because their agenda did not succeed at the ballot box."
"Ron DeSantis has the most accomplished conservative record of any candidate in the race," DeSantis press secretary Bryan Griffin said.
The state's Republican Party chair, Christian Ziegler, also hailed the legislation despite the legal challenges.
"Floridians don't care for the courts as much as they care about seeing elected officials take action on the promises made by those elected officials," Ziegler wrote in a text to Axios.
DeSantis' administration has appealed some of the decisions against his policies, including against those involving the "Stop WOKE Act" and the ban on gender-affirming care.
What to watch: DeSantis's recent targets have been Democratic prosecutors he's accused of being too lenient on crime.
On Wednesday DeSantis suspended the top state prosecutor in Orlando, Monique Worrell, accusing her of under-prosecuting criminals.
Last year he suspended Andrew Warren, a twice-elected state attorney from Tampa, for not prosecuting crimes DeSantis believes he should have.
A federal judge earlier this year ruled that DeSantis' ouster of Warren violated Warren's free speech rights and was unconstitutional, but said he didn't have the power to return Warren to office.
Florida's Democratic Party slammed DeSantis on Wednesday over his suspension of Worrell, who is African American, saying the governor has "consistently targeted the rights and freedoms of Black and brown Floridians."
"Ron's presidential campaign has been a disaster of epic proportions, but attacking law and order in service of his culture wars isn't the solution to his problems," Florida Democratic Party chair Nikki Fried said in a statement.
Go deeper: Trump dominates DeSantis in 2024 poll with third place way behind
Go deeper