Group sues DeSantis for violating the voting rights of former Florida felons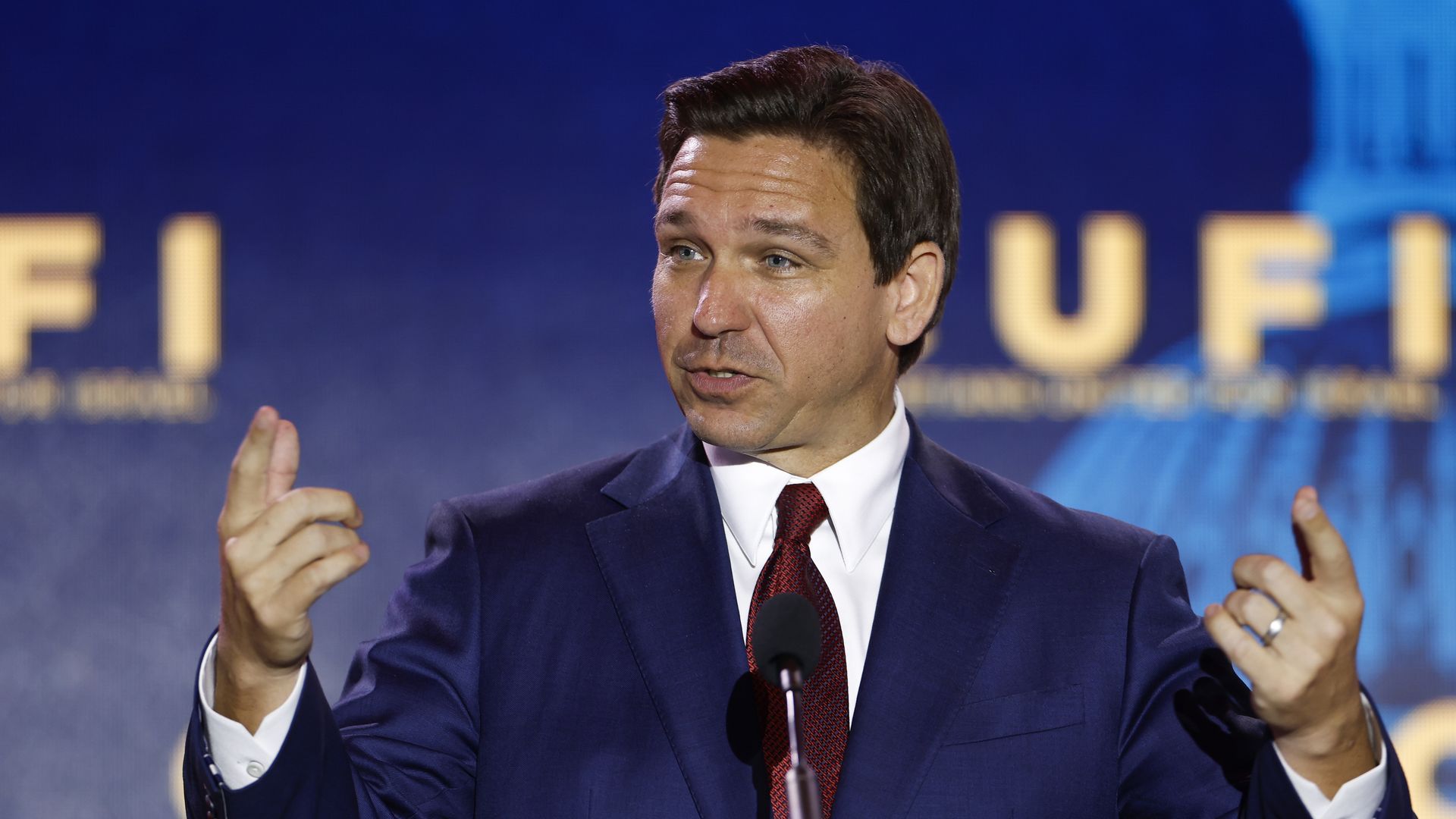 A voting rights group is suing Florida Gov. Ron DeSantis, arguing that the GOP presidential candidate violated the Voting Rights Act by intimidating former felons who attempted to participate in the 2020 election.
Why it matters: Advocates across the country are working to restore voting rights to former felons by challenging state governments that they say are violating the Constitution.
What they're saying: "Florida's failure to accept responsibility in determining voter eligibility hurts every Florida citizen," voting rights advocate Desmond Meade said. "If Floridians can't rely on the State to determine voter eligibility then who can we rely on?"
Zoom in: The Florida Rights Restoration Coalition filed a lawsuit arguing that Florida's voting laws pertaining to former felons were misleading and even violated the constitutional rights of the state's 1.4 million former felons.
In 2018, Florida voters passed Amendment 4 — a ballot initiative granting voting rights to the state's former felons who are in good standing with the law.
But plaintiffs argue that the absence of a reliable database where former felons can determine their voter eligibility status made exercising the ballot initiative nearly impossible.
"Why can't the State Florida just do it's job? Voter integrity starts with the state being able to determine voter eligibility on the front end," tweeted Meade, executive director of Florida Rights Restoration Coalition.
Details: The plaintiffs argue voting became unnecessarily complicated for former felons after the ballot initiative passed because DeSantis and others elected officials issued false and misleading information.
In 2019, Florida's GOP-led legislature passed a bill requiring former felons to pay court-ordered fines and restitution before being able to vote.
DeSantis backed the law, claiming that it was essential to control voting fraud — something critics say is not a widespread problem.
Between the lines: Some former felons suffered harsh consequences from the state's laws that could have been avoided had DeSantis and others been more clear and consistent, the lawsuit alleged.
DeSantis ordered police to arrest people who were accused of voting in 2020 despite not being eligible.
Many of those who were arrested said they voted because some state officials told them they were eligible.
Some former felons were under the impression that they paid all of their fines — only to be prevented from voting later after being told that they had more outstanding fines.
What's next: The group is asking the U.S. District Court in Miami to implement a number of changes to make voting possible for former felons before the 2024 election.
The suit is asking Florida officials to create a central database within 60 days where former felons can determine their voting status.
The group is also requesting that the court appoint a monitor to ensure Florida officials comply with state and federal voting laws.
Go deeper