Trump's "most consequential" indictment elicits emotional Dem response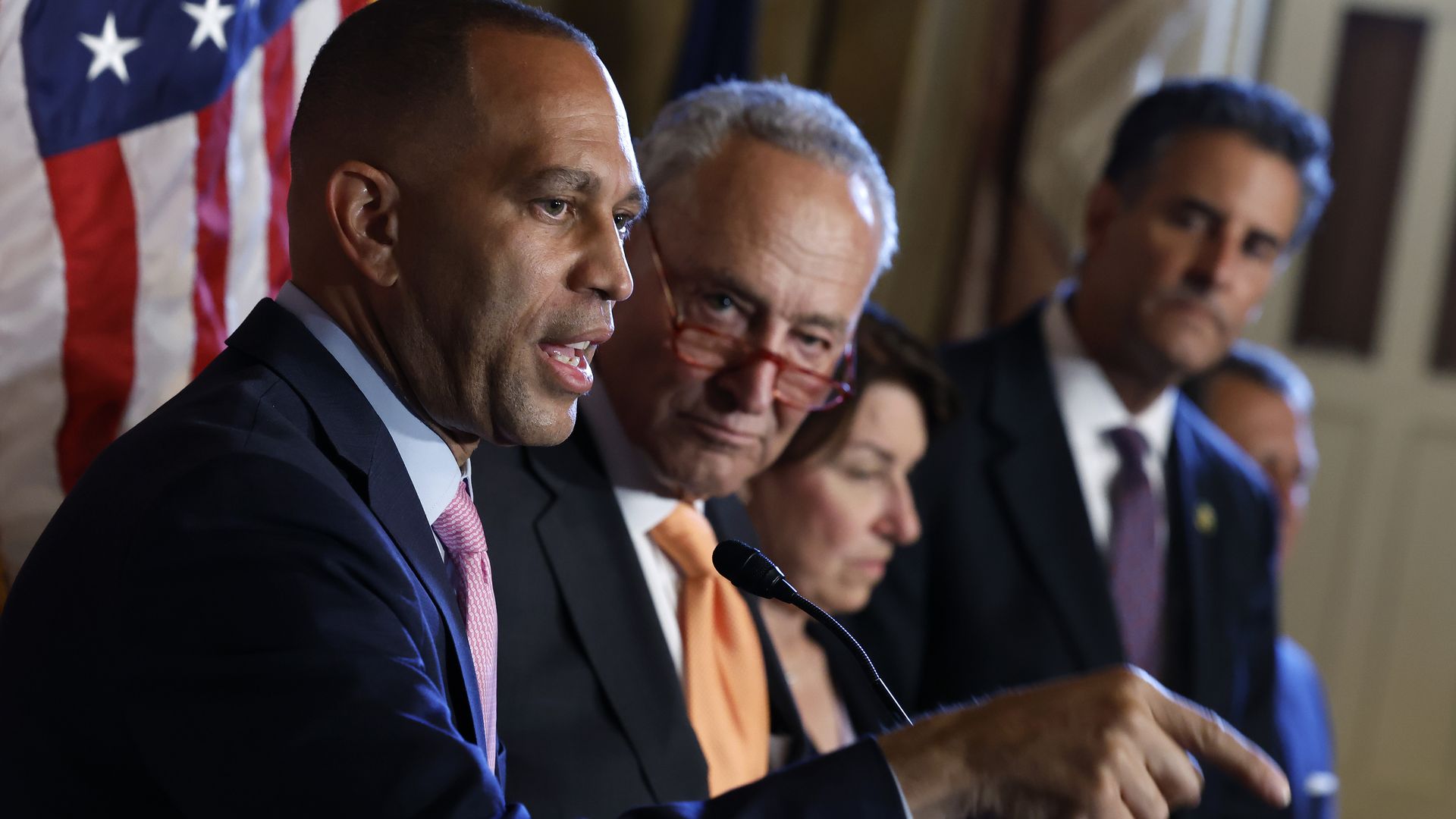 Democratic lawmakers responded with uncharacteristic intensity to the third indictment of former President Trump over his actions in the run-up to, and during, the Jan. 6 attack on the U.S. Capitol.
Why it matters: Most Democrats carefully avoided weighing in too heavily on Trump's other indictments – but, as Axios previously reported, this time it's personal.
Congress members were on the receiving end of violence on Jan,. 6, 2021, and Democrats came to their conclusions about Trump's culpability when they unanimously voted to impeach and convict him in the aftermath.
Driving the news: Senate Majority Leader Chuck Schumer (D-N.Y.) and House Minority Leader Hakeem Jeffries (D-N.Y), in a joint statement, called the latest indictment "the most serious and most consequential thus far[.]"
They said Jan. 6 was "one of the saddest and most infamous days in American history, personally orchestrated by Donald Trump," and that the indictment will "stand as a stark reminder to generations of Americans that no one, including a president of the United States, is above the law."
That statement stands in stark contrast to brief statements the two leaders made in response to the first two Trump indictments, which focused on the integrity of the judicial process.
What they're saying: "As a victim and a witness to the violent January 6th insurrection ... recognize how essential justice and accountability for those crimes are for the well-being of our country," said Rep. Annie Kuster (D-N.H.), one of several lawmakers trapped in the House gallery during the attack.
"I was in the House Gallery when the Capitol was assaulted ... I am intimately familiar with the consequences of Donald Trump's actions," said Rep. Mike Quigley (D-Ill.). "It is about time he faces the legal consequences for those actions."
Rep. Adam Schiff (D-Calif.), a former Jan. 6 committee member, said the trial "will put our democracy to a new test: can the rule of law be enforced against a former president and current candidate for president?"
"For the sake of our democracy, we must hope that the answer is yes," he said.
Between the lines: While Democrats publicly exulted the indictment as a long-awaited step towards justice, others quietly echoed longstanding concerns that its practical effect will be to bolster Trump's political standing.
One House Democrat, speaking on the condition of anonymity, noted the ex-president's base of support within the GOP "remain[s] strong."
"The man threatens our democracy, actually put people's lives at stake, undermines people's confidence in our form of government ... and could still get elected President again," they said. "It's a frightening time in our country."
The intrigue: Trump, true to form, began blasting out fundraising emails about the indictment a mere 15 minutes after it was released.
Go deeper: Why Trump can legally run for president despite indictments
Go deeper