2024's first act: Ramaswamy up, Pence down in Iowa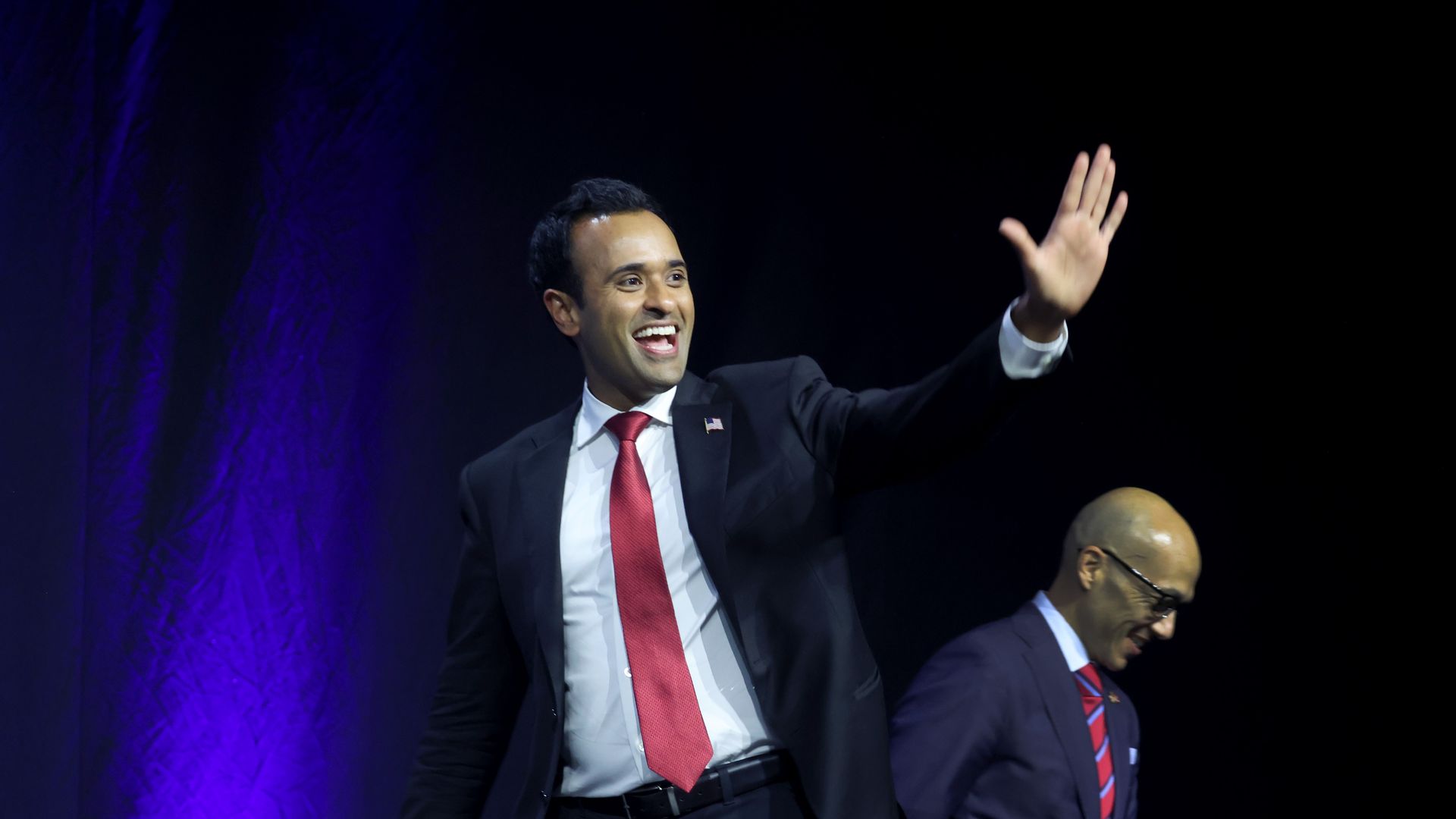 A half-dozen GOP presidential contenders not named Donald Trump showed up at a convention center in Des Moines, Iowa on Friday for their first big job interviews, and two things quickly became clear.
Driving the news: The first: After ousted Fox News host Tucker Carlson questioned the contenders before about 2,000 evangelical Christians, the crowd's favorites were Florida Gov. Ron DeSantis and businessman Vivek Ramaswamy — but not former Vice President Mike Pence.
The second: A healthy chunk of the crowd, though, appeared to like Trump most of all — and seemed to be shopping for a No. 2 choice, just in case.
Why it matters: The Iowa caucuses, likely the first contests in the GOP primary season, are six months away. But this weekend's crush of events across the state is an early benchmark — a snapshot of who's up and who's down, at least for now.
But, but, but: It's a long campaign, and Iowa isn't everything.
Driving the news: Ramaswamy, little-known just a few months ago, has been third behind Trump and DeSantis in recent GOP polls — and has stood out in Iowa.
Ramaswamy has crafted a platform straight from Trump's playbook: He's vowed to gut the FBI and the IRS and opposes U.S. military aid to Ukraine.
As he left Carlson's interview at the Family Leadership Summit on Friday, Ramaswamy got a standing ovation from the evangelical crowd, which gave a similarly warm exit to DeSantis.
"He distanced himself from a lot of the people in the pack today," a voter from Bettendorf, Iowa, who declined to give his name, said of Ramaswamy. "He was right up there with DeSantis."
On the other side of the crowd's sentiment was Pence, who was booed as he defended his support for U.S. military aid to help Ukraine fight off Russia's invasion.
Carlson, who like Trump opposes U.S. involvement in Ukraine, peppered Pence with questions about his stance.
The tense exchange was symbolic of how Trump has changed the GOP: An evangelical former vice president who emphasizes national defense and his opposition to abortion — the top priority for many conservative Christians — was dismissed by a crowd of evangelicals.
The scene was part of a rough day for Pence: His campaign announced that it raised just $3.8 million from April through June, far behind the top contenders.
Another GOP candidate, former South Carolina Gov. Nikki Haley, also felt the crowd's wrath when she acknowledged that President Biden won the 2020 election.
Zoom in: When they weren't on stage in Des Moines, the candidates — who also included South Carolina Sen. Tim Scott and former Arkansas Gov. Asa Hutchinson — fanned out across central and western Iowa to court voters.
Rick Lussman, a Fort Dodge resident who attended the event, told Axios he's already decided who he'll vote for and wanted to see what other candidates had to say.
Asked about Trump's absence this week, Lussman echoed the former president's campaign: "He'll be here."
Scott hosted a well-attended town hall in Davenport Friday evening and also met with Reynolds.
Haley hosted a "lakeside bash" at a resort in Moravia and a breakfast in Ankeny. Like Scott, she lavished Reynolds with praise.
What's next: Trump will be in Iowa on Tuesday for a Fox News town hall, and all of the 2024 contenders will attend the Iowa GOP's Lincoln Dinner later this month.
Go deeper