Tim Scott's pitch: the optimistic Republican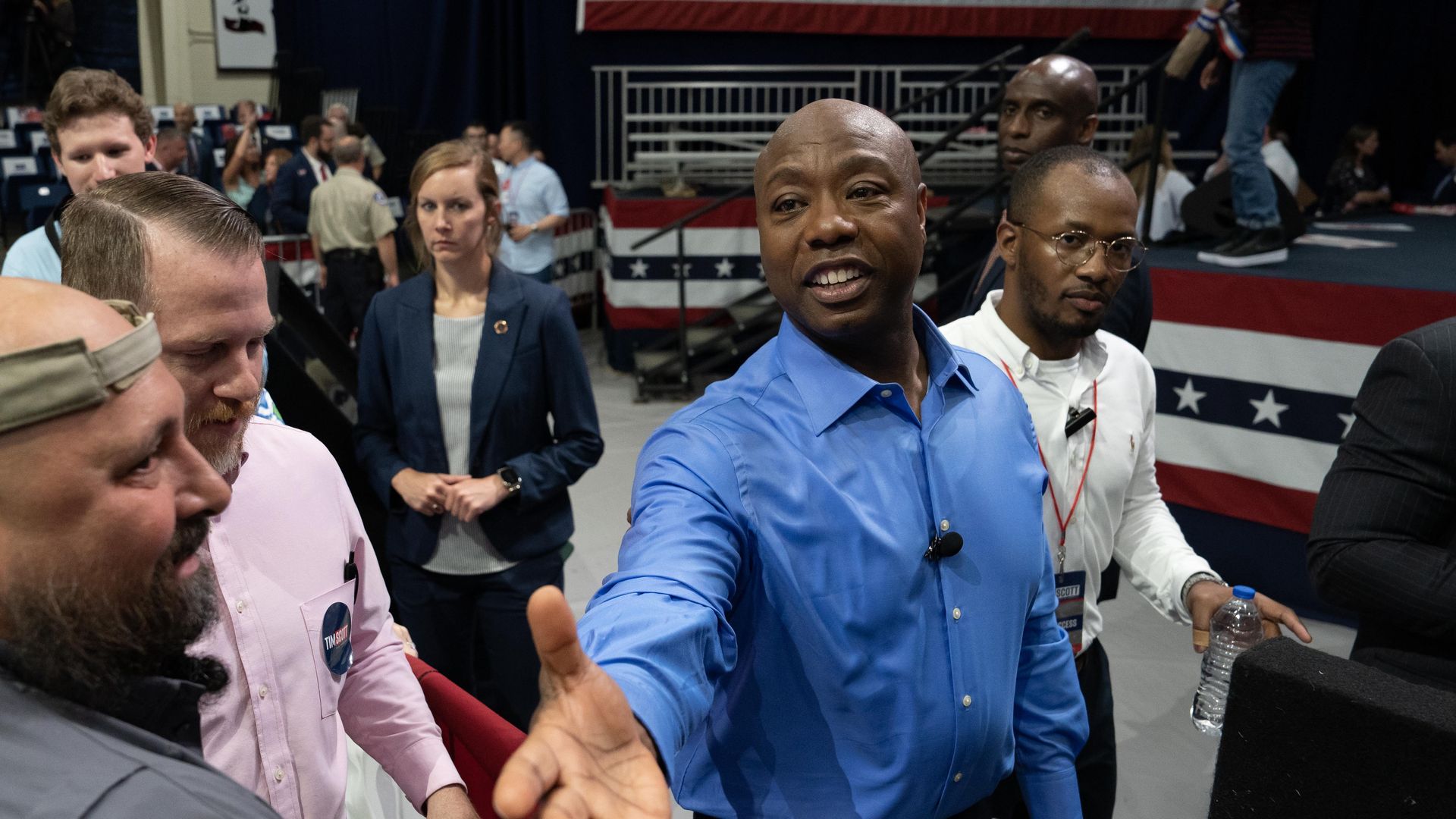 Sen. Tim Scott (R-S.C.) enters the GOP presidential race as a little-known long shot, but his rally in Charleston today made clear how he aims to distinguish himself: as an optimistic, baggage-free alternative to Donald Trump and Ron DeSantis.
Why it matters: Scott, the only Black Republican in the U.S. Senate, is positioning his new campaign in a lane that could be wide open in the MAGA- and grievance-dominated world of GOP politics.
And with Oracle co-founder Larry Ellison in his corner, Scott likely will have the bankroll to stay in the race for a while.
What we're watching: At his kickoff rally in Charleston, Scott, 57, seemed to tweak Trump in particular when he told more than 1,500 supporters that the GOP's choice in 2024 boils down to "victimhood or victory," and "grievance or greatness."
Trump repeatedly has said, "We are a nation in decline" as he ticks off ways criticisms of the Biden administration and his many legal troubles, calling the U.S. "a failing nation."
"America is not a nation in decline," Scott told today's crowd, which included Ellison — a multibillionaire who gave Scott's super PAC $30 million in the 2022 cycle.
"This is the freest fairest land where you can go as high as our character, our grit and our talent will take us," said Scott, whose speech was peppered with reference to his faith.
"I think our country is ready to be inspired again," Senate Minority Whip John Thune (R-S.D.), who has endorsed Scott, said before starting the rally with a prayer.
The mood in the room was a sharp contrast to Trump's rallies, which typically feature large crowds of defiant, angry supporters yelling in agreement with Trump as he speaks and heckling reporters in attendance.
Reality check: Scott has been polling the low single digits in early GOP voter surveys, far behind Trump and DeSantis. To have any hope of winning the party's nomination, Scott will need to sway an electorate heavily invested in Trump and his MAGA — or in DeSantis and his efforts to retire Trump from politics.
"I don't know how much he's going to make up," Thune acknowledged about Scott, when asked about Trump's big lead.
"I do think there's a lane out there. How wide is it? We don't know, but I think when he gets the opportunity to deliver the message across the country, it's really going to resonate with a lot of people."
The big picture: Part of Scott's pitch revolves around his personal story as a Black man who grew up poor, in a single-parent household.
"For those of us who think America is a racist country, take a look!" he said, calling America "a land of opportunity, not oppression."
It was a notion echoed by Kathryn Wilson, 75, who told Axios while in line before the rally that Scott's identity as a Black man with conservative values "shows we are not a racist country. How many white people came to support him?"
Yes, but: "He needs to be a little bit more in touch with the Black community," said Angie Coers, 65, a prison rehabilitation instructor and Scott supporter, who attended the rally.
"I know a lot of Black people who just don't get him."
Zoom in: Scott laid out some of policy positions — and some sounded a lot like Trump's: "building the wall," and using the U.S. military to go after drug cartels.
What's next: Scott heads to Iowa, where his team hopes to build support among GOP evangelicals before the Republican caucus there in February.
Go deeper