Inside DeSantis' push for footing in Iowa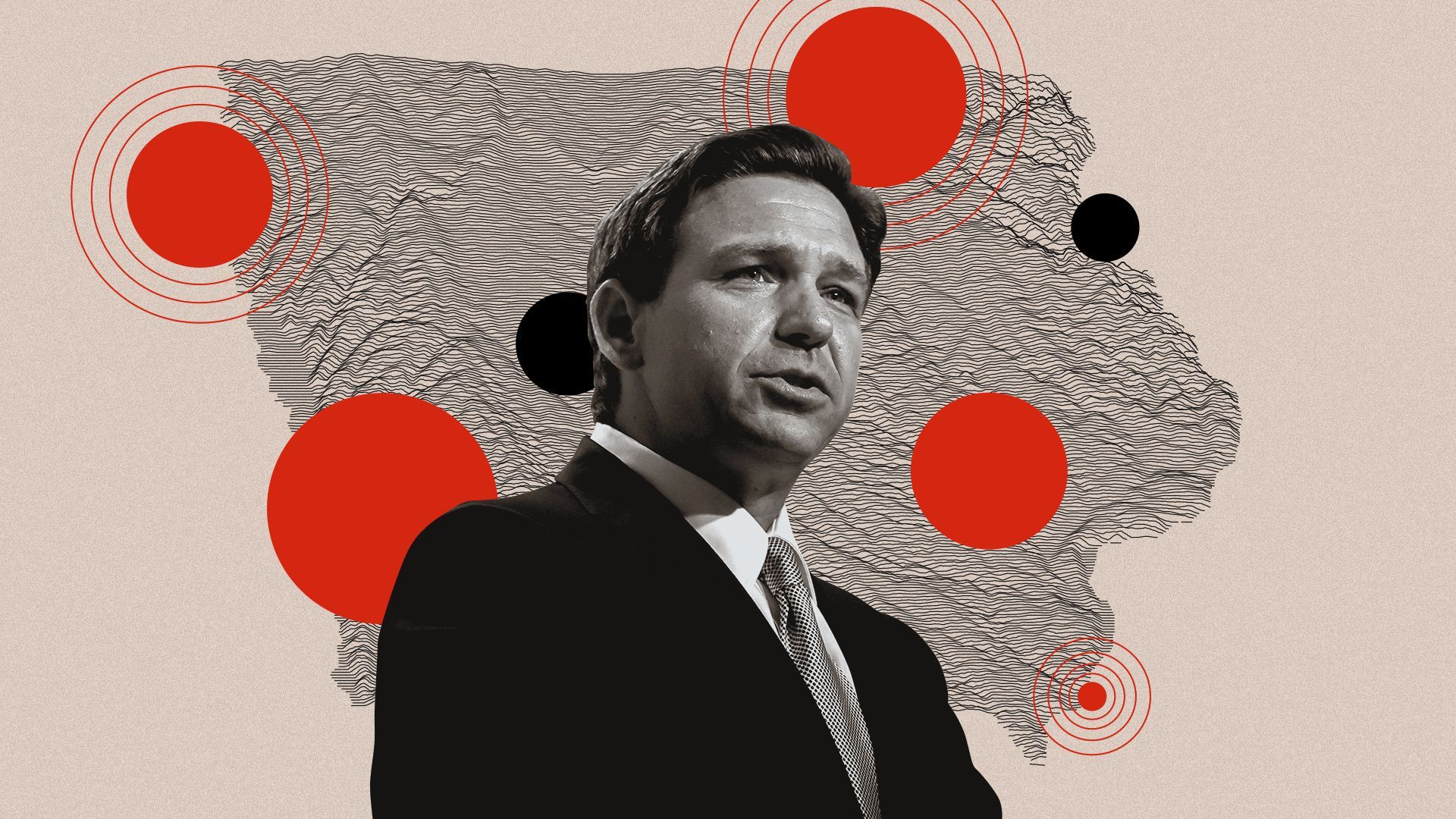 Ron DeSantis' campaign is blitzing Iowa at a frantic pace six months before the Republican caucuses there, trying to boost his flagging challenge of former President Trump, the GOP front-runner.
Why it matters: DeSantis' push comes as polls suggest the more voters know about the Florida governor, the less they like him — and amid reports that GOP influencer Rupert Murdoch, an early DeSantis supporter who owns Fox News, is losing faith.
Zoom in: DeSantis' struggle to gain ground on Trump — even as the former president has been indicted twice and faces more legal jeopardy — has made Iowa's first-of-the-season caucuses on Jan. 15 particularly crucial.
While Trump generally has limited his campaign to big events where he's the lone star, DeSantis' team has devised a ground game — starting in Iowa — designed to emphasize his conservative credentials and counter criticism that he's an awkward campaigner.
Team DeSantis also is betting that Trump's ongoing spat with Iowa's popular governor, Kim Reynolds, will help. Reynolds hasn't endorsed a presidential candidate but has praised DeSantis and appeared with him recently.
Driving the news: DeSantis' team and nearly every other major GOP contender — besides Trump — will be in Iowa during the next few days for a rush of conservative campaign events and chats.
The headline event will be the "Family Leadership Summit" on Friday, hosted by evangelical leader Bob Vander Plaats and featuring Tucker Carlson having one-on-one discussions with DeSantis, Sen. Tim Scott, former Vice President Mike Pence, former Arkansas Gov. Asa Hutchinson, former South Carolina Gov. Nikki Haley and businessman Vivek Ramaswamy.
DeSantis also will have a meet and greet in Fort Dodge, and attend an agricultural roundtable in Boone and a barbecue hosted by Rep. Zach Nunn (R-Iowa).
DeSantis' wife, Casey, a frequent presence on the campaign trail, will be at a meet and greet in Winterset.
The campaign has hired former state Sen. Tim Goodwin as a senior adviser on all things Iowa.
The DeSantis-aligned PAC Never Back Down, meanwhile, has mobilized about 200 door-knockers in Iowa, along with 21 staffers in five offices across the state.
The PAC is tracking 7,346 people who have committed to caucusing for DeSantis by signing cards at Republican events or on their doorsteps after being approached by canvassers.
It's spent $5 million on TV ads in the state, in addition to digital flyers and baseball cards flaunting DeSantis' record attacking the Walt Disney Co. (over the company's support of LGBTQ rights) and former Anthony Fauci's (over COVID restrictions).
Zoom out: Trump's absence reflects his campaign's thinking that he'd have little to gain by sharing a stage with his challengers. That's also why he's skipping the GOP's first presidential debate next month in Milwaukee.
The strategy does carry some risk — particularly in Iowa, where voters expect to be personally courted by candidates before the caucuses.
Trump's campaign offered to send a surrogate, Ohio Sen. J.D. Vance, to Vander Plaat's event. But Vander Plaat — who has criticized Trump's campaign as a revenge tour — turned down the offer.
Instead, Trump will have a town hall with Sean Hannity on Fox News next Tuesday in Cedar Rapids and attend the Iowa GOP's Lincoln Dinner in Des Moines on July 28.
What they're saying: "Iowa is about showing up. ... It's about which candidates puts in the time to help build a party in Iowa and to show the voters of Iowa that they believe it's important," Sam Cooper, the DeSantis campaign's political director, told Axios.
""As Trump make his own mistakes, we are sharing Governor DeSantis' message and we're winning people over," Never Back Down chief operating officer Kristin Davison told Axios, adding that her team's goal is "to take advantage of the ground that Trump is ceding."
"DeSantis should focus on his own flailing campaign rife with internal conflict and subversion among his closest supporters," countered Trump spokesperson Steven Cheung.
He added that Trump "holds a commanding lead because voters know he is the only person who can beat Joe Biden and take the White House back."
Go deeper