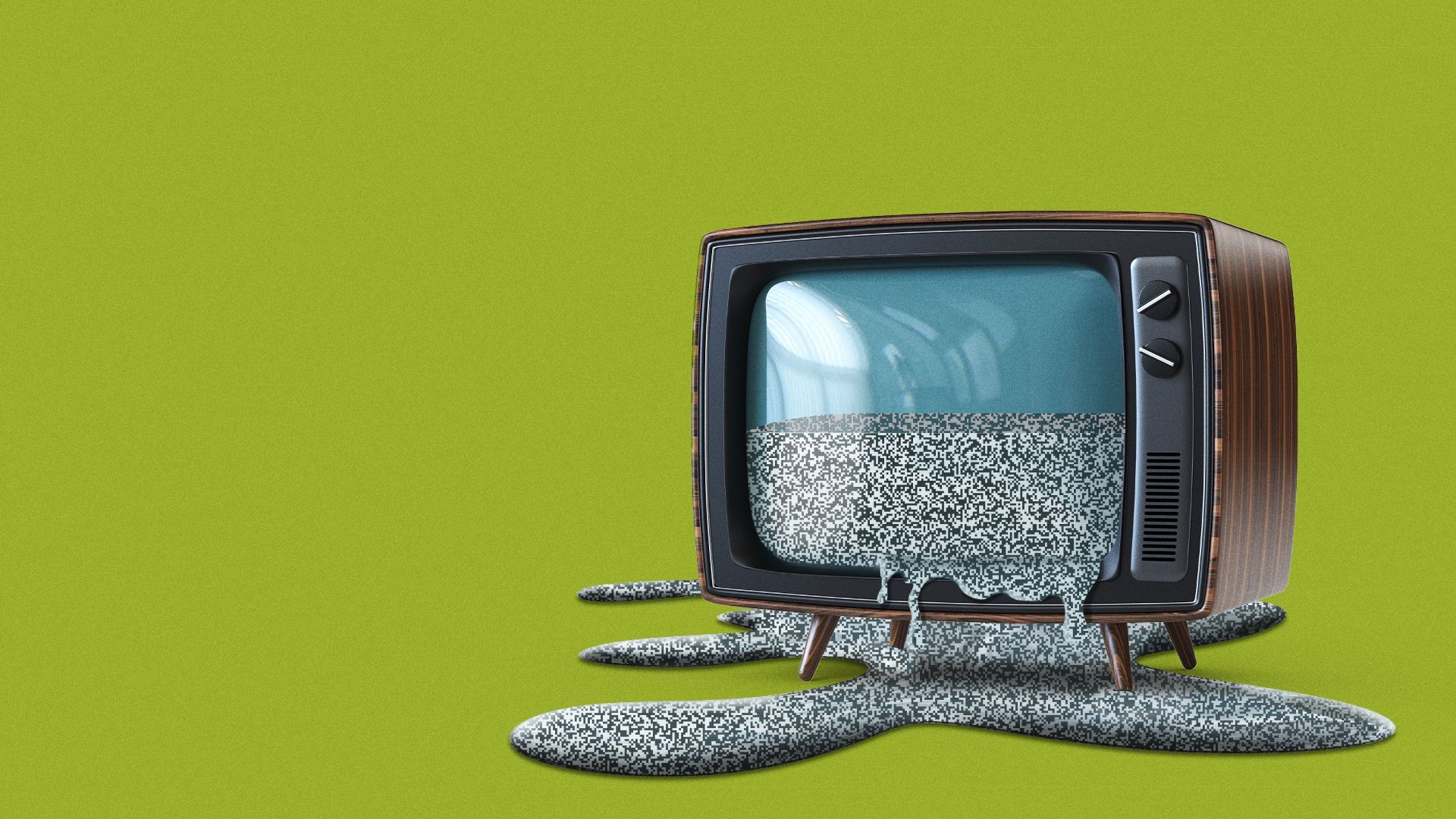 The media industry is facing an unprecedented level of disruption, leading to a series of major challenges all coming to a head this summer.
Why it matters: The sudden rise of generative AI combined with the slow death of traditional television and print is leading to a historic number of strikes and job losses that will impact most of the media, news and entertainment that Americans rely on daily.
Driving the news: SAG-AFTRA, the union that represents Hollywood actors, said Thursday that it will strike for the first time in 43 years, after failing to reach a new labor deal with the major studios.
It comes as Hollywood screenwriters enter the third month of their own strike, which has put dozens of television shows on pause.
Between the lines: The two strikes together — something that hasn't happened since 1960 — will bring Hollywood to a historic halt.
While the writer's strike has had a major impact on television production, the actor's strike could force major entertainment studios to push movies off their release schedules.
Actors will not be able to promote films, attend award shows or do any tours or press interviews while on strike, in addition to boycotting all acting, singing, dancing and stunt work.
Both strikes come at a time when the box office is still struggling to recover from the pandemic.
Be smart: The strikes in Hollywood mirror the historic level of protests from newsrooms across the country.
As traditional television falls victim to cord cutting faster than expected, and newspapers continue to be gobbled up by hungry hedge funds, news workers are relying on unions for job security.
Disney CEO Bob Iger on Thursday made waves when he told CNBC that the firm is weighing a sale of the company's linear TV channels, including broadcast network ABC, though it still plans to keep ESPN.
Zoom in: For entertainers and journalists alike, the rise of artificial intelligence has become a sticking point in union negotiations.
"The entire business model has been changed by streaming, digital, AI. This is a moment of history — that is a moment of truth," SAG-AFTRA President Fran Drescher said in a press conference Thursday.
"If we don't stand tall right now, we are all going to be in trouble. We are all going to be in jeopardy of being replaced by machines."
The news industry, meanwhile, is making some progress. On Thursday, The Associated Press said it reached a historic two-year deal with ChatGPT creator OpenAI to share access to select news content and technology.
The deal marks one of the first official news-sharing agreements between a major U.S. news company and an artificial intelligence firm.
What to watch: Whether the AP's deal inspires more agreements between news and AI companies, and whether or not the total shutdown of Hollywood production will force all sides back to the negotiating table.
Earlier Thursday, Disney CEO Bob Iger strongly criticized the work stoppage as "very disturbing" and said it will have a "very, very damaging effect on the whole business."
"There's a level of expectation that they have that is just not realistic," he told CNBC.
The bottom line: The media industry as we know faces a tidal wave of changes, and parts of it may never recover.
Go deeper