Patrick Soon-Shiong sells San Diego Union-Tribune to MediaNews Group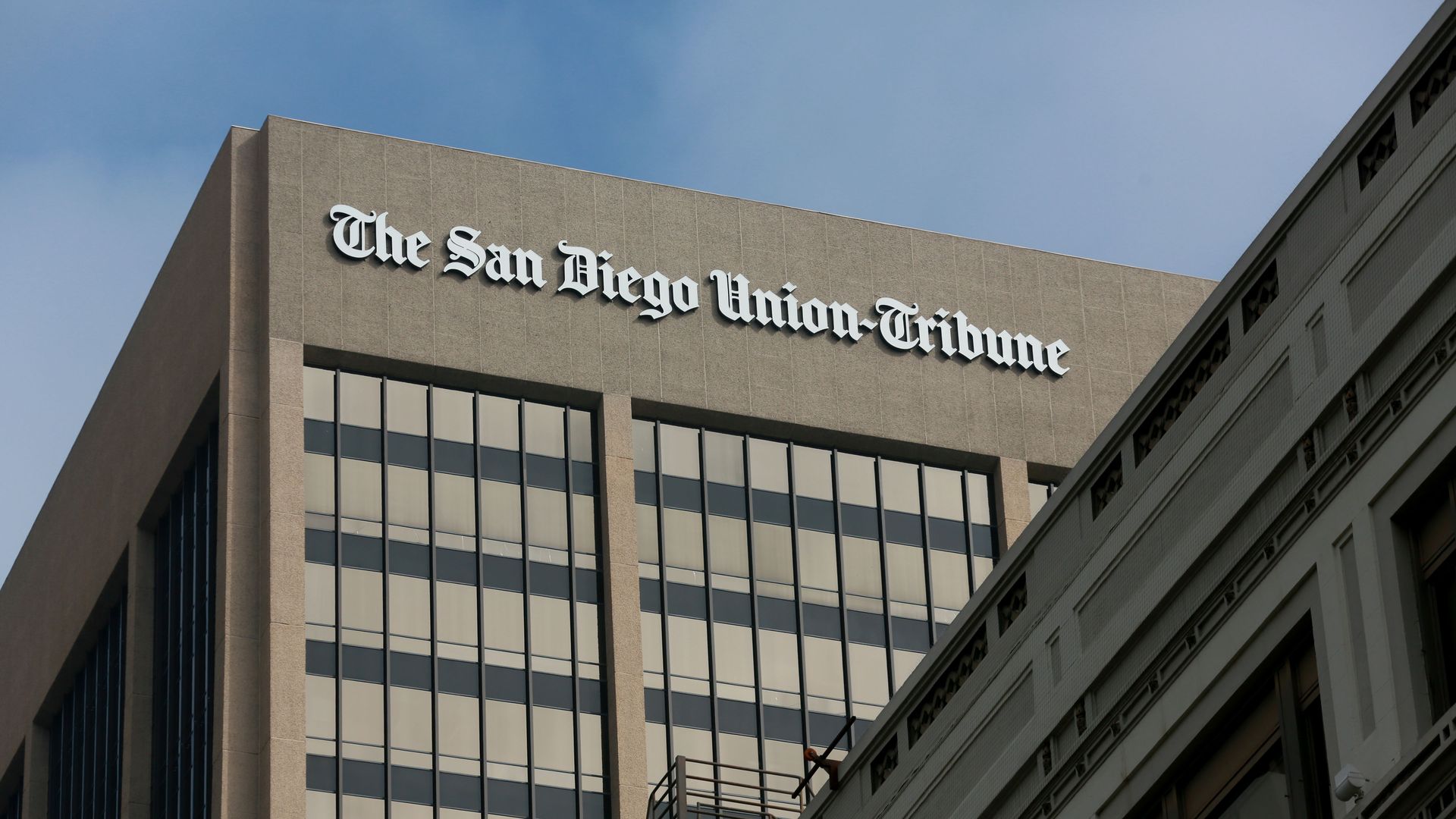 Patrick Soon-Shiong, a billionaire biotech executive turned media owner, has sold the San Diego Union-Tribune to MediaNews Group, a local newspaper company owned by hedge fund Alden Global Capital, for an undisclosed amount.
Why it matters: The deal strengthens MediaNews Group's foothold in Southern California.
Be smart: The company, which is also known as Digital First Media, is home to hundreds of weekly newspapers and dozens of daily newspapers.
It operates a subsidiary called the Southern California News Group, which includes papers such as Orange County Register and Los Angeles Daily News.
What they're saying: In a memo announcing the deal to Union-Tribune staffers obtained by Axios, MediaNews Group's executive vice president of California Sharon Ryan said the acquisition enables the company "to advance its stewardship in California as the largest provider of news and information across the state."
Details: In a statement to Los Angeles Times staffers obtained by Axios, Soon-Shiong said he sold the Union-Tribune to focus efforts on the Los Angeles Times.
"Our intention now is to focus on the ongoing work of transforming the L.A. Times into a self-sustaining institution," he said in the statement, which was sent to staffers via a note from Los Angeles Times president and chief operating officer Chris Argentieri.
"Our hometown of Los Angeles and the state of California – really, the West Coast – needs a strong, independent news organization. We believe in the L.A. Times and are committed to its future."
How it works: In her statement, Ryan alluded to the recent newsroom cuts made by the Los Angeles Times, and said layoffs are likely.
"No different than the changes announced at the Los Angeles Times last month, the U-T will also need to make some difficult staffing decisions as we assume management," she wrote
"Reductions will be necessary to offset the slowdown in revenues as economic headwinds continue to impact the media industry."
Catch up quick: Soon-Shiong bought the Union-Tribune and its sister paper Los Angeles Times for $500 million in 2018.
He bought the paper from Tronc, the newspaper company formerly known as Tribune Publishing, in which he was also a large shareholder.
He promised ongoing commitment to the print product, along with ambitious pursuit of new products that would "delight local and global audiences."
He also pitched a "vision machine" of readers accessing videos and other features by scanning the print paper with their phones. It never materialized.
Go deeper