The GOP battle to show who's tougher on immigration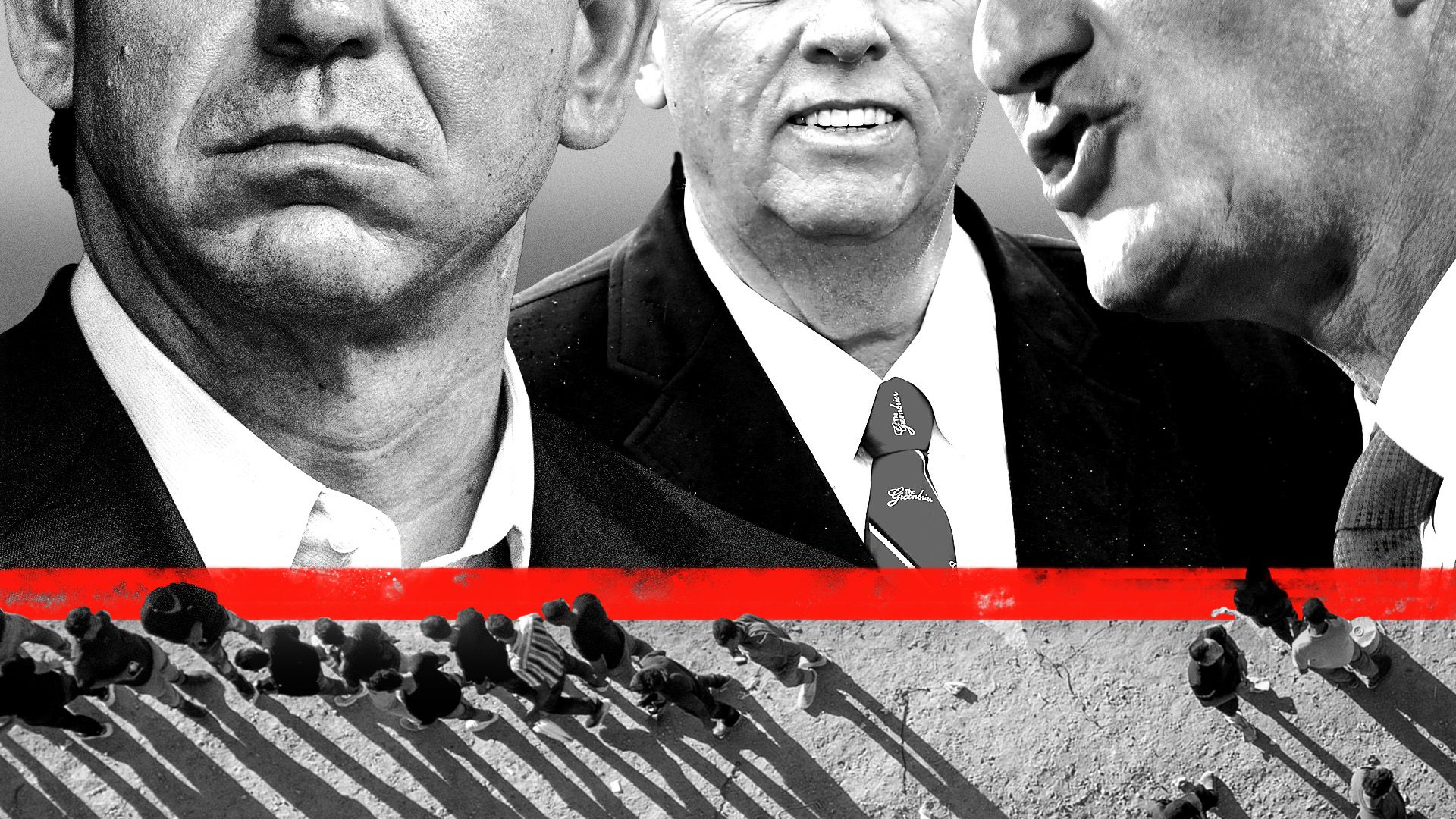 Republican governors and presidential candidates are scrambling to show who's tougher on illegal immigration, as governors send National Guard troops to the southwest border and 2024 hopefuls tout harsh policies.
Why it matters: Nearly eight years after former President Trump launched his first campaign by demanding strict immigration policies, ambitious Republicans often seem like they're trying to outdo one another in cracking down on undocumented migrants.
It's a reflection of how illegal immigration has become a poignant political issue — and an area in which the executive branch of government typically has significant power.
Driving the news: Florida Gov. Ron DeSantis — who's running against Trump — and Virginia Gov. Glenn Youngkin, another potential White House contender, have made a show of sending National Guard troops to the border in recent weeks.
West Virginia Gov. Jim Justice, who is making a run at Sen. Joe Manchin's (D-W. Va.) seat next year, has followed suit.
GOP governors often have sent National Guard personnel from their states to help border officials when illegal crossings by migrants have soared. The troops have limited roles, however, and typically may not interact with migrants.
But border crossings have fallen dramatically in recent weeks under strict asylum rules just imposed by the Biden administration — making the latest deployments appear more political than practical.
Zoom in: In Florida, DeSantis has signed a sweeping state law that limits access to social services for undocumented migrants and provides more funds for DeSantis' efforts to move them elsewhere.
DeSantis has focused on immigration in making some of his most pointed criticisms of Trump.
He told reporters last week that a 2018 Trump-backed bill in Congress was "like a pittance … in exchange for a massive amnesty," adding, "I thought it was supposed to be America First policy to oppose amnesty, and yet he endorsed and tried to ram through an amnesty."
The bill failed, but would have provided legal status for "Dreamers" — undocumented immigrants brought to the U.S. as children — in exchange for border wall funding and other measures.
What they're saying: Both Trump and DeSantis have had opportunities to put their tough talk on immigration into action, and have drilled down on their stances this week.
"We have opposed illegal immigration by banning sanctuary cities, cracking down on human smuggling, deploying troops to help on the southern border and even sending illegal aliens to Martha's Vineyard," DeSantis said in a speech, recounting his administration's actions in Florida.
DeSantis captured national attention — and drew harsh criticism from Democrats and others — last September when he sent planes of undocumented immigrants to Martha's Vineyard.
He was among several GOP governors in border states who have tried to score political points by having undocumented migrants bussed to Democrat-led states.
Trump, meanwhile, revisited a bombastic proposal idea he floated as president: Ending birthright citizenship, a right that has long been considered guaranteed by the U.S. Constitution.
"[G]oing forward, the future children of illegal aliens will not receive automatic U.S. citizenship," Trump said — an idea that would require challenging the interpretation of the 14th Amendment to the Constitution.
Trump's former UN ambassador, Nikki Haley, has distanced herself from the former president in many ways.
But Haley also has jumped on the immigration issue, calling for more border security when she was the first announced candidate for president to visit the border this year.
By the numbers: There's a reason for the focus on illegal immigration, as candidates angle for GOP primary voters.
Go deeper