Florida's new immigration law prompts some to leave the state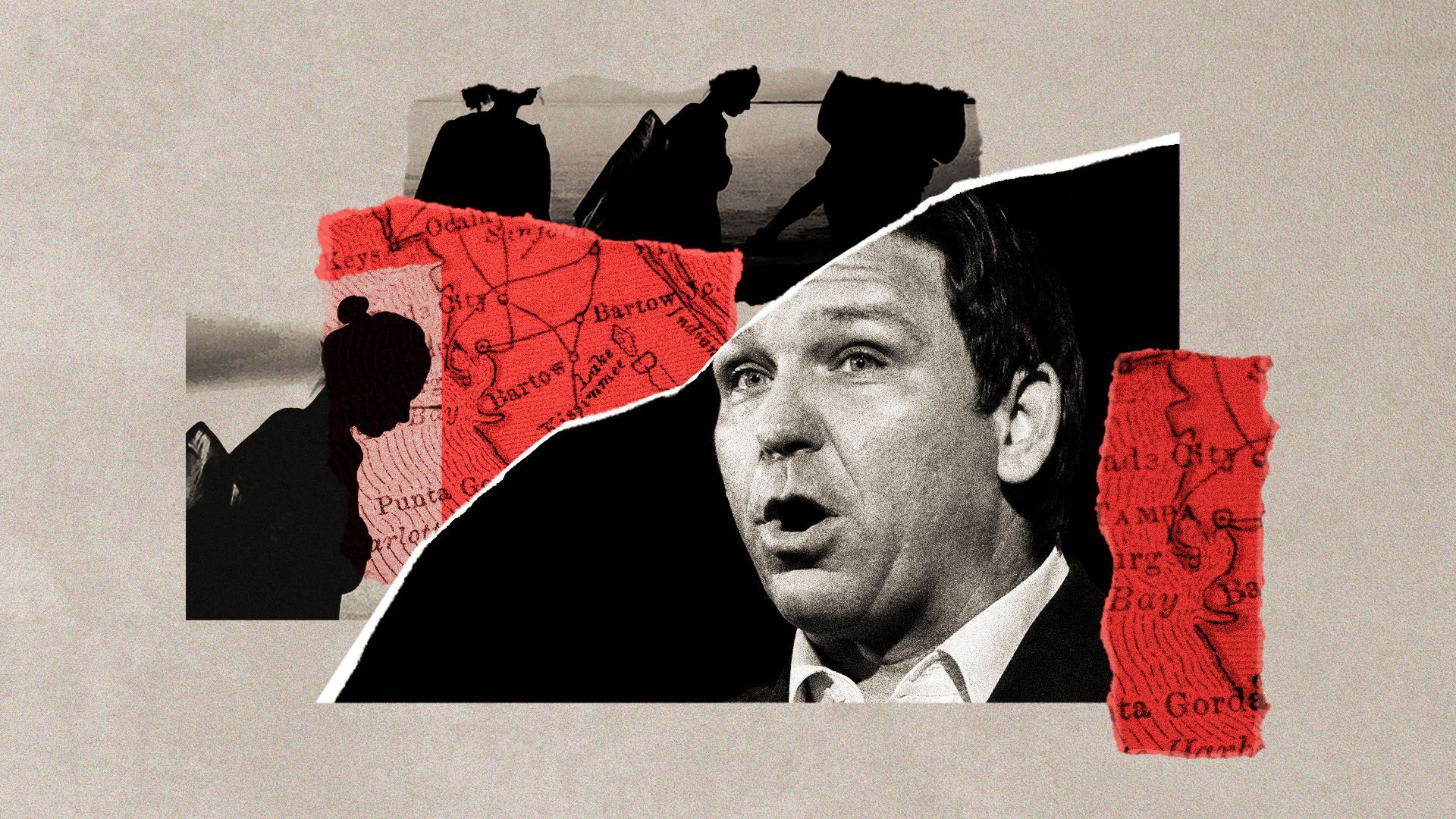 An undocumented 22-year-old woman sat on her bed in Tampa last week and called her mother, listening to the ringing tone, hoping for another option. When her mother answered, the sound of her soft voice reminded the woman there weren't any.
"We have to leave Florida," the woman said.
What's happening: A new law that Gov. Ron DeSantis signed this month to tighten restrictions on Florida's undocumented community is driving immigrants out of the state.
The legislation voids out-of-state driver's licenses for those without proof of citizenship, bars municipalities from using state money to issue identification cards for undocumented immigrants and requires most companies in Florida to verify the immigration status of new hires, among other restrictions.
It also repeals a state law that allowed some undocumented immigrants to obtain a license to practice law in Florida.
Zoom in: The undocumented woman, who asked that Axios not use her name for fear of deportation, arrived in Tampa at 6 years old. She graduated from a high school in Hillsborough County and attended a local college. She spent her life here.
"I love Florida, I love the weather, I love the people," she said. "But I knew we had to leave when I read what was in that law. It isn't safe."
Her mother protested at first. But when the woman explained that under the new laws, her teenage brother wouldn't be able to get an after-school job and she wouldn't be able to fulfill her dream of becoming a lawyer, her mother relented.
The big picture: Florida is home to an estimated 772,000 undocumented immigrants, according to the Migration Policy Institute. More than 81,000 of them live in Hillsborough, Pinellas and Polk counties.
DeSantis, who's expected to launch a 2024 presidential bid Wednesday, made curbing illegal immigration a centerpiece of his legislative priorities and proposed many of the law's provisions.
State of play: Some undocumented workers in South Florida are not coming to work or they are leaving job sites because of the law — which will come into effect July 1, CBS Miami reports.
The League of United Latin American Citizens (LULAC), the country's oldest and largest Latino civil rights group, issued a travel advisory last week over the new measures, warning potential tourists that Florida is a "dangerous, hostile environment."
"Families are torn apart as some members choose to stay while others have to leave, foreseeing worsening conditions for immigrants," Lydia Medrano, LULAC vice president for the Southeast, said in a statement.
DeSantis' office called the advisory "a political stunt" in comments to Axios.
What they're saying: The Florida Policy Institute, a progressive-leaning research organization, told Axios the law is vague and "does not align with the framework of federal immigration law," making it difficult to predict who could be directly affected.
"What we do know from past immigration laws is that it is nearly impossible to isolate the effects of policies like these to one singular group of immigrants," said Alexis Tsoukalas, a policy analyst for the Florida Policy Institute. "Especially since people's statuses can be in flux."
The bottom line: "We're fleeing the place we fled to," the undocumented woman told Axios. "I remember when my mother sat me down and said, 'things are bad; we have to leave,' and I had to tell her that same thing."
"I am leaving everything behind, everything that I worked for, having already started from scratch 16 years ago."
More Tampa Bay stories
No stories could be found
Get a free daily digest of the most important news in your backyard with Axios Tampa Bay.