Updated Nov 21, 2019 -

World
Highlights from Fiona Hill's and David Holmes' impeachment testimonies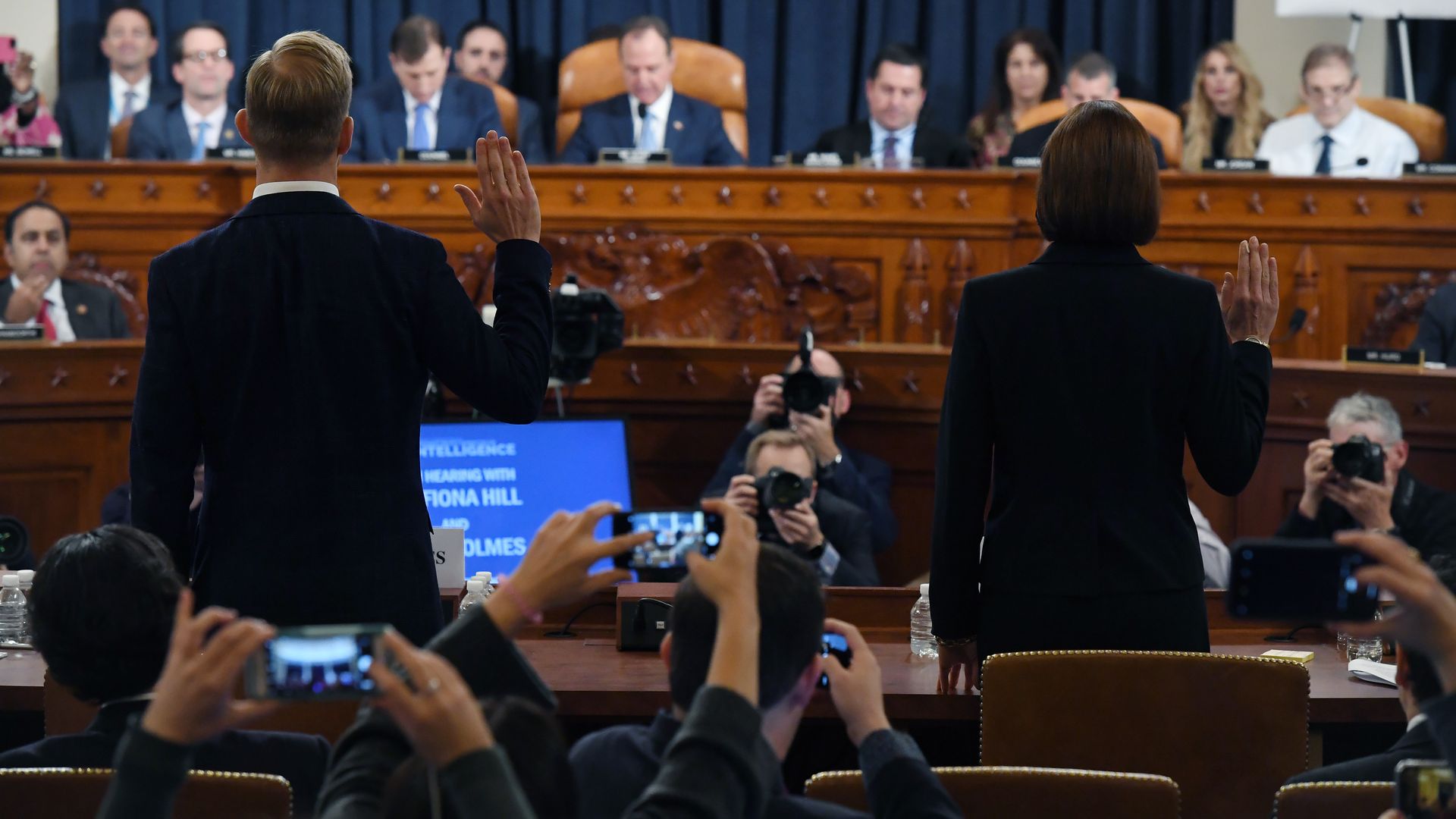 Fiona Hill, President Trump's former top Russia adviser, and David Holmes, a State Department official at the U.S. Embassy in Ukraine, testified in Thursday's impeachment hearing.
Driving the news: Hill testified she had a conflict with EU Ambassador Gordon Sondland over his claim that he was working on Ukraine policy at Trump's direction — to pursue what she termed a "domestic political errand."
The highlights:
Hill testified that a "fictional narrative" about Ukraine and a conspiracy theory alleging its interference in the 2016 presidential election, driven by partisan politics, distracted Trump from the real threat that Russia poses to America's democracy.
Holmes said in his opening statement that the embassy's work "became overshadowed by a political agenda being promoted by former New York City Mayor Rudy Giuliani and a cadre of officials operating with a direct channel to the White House."
Holmes testified that Ukraine "still needs us" despite the release of military aid, adding that the country is "being very careful" to ensure continued U.S. support to counter Russian aggression.
Hill relayed her fears — and those of former national security adviser John Bolton — that Giuliani's views on Ukraine "would probably come back to haunt us."
During questioning from Republicans' legal counsel, Hill fired back against suggestions that she had concerns about Lt. Col. Alexander Vindman's judgment.
In a stunning moment, Hill asked whether she may respond to Republican attacks, after three GOP congressman in a row used their five-minute question allotments to criticize the impeachment inquiry and its witnesses.
Rep. Will Hurd (R-Texas), at one point seen as one of the most likely Republican votes to break ranks to vote in favor of impeachment, stated that an impeachable offense should be "compelling, overwhelmingly clear and ambiguous," and that he has "not heard evidence proving the president committed bribery or extortion."
House Intelligence Chairman Adam Schiff (D-Calif.) ended a lengthy closing statement about Trump's alleged misdeeds with this closing: "We are better than that!"
The other side: Trump tweeted that he has tried — and failed — to overhear others' phone conversations as Holmes testified.
Holmes was a last-minute addition to the hearing after Bill Taylor, the top U.S. diplomat in Ukraine, testified about Holmes' recollection of overhearing a July 26 phone call between Trump and Sondland last week.
Holmes said in his closed-door testimony that Sondland used his mobile phone for the call and assumes calls made from Ukraine are usually monitored by Russia.
The big picture: Hill, closely tied to the West Wing, will be able to provide a firsthand account of how former national security adviser John Bolton was worried by the shadow diplomacy being led by Giuliani in Ukraine.
As Axios' Jonathan Swan wrote yesterday, unless Bolton does a last-minute reversal and voluntarily testifies — a scenario that appears implausible — Hill will provide the impeachment inquiry the greatest insight into his mindset on Ukraine.
Watch:
Read:
The past hearings:
Go deeper:
Go deeper