Downtown Portland may be better off than previously estimated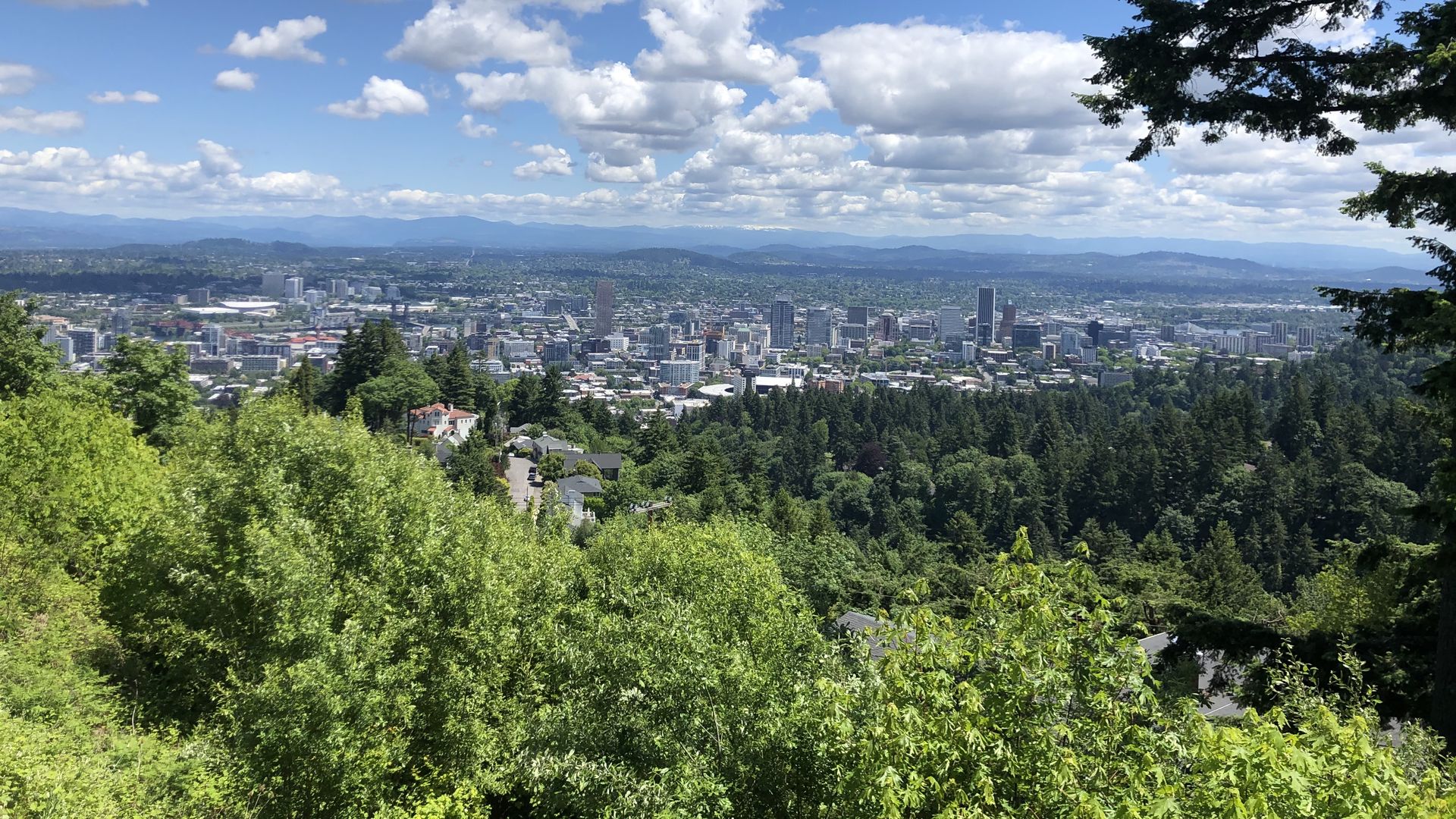 Downtown Portland's recovery post-pandemic may be better than researchers initially estimated, according to a revised report from the University of Toronto's Downtown Recovery project.
It is still, however, still lagging behind most major cities.
Why it matters: Remote work has emptied many of downtown's offices, creating quieter streets and less traffic for businesses catering to commuters.
New efforts by city officials and business owners to revitalize the neighborhood — in the form of new developments, incentives, and even a task force helmed by Gov. Tina Kotek — could help drive recovery, but the impact of those efforts could take time to trickle out.
By the numbers: Based on the number of downtown visitors from March through mid-June 2023, Portland saw a recovery rate of nearly 61% compared to the same time period in 2019.
That's up from 36.9% following a methodology shift by University of Toronto researchers in how it tracks cities emerging from the depths of the pandemic.
Recovery is measured by counting the number of unique visitors in a city's downtown area in a specified time period.
The big picture: Researchers changed how they define "downtown." They used to define it by ZIP codes with the highest job density, but now do so by broader areas with the highest concentration of jobs.
They also shifted from using two location data sources to one (analysis is based on anonymized mobile device location data) and looked at a slightly more current time frame as compared to their last update in August.
Zoom in: The new map of downtown now includes most of Old Town and Pearl District as well as Portland State University's campus — incorporating cultural hotspots like Powell's Books, the Keller Auditorium, North Park Blocks, and Portland Art Museum, but not Providence Park.
Researchers previously defined downtown Portland as existing between NW Naito Pkwy (along the Willamette River) to SW Broadway (above Pioneer Courthouse) and the Burnside Bridge to the Hawthorne Bridge.
What they're saying: School of Cities director and project leader Karen Chapple says the decision to change the definition of "downtown" came after pushback from some cities and business associations.
"We've looked at cities' own definitions of downtown, but those boundaries are historic and don't reflect where the current buildings are, or they're political, or they've been drawn to match Census boundaries," Chapple tells Axios. "So they have the same flaws as using ZIP codes."
"So we decided to go with job densities ... figuring that's what people really care about — these are the hearts of our regions and of our cities."
What's next: Chapple's team is about to roll out a new widget allowing users to choose from different versions of "downtown," to illustrate how any given city's numbers might change depending on the chosen area.
The bottom line: Ask 100 people to draw you a map of "downtown," and you'll get 100 different maps.
That's the big challenge with analyses like this — but as long as they're grounded in decently sound logic and the approach is thoughtfully refined based on feedback, they're insightful nonetheless.
More Portland stories
No stories could be found
Get a free daily digest of the most important news in your backyard with Axios Portland.